THE 41st FIPS-MOUCHE WORLD FLY FISHING CHAMPIONSHIP.
This was held in Asturias Spain on  25.Sep - 02.Oct 2022.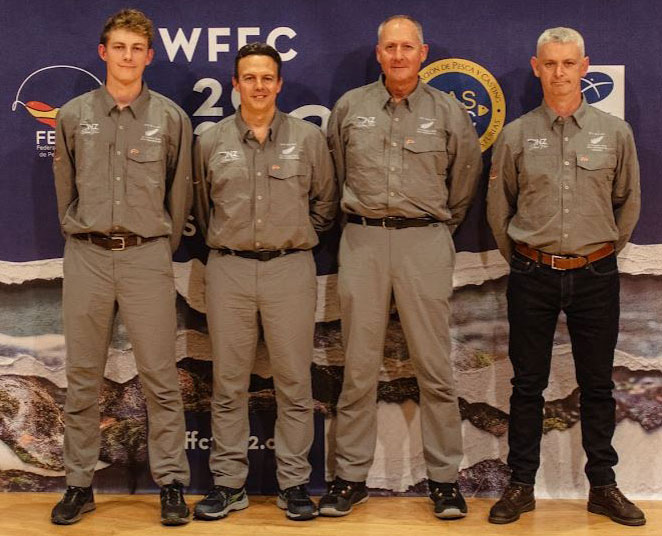 The venues were, 
Sector I CAUDAL RIVERSector II PILOÑA RIVER 
Sector III TRUBIA RIVER
Sector IV NARCEA RIVER
Sector V ARENERO LAKE (Bank Fishing)
The NZ team;  
Paul Bassett (manager)
Ollie Bassett
James Fuller
Tim Rich
(There was only 3 due to withdrawals around COVID issues)
Dailey reports from Paul Bassett
Day 5 Report, Final Results
Well, that's that. Everyone is exhausted but also kinda sorry it's over. Sleep, Eat, Eat, Fish, Eat, Chat, Prepare, Eat, Sleep…… Repeat. What could be better  
Another mixed bag for the Kiwi's.  
Ollie (Trubia) got 5th in his session with 10 fish and got 11th in the world champs overall. Incredible result for the young fella. He beat started out dirty and then cleaned up as he went. He got his fish using a mixture of nymphing, dry dropper and mostly dry fly. It was tough going and the fish were super hard to get.  
Tim (Lake) got 21st in his session with 1 fish and got 84th in the world champs overall. Tim proved the Kiwi's haven't nailed the lake and as with other days it changed a lot from yesterday. But, unlike other days, Tim actually enjoyed fishing at the venue so that was a good change up!  
James (Caudel) got 23rd in his session with no fish and got 90th in the world. The Caudel was reasonably clear at the top and chocolate brown and in flood at the bottom. James had the chocolate brown. To put it in context, the Spanish angler in James group was coming 5th overall after day 4. He caught 2 fish today. The winner from South Africa caught 18 up the top. Tough going.  
The individual was won by Julian Daguillanes (FR) on 8pp. David Arcay (SP) on 11pp and Ruben Santos (SP) on 12pp were 2nd and 3rd.  Spain and France retained their 1st and 2nd spots in the teams but there were some big movers below them. The Czech team jumped up to 3rd and the Belgium team were the big movers to 4th. Finland dropped off the podium to 5th followed by the USA. 

Day 5 & Final Results
A bit of a mixed bag for the Kiwi's today.
Ollie (Pilona) got 4th in his session with 11 fish and now sits 15th overall. Ollie had a good run in the first 2 hours, but tiredness set in, and he end up being a bit frustrated with too many dropped fish. However, it would have been tough to catch up to 3rd so a good session overall.
Tim (Narcea) got 17th in his session with 2 fish and now sits 72nd. The Narcea has become tough going even for the top guys, so Tim was wrapped to convert 100% of his opportunities.
James (Lake) got 23rd in his session with 1 fish and now sits 82nd. The team is coming to understand how other anglers are approaching the lake and have concluded that everything is different. Different rods (stiffer), different lines, different casting and striking techniques, and different fly patterns. It's tough going and they don't have the right gear to replicate what the others are doing.
It rained all day today, so the rivers changed from the last few days. Some fished better and some continued the pattern of getting harder. Tomorrow will be interesting.
FishCoin did a live session with Ollie today which is on their Facebook site. Cheers for encouraging them to do that Cory.
The individual competition has changed today. David Arcay caught 5 fish on the Narcea and placed 5th. That dropped him back to 3rd overall (9pp) with Julian Daguillanes from France in first (5pp) and Ruben Santos coming 2nd (8pp). No change in the Teams with Spain winning followed by France and Finland.

 Day 4 results >
Day 3 Report
The Kiwi's are on the move! All 3 guys had good days. 
Ollie (Caudel) – 2nd in his session with 22 fish and sits 17th overall. He was neck and neck with the French winner until 16 fish. The French got rain and Ollie got wind…. 
James (Narcea) – 11th in his session with 2 fish and sits 64th. The French guy got 4 on this beat in the first session… This is the toughest river and James converted 100% of his opportunities. 
Tim (Trubia) - 13th in his session with 3 fish and sits 68th. Tim had a great experience sight fishing to rising fish with dry flies. He caught all 3 doing this. 
The team's competition is exciting. The French got closer to the Spanish today and the USA dropped off the podium. The Czech's are on the move…. 
The individual is really close with local legend David Arcay dropping to 2nd behind Julian Daguillanes from France. Top 3 are on 4, 4, 5 place points.

Day 3 Results
Day 1 & 2 Report
Ollie arrived a couple of weeks ago with Leeann and based themselves in Leon. Ollie spent a day with Pablo and then 2 days with his mate Sergio who was in the Spanish youth team (got 2nd at the worlds). Ollie and Pablo spent 12 hours on the river (Pablo said Ollie was "apasionado" – no surprise there). 
I think it's fair to say that Ollie learnt more in those few days than he has in a long time!!!
Tim and James arrived just over a week ago and the 4 of them hung out in an apartment in Oviedo. Leeann was "camp mum" and kept them all fed and in-line! They had an awesome week with Alejandro and also with Javier (who won the master's worlds in 2018 and 2019 ????). Alejandro did an amazing job guiding them around the various rivers and sharing intel. From what I can see I think it's fair to say the guys formed a pretty special relationship with Alejandro. Thanks Johannes!
I lived in a parallel universe and arrived home from a work sojourn to Vegas 2 days before Leeann and Ollie left …… with COVID. So, I waved goodbye to them from isolation where my other son Darcy kept me cooped up for a better part of a week…. Had a frantic week after that sorting everything out then headed to Barcelona with Darcy via an 18-hour stopover in Singapore (hung out with a friend). Darcy and I had 1 night in Barcelona (and a 15km sightseeing walk) and then dove to Oviedo with 1 night along the way in Burgos (which I can recommend).
We all met up on Sunday in Oviedo, moved into the hotel and I headed to the managers meeting. There was a big hu-ha about a late rule change where instead of single 4-hour session on the river they planned to do a 2 hour session, have a break for an hour then another 2 hour session. They would swap beats in the hour break. The talk of the town was it was the Spanish and French teams that wanted to make the change and the organisers made it happen. There was a lot of discussion about how that would work, and then finally someone asked why it was changed at a late date. Not much in the way of reasoning was put forward (resting the fish?). My impression was that the Fips-Mouche guys were not that keen either and very quickly called for a vote. 15 teams said to keep it to 4 hours (including me – on the advice of the team). Crisis averted. I spoke to the head judge yesterday and confirmed they were not that impressed and that those kinds of changes always help the home sides. He said calling for a vote was really unusual, but he figured it was the best way to sort it out.
The opening ceremony was, well, one of the most boring things I have attended for a long time. They rolled out ALLLLLLLL the local dignitaries to expound how great Asturias is (via an average translator). They know how to talk….. Not naming names, but there was a bit of dozing going on. But we got up on stage and got our photo's taken so that was cool.
Day 1.
You have seen the results for this so nothing more to report.
Day 2 – hot off the press…..
Tim and James had a great day!!
James got 7 fish on the Trubia which scored him 8th place in his group.
Tim got 4 fish on the Pilona and scored 10th place in his group.
Ollie had a tough time on the lake and got 6 fish for 13th place. Has since sussed out how the good guys were doing it.
Overall:
Ollie – 32nd
Tim – 72nd
James – 75th.

 Day 2 Results

 Day 1 Results