SFFNZ ROTORUA LAKE REGIONAL CHAMPIONSHIPS: CORY SCOTT BACK ON TOP 
Has Cory Scott come out of retirement, or did he never actually leave? Can defending champ Billy Thrupp produce a three-peat on his home waters? And does Hugo Pearce actually have dreadlocks?? These were the questions on everyone's lips as 18 hardy souls made the long trek to Lake Aniwhenua for the Rotorua Regional Lake Champs.  
Despite the heavy rain over the week prior, and some last-minute soul-searching by competition organisers Billy Thrupp and Damon Taylor over whether to move the venue to nearby Lake Rerewhakaaitu the decision was made to proceed as planned. 
Saturday morning saw the field (can it be a field if it is on the water?) take to the murky waters of Lake Aniwhenua, and a strong start by Rachel McNae saw her on top of the leaderboard with 8 fish, and with a number of anglers hot on her heels. Session two saw Murupara home-boy Dan Comer come out of nowhere to take the session, but, consistency is key, and Cory Scott's 2nd and 4th in the day's two sessions saw him as the overnight leader with 6 placing points, with dark horse Ruben Robles two points behind on 8 placing points. A number of other anglers were also in striking distance, with Rachel, Tim Anderson, Billy Thrupp, and Mark Clasper all in the mix.  
Sunday morning however proved brutal for some, as the flotilla of small boats searched the murky waters for what lurked beneath. Eventually, those who ventured to the top of the lake struck gold (the brown and rainbow variety) with a number of anglers including Cory and partner Brendan Lyon quickly capitalising on finding large groups of fish. In the end, it was the all too familiar sight of serial podium-placer Cory Scott lifting the trophy for the sixth time, in second place was "Mr always consistent on lakes" Mark Clasper, and a late run by defending champ Billy Thrupp saw him narrowly edge out Tim Anderson for third place. Wendy Lu was the top female angler thanks to a strong first and third session - proving the point that even if you blank on a session, you can still finish strongly, so never give up. 
Cory Scott stated: 
" Firstly since everyone is so interested in if I'm retired or not, I will address that first, as I feel with what I have to share has far greater life lessons than just fishing ones! In 2019 I won the Nationals for the third time in a row, becoming the very first angler to take the hat trick of wins and at the same time winning the Lake, River and Overall title, also the first to ever do that. I had been really struggling to compete financially and it was a huge strain on my family. I had always admired athletes that go out on top, rather than stringing their careers out and staining their legacy, so I thought with everything going on, I would do just that, go out on top! I always said I'd still stay involved, mentor the new generation, have input into the sport via my role on the committee, and of course, I'd still compete in the odd comp, if time allowed, on venues that I enjoy, and I did just that.  
Then came 2022, I had been hiding something for about a year, which is what I'd like to share, I raised it at the Nationals this year, but I think it went over everyone's heads. I had developed some rather nasty lumps and ended up having quite invasive surgery to remove what was suspected as cancer. I had hidden this for over a year from everyone, including my wife, I didn't want to see the doctor as I didn't want to know the possible truth, which was really really stupid of me, yet quite typical of many Kiwi males, which is why I wanted to encourage others not to be afraid or too stubborn/proud to seek help, as at the same period I lost a couple of really good mates, and I know of many others who lost their battle. I was lucky and I received the all-clear which was incredible news, so with that, I kinda looked at life a little different. I had no intentions of competing in the Nationals this year, but when you lie in bed staring at the ceiling for three weeks fearing the worst, the darkness creeps in, and what kept me focussed was my love for fishing, competing and of course my family. 
So although I won this year's river, lake and overall National Championships again, I will still only be able to compete when I'm available. After close to three years of financial covid troubles, I now have work booked back in, so that is a priority. But when I can I will be back throwing flies with you all, I love competing and the sport of competitive fly fishing and that will never change. 
As for the weekend comp on Aniwhenua, I love that lake! It's been kind to me over the years, and I am comfortable fishing it in any conditions. Friday evening had quite a few competitors in a spin, arriving to find the lake coloured up from the few days of heavy rain. There was an initial push for a venue change, yet I suggested these conditions were exactly where NZ has failed at international championships before, not being able to adapt to dirty water, and there was at least 30 cm of visibility on the edges, so it was more than fishable. Fishing conditions such as these would provide far more learning and development to those entered than going to a clear lake full of fish. I spent all three sessions targeting the shallow water and edges. If anything whenever we approached the drop-offs or weedy zones the fishing slowed up. I felt the fish had more chance of seeing the flies with a sandy bottom for contrast, and I slowed my retrieves down big time compared to my normal process. Overall I was pretty rusty, and I dropped many fish in all sessions, I simply haven't been doing the time in a boat, and for the first time ever my arm was hurting. But I remained motivated by my good mate Billy Thrupp, he was the defending champ and was going for the hat-trick of wins, and earlier in the week he sent me a photo of the trophy, showing his engraved names with the words "domination" in highlights, so that kept me motivated to beat him, and I really don't know why he fuels me like that, but it helps, and I do love that banter and that's another reason why I wanted to show for this comp. Many thanks to the organisers, my fellow competitors and the boat partners I drew, it was a really enjoyable weekend with you all!". 
SFFNZ would like to once again thank Fish and Game Eastern Region for allowing us to hold the competition on Lake Aniwhenua.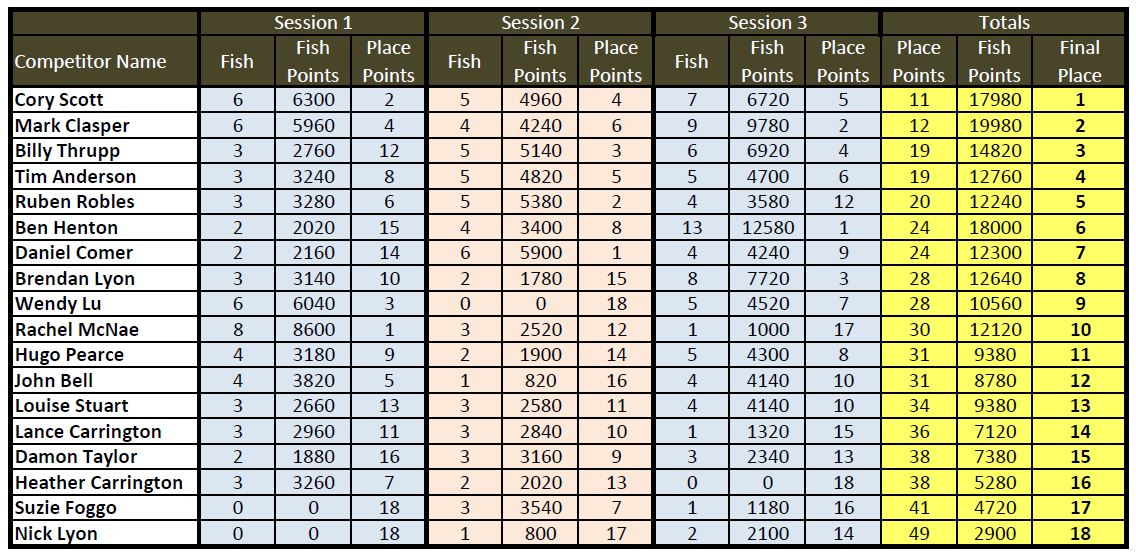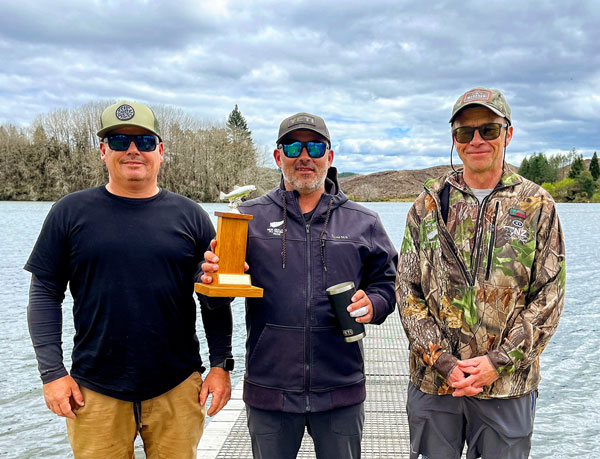 L-R: Billy Thrupp 3rd, Cory Scott 1st, Mark Clasper 2nd.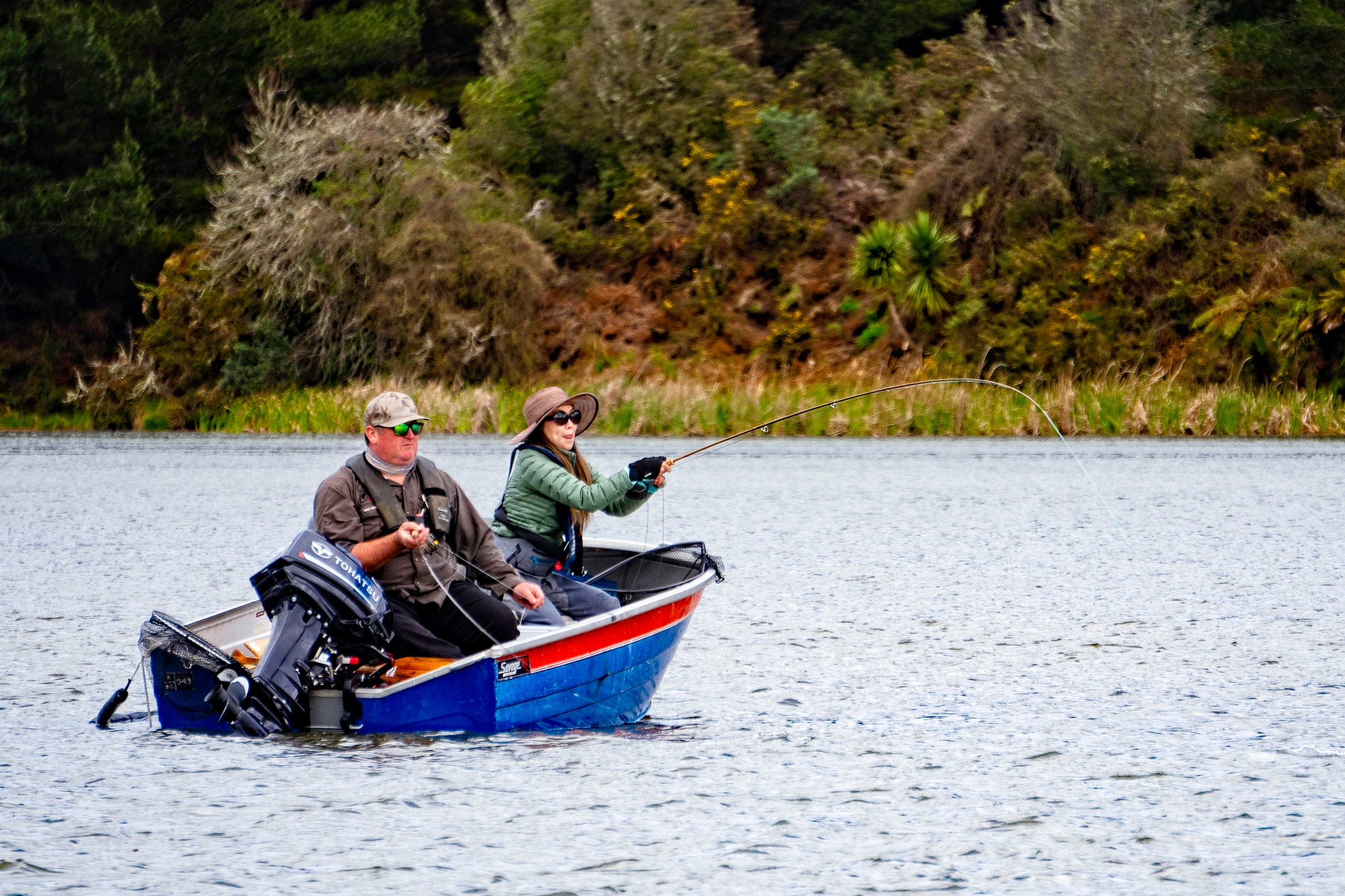 Wendy Lu and Nick Lyon both hooked up.