MANAWATU REGIONAL CHAMPIONSHIPS NOVEMBER 2017, MANAWATU RIVER
RESULTS:
The Manawatu River had remained largely in an un-fishable state for the early part of the 2017 season and there was some concern this comp would struggle to run at all, with high and murky river levels.  In a part of the country that even when you score the optimum river conditions the wind can kick in to gale force and make it almost impossible to keep a fly on the water. Yet with an almost perfect week of weather leading up too the 2017 event competitors arrived to find the Manawatu River near Woodville in its prime.
Like any comp we can only set out beats based on previous data but with an ever changing river there are always changes and surprises. And after round 1 it became obvious that last years prime beats weren't producing as well this years and several new hot beats were firing. 
Tim Rich the defending champion has taken most of 2017 off and was straight out of semi-retirement and into the Session 1 with a win landing 13 fish, followed by Lloyd Struthers, and John Bell.
The day was picture perfect for fly fishing with no wind and a light cloud cover, yet very warm. Fish were mainly being found in moving water that was well oxygenated.
Session 2 saw the rise of local anglers Paul Gummer who took out this session, and Craig Anderson, along with improved performances from our World Team members Mark Clasper and Cory Scott.
The final day had rain in the forecast but this did not remotely eventuate with another great day on offer. The overnight leader Paul Gummer unfortunately had a very tough beat, and John Gummer and Brendan Lyon were happy to finish with some better performing beats. Cory Scott who had by his own admission fished terrible on day 1 found his mojo and won session 3 with the highest session score of 14 fish in the last session and took the overall honours.
The Manawatu produced some great fish this championships with 197 fish landed and released. With many large fish between 50-60cm, with Tim Rich landing the biggest fish a rainbow of 62cm.
Many thanks to the controllers for making this event possible and to local lad and organiser Craig Anderson for his prep of the beats and running the comp smoothly. A big thanks also to Brendan Lyon for taking care of the scoring duties. 
Results:
1st: Cory Scott (Gisborne) 10 place points 33 fish
2nd: Craig Anderson(Palm North) 12 place points, 24 fish
3rd: Tim Rich (Auckland) 15 place points, 19 fish
4th: Lloyd Struthers (Hawkes Bay) 16 place point 22 fish
5th: Paul Gummer (Palm North) 16 place point, 21 fish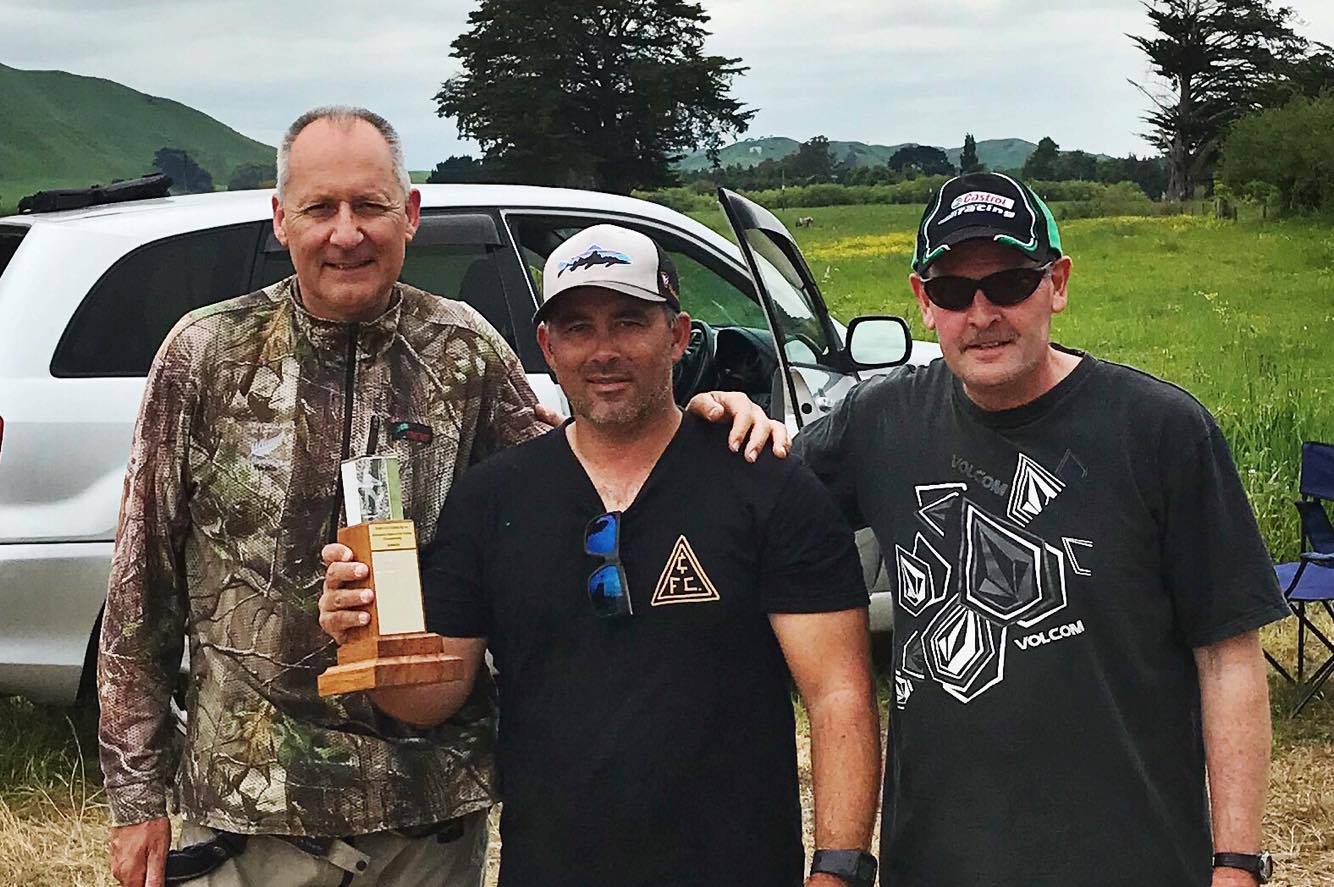 (L-R) Tim Rich 3rd, Cory Scott 1st, Craig Anderson 2nd