King Country Regional Championships - Nov 2021 - Whanganui River
King Country Regional - Whanganui River - Report
The biggest river competition in New Zealand in nearly a decade has ended with a familiar face at the top of the podium.
After a day-and-a-half battling powerful trout in powerful currents, 22 anglers emerged weary but happy from the boulder-strewn waters of the Whanganui River at this year's King Country Regional, held across Saturday 27-Sunday 28 November.
And after all the tallying up and cross-checking was complete it was Cory Scott who stood top of the pile by the narrowest of margins. Following closely on Cory's heels, in second and third places respectively, were Ollie Bassett and Kriss Stravs. Rachel McNae was the highest placed female angler in 14th. Biggest fish of the weekend were two 61cms stonkers, one caught by Cory Scott and the other by Nathan Pollard. A total of 421 trout were caught during the competition.
The Whanganui, near Taumarunui, is one of New Zealand's premier trout fishing rivers and once again it didn't disappoint; with 50cms fish being commonplace and a number nudging into the 60cm+ category, with plenty of tales of break offs, smoking reels and even a broken rod.
"This is my favourite venue on the competition calendar," said Cory. "The anglers I know from overseas who have fished this river always talk about it as being their fondest memory, it's just incredible for fish quality. Yesterday morning, of the 14 fish I caught, the smallest was 48cms, the biggest was 61cms. That's phenomenal."
An honourable mention also went to 17 year-old Nathan Pollard who finished a highly impressive fourth on his SFFNZ competitive debut, with consistent session scores of 10, 10 and 11 fish. Nathan was part of the South African junior set-up before his family moved to New Zealand two months ago and looks destined for a bright future.
Cory said doing battle with the young guns was something he was relishing.
"That's what it's all about, this is the next generation coming through and they all fished well. The fight that Ollie (Bassett), Kriss (Stravs), Hugo (Pearce) and Nathan (Pollard) put up, it was neck-and-neck all the way through the last session, so that was really exciting. It's great to come back to having those types of battles with other anglers. You're only as good as the people you compete against.
"We had the angler-controller session system for this comp, so it was great for me to fish with Ollie (Bassett) and Rachel (McNae). Ollie's been fishing well for a while now and he did again this weekend. It was great to spend time with Rachel as well; she's our mentor and driving force as far as the women's side is concerned and it's awesome to see her development as an angler too."
It was one of the biggest fields for a New Zealand river comp that Cory has participated in.
"This is the biggest river competition as regards entrant numbers that I've been involved in since 2012. And that's without our friends in Auckland being able to enter due to COVID restrictions, so it could've been even bigger. So the sport's growing and the level of competition is growing and that's great news."
The former multiple national champion said his return to competitive fishing this season had been driven by different motivations.
"I'm just here to give back to the sport now to be honest. I've nothing to gain by being here and winning I just want the level to keep on rising. I'd love to have a shot at going to Spain for the world champs in 2022 but it's no use me being at a high level if, by not sharing my information, that means the rest of the team is lagging.
"If you go to an international competition you can only do well if you've got a good team with you. Whoever gets the good rotation of beats is the one that is going to do well if their level is high enough. So I'm happy to say that the old school way of thinking, about going away to those comps and only being concerned with your individual result is dead. And now we're concentrating on the new pathway forward. And that's all about information sharing and helping one another, and that's not just for those who are involved in squads, but throughout the whole of our sport."
Cory added that he'd come into the competition quite rusty, having fractured his foot and wrist seven weeks ago, meaning he was short on practice time.
"My fitness and wading wasn't great if I'm honest but I just about got over the line," he laughed.
Competition organiser, and SFFNZ legend, Peter Scott said it had been a really enjoyable weekend.
"It was a great event and we were certainly blessed with some lovely weather. The river was a bit up and down as regards water levels at times; the power station people were keeping us on our toes.
"The anglers got the chance to fish to some really magnificent trout though, big powerful fish, that'd just about pull your leg off, phenomenal condition factor. They look like salmon."
Thanks go to Peter Scott for organising the event, to all those who helped mark out the beats on Thursday and Friday and to Paul Bassett for giving up his time to score the competition. Thanks also to Fish and Game and to the landowners who allowed access to some of the beats, without you these competitions would not take place.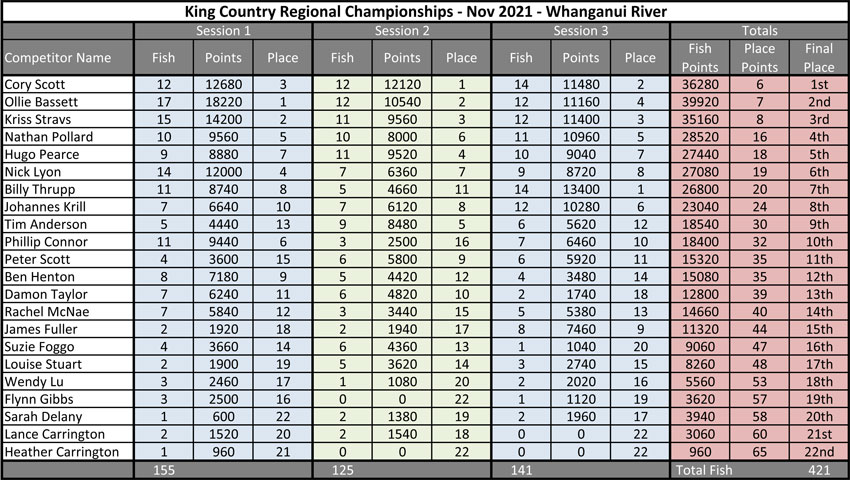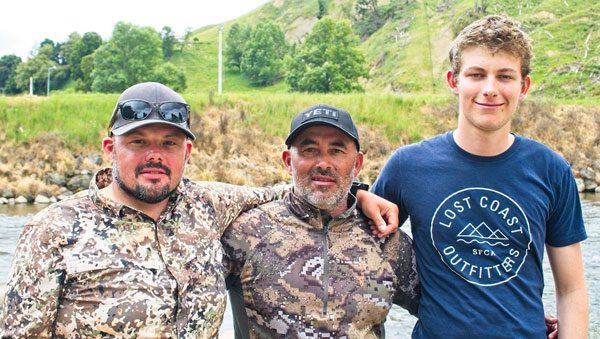 From left Kriss Stravs 3rd, Cory Scott 1st, Ollie Bassett 2nd