Waikato Regional Championship
Held on the Waihou, this event was won by Ollie Bassett, recently crowned 2023 River National Champion, making this his third consecutive victory in a few weeks and taking first place in every session at this event for a totally dominant display. Runner-up was too-many-times-to-count National Champion, Cory Scott, and the podium was completed by the ever-consistent Johnny Bell.
Louise Stuart showed how much her skills have developed by only just missing out on the top three and also finishing as top female.
Ollie used a variety of methods to net the amazing number of fifty-eight measurable fish he took across the three sessions, typically Euro nymphing in the morning and fishing dry dropper as it warmed up later on and even observed a hatch of small mayflies on the Saturday afternoon. After an exhausting week of study at the University of Waikato, where he is currently studying for his masters, he was concerned he may not be "up" for the event but the number of fish to be caught and the level of competition soon got him going.
Ollie enjoys terrific support from his family and Silver Flies Team colleagues and said "my parents brought my grandparents to watch my last session for a Mother's day adventure and it was really special having them there. I also had an enjoyable weekend staying with the Silver Flies team for Senior World Champs in Slovakia. I think we've got a really good team this year and I'm super excited about that. I would like to thank everyone involved in running this unique weekend of competition."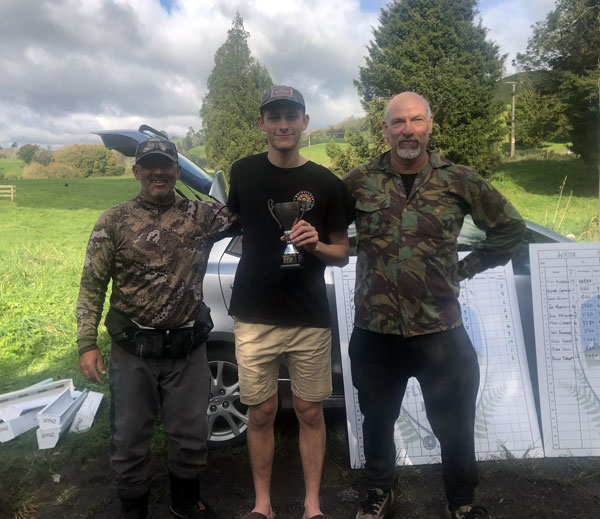 Cory Scott 2nd, Ollie Bassett 1st, Johnny Bell 3rd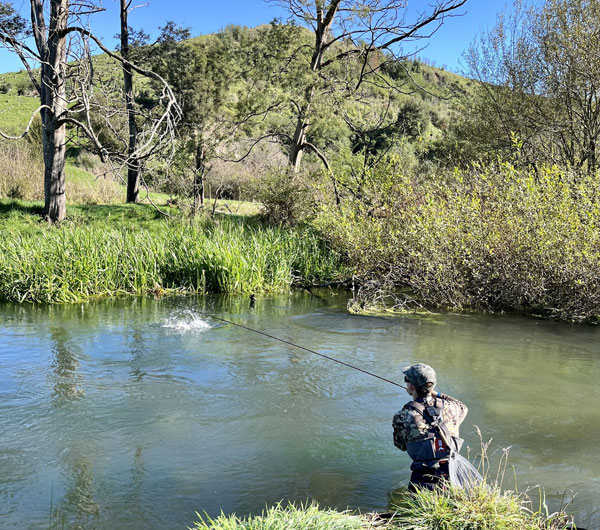 Ollie Bassett playing a fish