OLLIE BASSETT WINS FIRST LAKE COMPETITION WITH DOMINANT DISPLAY AT REREWHAKAAITU
Ollie Bassett emphatically broke his duck on the lakes by leading from start to finish at the Bay of Plenty Regional Championships held on Lake Rerewhakaaitu.

Ollie won every session to finish with the best points tally possible, and well ahead of the rest of the 14-strong field. Ben Henton placed second and Tim Anderson completed the podium in third. Lance Carrington caught the biggest fish of the weekend with a 57cms rainbow.
The 20 year-old has gone close before on the lakes, and has won several river competitions, and this weekend's result was seldom in doubt. He averaged nearly 10 trout a session, finishing with 29 fish for the weekend. The next best weekend total was Tim Anderson's 12, an average of 4 fish per session. It also meant Ollie caught a third of the fish caught by the entire field over the course of the competition.

"I have a 3rd and 2nd at Rerewhakaaitu before so it was nice to go back and get the win this time," said Ollie. "I had an idea for the tactics I wanted to use, so it was really satisfying to see how that paid off. I spent a bit of time thinking about where I wanted to fish and targeting some spots; it worked really well so I was happy with that.
"I've recently spent a couple of months in the US where I did a lot of fishing and used a little of what I learned there too. I tried to match my fishing technique to the time of year and not just fish it how I would do normally in the height of summer, as the conditions were colder, the numbers likely to be lower and the fish behaving differently. Overall I'm just really happy to get my first lake win."

Competition organiser Ben Henton also congratulated Ollie on a stunning result.
"It was a standout performance by Ollie, he smoked the rest of us really, so a thoroughly deserved win" said Ben. "Those who cracked the code and got onto a few fish were able to get a few but this lake is a great leveller in wintertime, sometimes the fish just won't play ball.
"The competition as a whole went pretty smoothly; it was a team effort though and I would like to thank everyone who got involved and gave me a hand. I'd like to make a special mention of Phillip Connor. We had some engine issues with one of the boats which unfortunately meant that boat had to withdraw from the competition, which also meant one non-boat owning angler had to withdraw. Phil put his hand up and him giving up his competition meant I was able to continue to compete.
"The weather was four seasons in one day at times but made for good fishing conditions. All in all it was a great competition."

Lake Rerewhakaaitu is a small, shallow lake, located 30 kilometres to the east of Rotorua. At 438 metres (1,437 ft) above sea level the lake is the highest and southernmost of the Rotorua Te Arawa lakes. Occupying a shallow basin, it is mostly surrounded by farming pasture.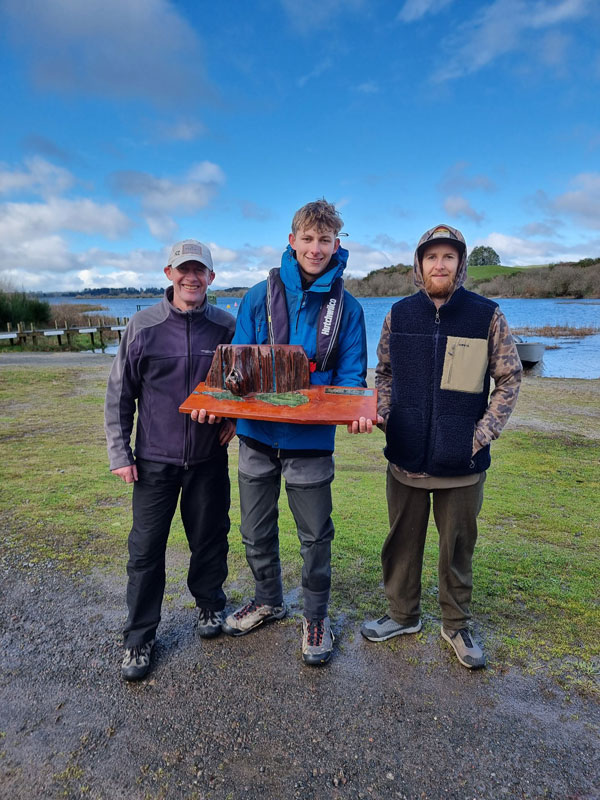 from left: 3rd-placed Tim Anderson, Winner Ollie Bassett, 2nd-placed Ben Henton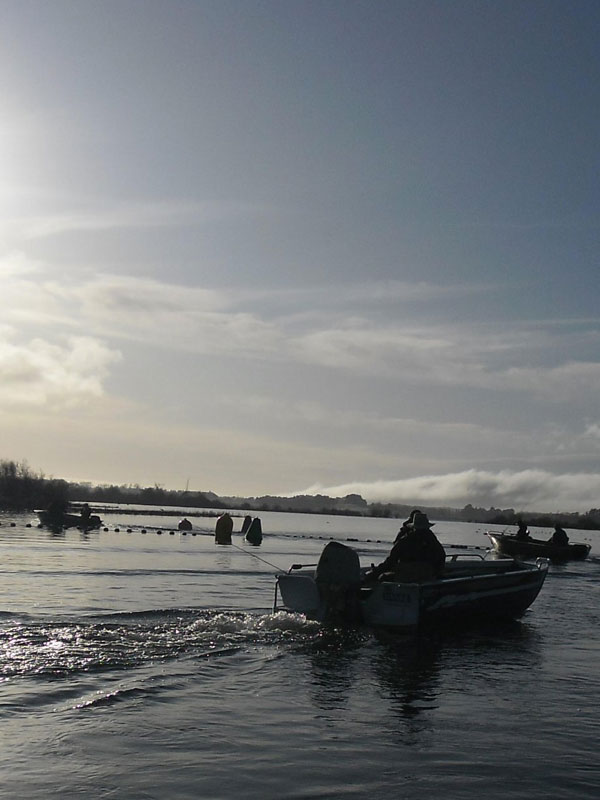 Heading out - early morning