Taupo Regional Champs Results; Lake Kuratau 10th-11 Dec 2011
The tone of fly-fishing is the ability of a venue to offer up a different character on any given day. Rivers are dynamic, the weather is fluid by season or time and on this occasion conditions at Lake Kuratau were quite at odds from the previous year's Taupo regional.  Where as that competition had called for sunscreen, the first session of the 2011 tournament was held in the pouring rain and rather chilly. The only similarity was a lack of breeze which is always a challenge, but can be of use in a lake where staying close to but not in the sticks can seem a military exercise. The lake level was constant over the weekend, a little lower than last year for the first 2 sessions and considerably lower than the 2010 3rdsession. A strong field of 22 anglers entered and the 11 requisite boats scattered pretty well across the lake for the duration of the initial 3 hours. Again there was a high proportion of experienced competition anglers with several fresh, charging and full of anecdotes from the recent Oceania's at the Snowy Mountains in Australia.
Most anglers chose to strip teams of flies for this session and good numbers came to the boat. In total 188 fish were recorded, well up on the 87 fish caught by 20 anglers on the previous year. Des Armstrong took first place with 20 trout and his boat partner Kyle Melnyk took 2ndplace with 17 fish, hence proving Kyle's boat 'Tuki' to be an absolute fish magnet. I placed 3rdwith 14 fish above Tony Houpt's 17 in 4thplace. StratoCotsilinis landed a 59 centimetre brown trout in this session, a special fish of any days fishing but particularly testing and remarkable at a Lake like Kuratau. That these fish exist and amongst such numbers of trout is testament to what a terrific fishery the lake is.  Craig Farrar caught a 50 cm rainbow this session, and a couple of 49 cm rainbows were measured, none of which were for the faint hearted.
With much more clement conditions the 2ndsession saw most boats heading to the northern side of the lake where Tony found 21 fish for 1stplace above Des with the same tally. Craig Farrar and Tim McClew both caught 12 fish and placed in that order. With 155 fish recorded that session the lake proved willing to provide good sport, and again numbers were well up on the previous years 101 again albeit by 20 anglers as opposed to this talented team of 22. Many anglers plonked or drymphed this session. Again a few big fish came to the net. John Bell measured a brown equal toStrato's in the previous session, and Mark Clasper landed a rainbow of 56 centimetres. 
Sunday saw conditions similar to the second session of the previous day and a mix of plonking and sinking lines rigged for the session. Again a majority of boats headed for the northern side of the lake with the slight nor-easterly breeze promoting some useful drifts. Good numbers of fish were measured with 150 being tally in total. Des, Johnny and Lloyd Struthers caught 12 fish each to place in that order. Paul Baker and Tony took 10 fish each for 4thand 5th. In this session new-comer PeterRubischon measured a personal best of 7 fish putting the skills he has picked up in the SFFNZ Silver Fliesclinics to excellent use, a great result. And again Mark took a 56 cm lunker and Peter Chan did the same.
The final results saw Des take 1stplace over last years champion Tony in 2ndplace. Johnny took 3rdplace and Kyle placed 4th.  The gentlemen on the podium were presented with a well-deserved bottle of 'Stolen' rum courtesy of their SFFNZ shareholders Kyle and Josh Lancaster and goodies from Sponsor Rod and Reel.
While anecdotally the fish felt bigger they were in fact just over a cm smaller than the previous year at 32.73 cm. 492 fish were caught over the weekend, nearly twice that of the 2010 competition. I could theorise about the conditions and nature of waterways in general, and also about the desire of these hard fighting and brave fish to open their mouths and bite down on barbless hooks but I am choosing to believe that the result was as much to with an increase in the skills of the anglers, both those representing us internationally this season and those that are working hard on New Zealand waters. The nature of boat fishing in this manner is that there is a wealth of information available to digest and apply, so to see such good numbers of fish measured speaks to both a healthy fishery and a healthy amount of angler ability.
As ever a note of gratitude goes to the organisers Craig and Kyle who did an outstanding job in organising this mob, thank you both and well fished. 
Belinda Thomas.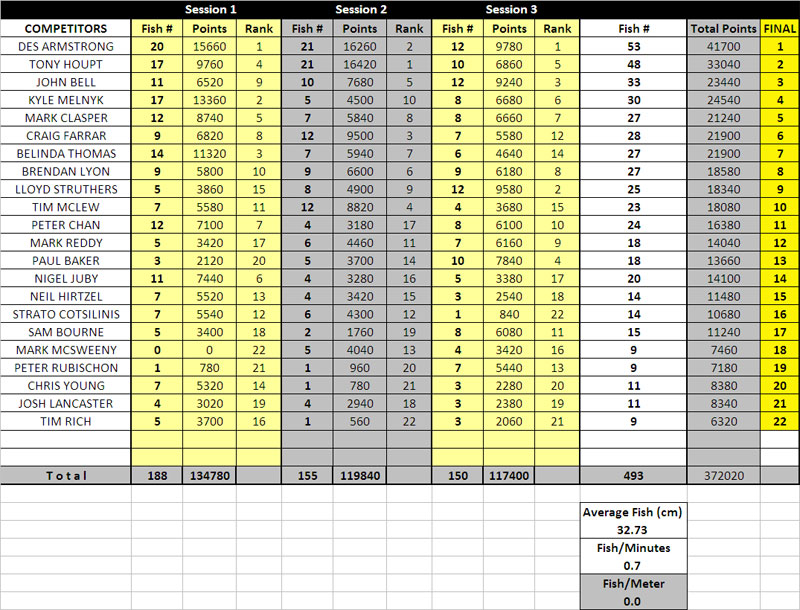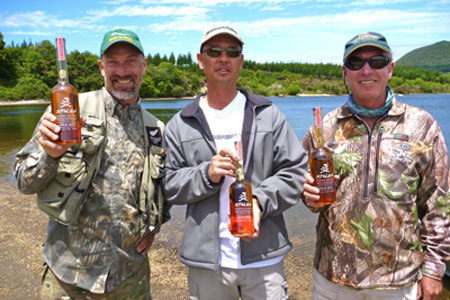 Taupo Winners, from left- John 3rd, Des 1st, Tony 2nd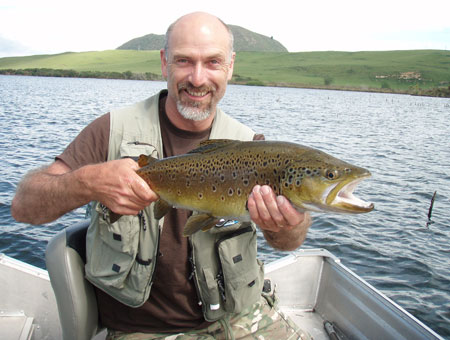 John Bell with a nice brown from session 2