Hawkes Bay REGIONAL CHAMPIONSHIPS February 2019, tuki tuki RIVER
RESULTS:
The Hawkes Bay Regional Championships were held on the 9th & 10th March on the Tukituki River at Waipukurau. The weekend was an absolutely stunning scene of what the Hawkes Bay is renowned for, which meant there were plenty of other river users out and about... NZ FF Team member Sam Bourne of Auckland was the winner, followed by Mark Clasper [auckland) and overnight leader and local man and NZ FF Team member Lloyd Struthers slipped back to third after drawing one of the tough beats to finish.
Check out more pics from these events at our Facebook page.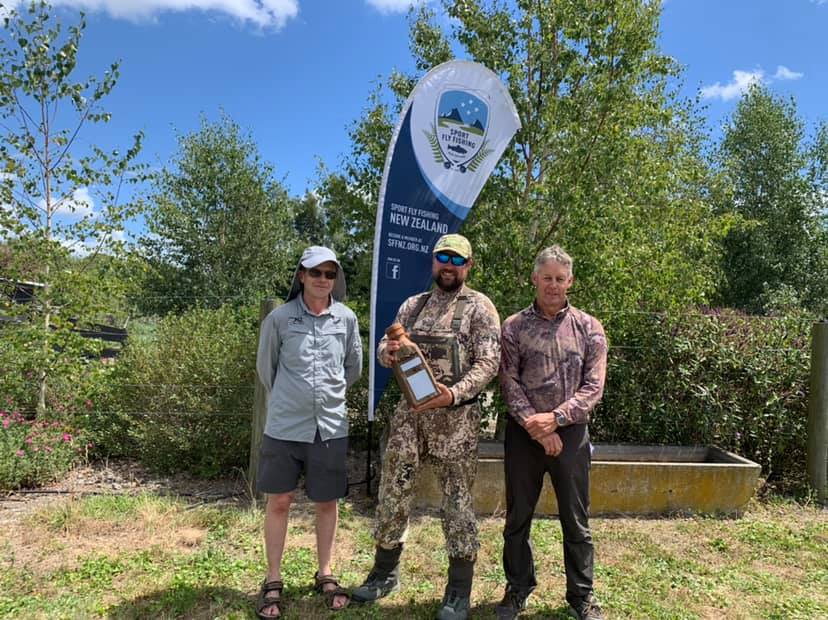 (L-R) Mark Clasper 2nd, Sam Bourne 1st, Lloyd Struthers 3rd
Many thanks to the Hatumu Cafe for their hospitality and organiser Lloyd Strutters, also Nick Lyon for running the admin and scoring. The champs were fished in the czech style where only the anglers largest fish is measured, the fish caught are netted counted and then immediately returned to the river. SFFNZ are also very proud of the way our catch records from these annual champs are utilised by Fish and Game to show trends in the health of the fisheries. The recent hot weather suggested the fishing would become beat dependant but this year it was other river users that added a dynamic to the angling experience several anglers had to share the river with not only other anglers but dogs, swimmers, 4wd cars, quads and motorbikes all taking to the river. At times you could only laugh when a quad bike with only the handle bars above water was driven straight down a beat while an angler was attempting to catch fish. Aside from those experiences there were some great numbers and size of fish caught across the sessions with many coming up during the consistent mayfly hatches. Sam Bourne measured the largest fish a 59cm rainbow.