BIG BROWNS THE NORM AS BRENDAN LYON WINS LAKE WHAKAMARU HYDRO LAKE COMPETITION
Big fish and a wonderful atmosphere were key themes of the recent Hydro Lake Competition held on Lake Whakamaru.
Experienced competition angler and New Zealand representative Brendan Lyon emerged victorious at the Waikato venue, with Rachel McNae and Heather Carrington placing second and third respectively. 10 anglers did battle across three, three-hour sessions on Saturday 12th/Sunday 13th March, and the average fish size was high at 48cms. In all 129 fish were caught - 29 rainbows (22%) and 100 browns (78%) and the largest was a 63cm brown caught by Phillip Connor.


"I was really impressed with how the lake fished and thought it performed really well," said Brendan. "We used to hold a Rudd Classic here a while back and we have held other events previously, so it was interesting to be back here again. I don't remember many comps where the standard fish is a 50cm brown. So they were big fish, the vast majority were browns and they were in good Brendan as well."
Brendan said the atmosphere was good all weekend.
"From an atmosphere perspective it was one of the most enjoyable comps I've fished. Everyone was willing to lend a hand, to help one another out and it was all conducted in really good spirits. We had a five and five split between female and male anglers and it was obviously a great showing from the women with Rachel and Heather on the podium. It was close all the way through and another place point here or there and Rachel would've won it.


"I would also like to give a shout out to Charlie Abrahams. Charlie's a very experienced UK reservoir fisherman, but this was his first New Zealand competition and he finished 4th which was a good performance, and it's great to have him onboard."
The tactics weren't complicated it was more about finding the fish added Brendan.
"I mostly stripped with a DI3 but the hang was important, with quite a few of the browns following and then taking at that stage. I don't think fly choice was that important but a black woolly bugger on the point was my most successful fly. Browns like gold as well and so I had a flashy gold attractor fly on my top dropper which I think maybe helped draw a few of them in."


Second-placed Rachel McNae, who was also co-organiser of the event with Brendan and is a fellow New Zealand representative, said it had been a hugely enjoyable weekend.
"It was a bit of an unknown to be honest but the lake delivered," said Rachel. "There were some fabulous fish caught, some big browns. We had moved the boat launching point from further up the lake where there was a lot of wakeboarding activity, which was a good decision. Getting out through some of the weedbeds was a bit challenging at times but once you were out, there was some great water."
Rachel added that her final session was indicative of the spirit in which the weekend was fished.
"Going into the last session Heather and I were really closely placed, sitting in second and third and we were sharing a boat for that final session as well. For the first two hours we were pretty much going fish for fish, so what could've been quite a tense situation was actually really enjoyable, we were having a laugh with one another, it was really nice. There was a fantastic vibe at the lakeside the whole weekend actually, and it was great to have such a strong female contingent there all working with one another. That sort of thing can only stand us in good stead for future international competitions when people will be travelling away together as a unit."


Thanks were given to Brendan and Rachel for co-organising the event, and to Fish and Game for allowing the competition to take place.
There are seven artificially created hydro lakes on the Waikato River: Karapiro, Arapuni, Waipapa, Maraetai, Whakamaru, Atiamuri, and Ohakuri. They have been formed by the construction of dams on the river between Hamilton and Lake Taupo for hydro-electric generating purposes. SFFNZ holds an annual competition on another of these, Lake Maraetai, where the average size of browns is also high.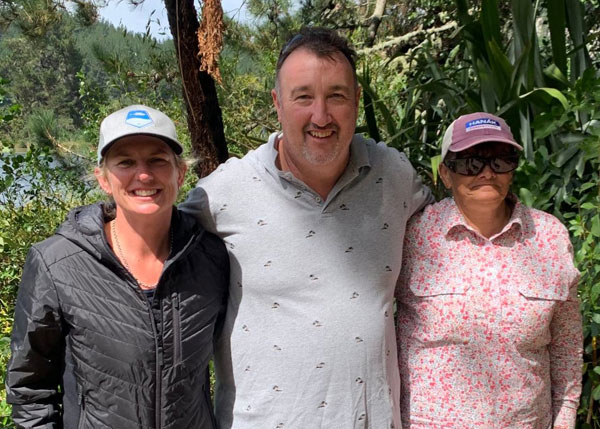 The Hydro Lake Competition podium (from left): 2nd placed Rachel McNae; 1st placed Brendan Lyon; 3rd placed Heather Carrington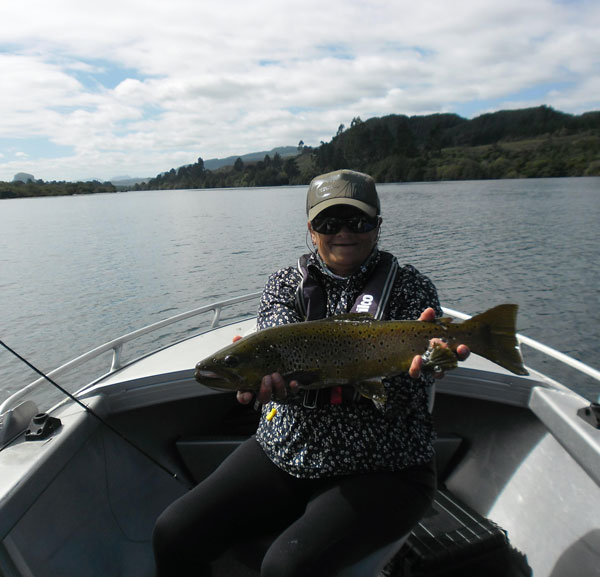 Heather Carrington with a beautiful 57cms brown