HEATHER CARRINGTON HAPPY TO ENDURE SLEEPLESS NIGHT AFTER WINNING FIRST COMPETITION
Heather Carrington said she was so excited after her claiming her first competition win at Lake Maraetai that she barely slept.
Heather's victory in the Waikato Regional Championships at the weekend was particularly impressive given that she only began competition fishing last year. Her victory continued a run of great performances from our female anglers, stretching back into last season.


The Lake Maraetai podium was rounded out by another newcomer to the New Zealand competition scene, Charlie Abrahams, in second and seasoned local campaigner Mark Clasper in third. Mark also accounted for the biggest fish of the weekend, a stunning 64cms brown trout. 20 anglers contested the event across three three-hour sessions over two days (27th/28th August).


Speaking the day after her victory, Heather said she was still on a high.
"It's really very special, I just can't believe it," she said. "I was so excited, I couldn't sleep last night. This competition last year, at Maraetai, was my first lake competition ever; so to come back and win it this year is incredible.
"Getting into the SFFNZ Fly Ferns squad was an achievement in itself this year and I've been on a high about that, but now to win a lake competition as well has topped all that off. I've been doing a lot of practice, especially with the other women and my husband Lance, and it's paid off. At the end of the day though I just really love going fishing, win or lose."
Conditions were tough and it was all about consistency said Heather.
"There wasn't a lot of ripple to begin with and it was a little tough. I was halfway into the first session before I caught a fish, and my boat partner Mark Clasper already had a couple by then. But we moved positions and I got two in pretty quick succession.
"Second session, we were halfway through again before we went to an area where I'd caught fish in practice and I hooked up pretty much straight away. That was a lovely 62cms fish as well, and I ended up with 4 for the session.
"I was stripping with a DI3 or DI5 and woolly buggers all weekend. I tried heaps of different flies, but a black one and a claret one were the top performers."


Overnight Heather was locked at the top of the leaderboard with Charlie Abrahams and Neil Hirtzel.
"Overnight there were three of us at the top, and everyone couldn't have been more supportive on the Sunday morning, saying to just go out there and fish, not to try to do anything different. I had a lot of encouragement which was lovely.
"I went out on the Sunday morning session and went straight into the spots I'd caught on the Saturday and caught one straight away. Catching that first fish in the last session was a big relief. I got another one and actually had the chance for a third but lost that close to the boat; so I was wondering if that would prove costly. Thankfully it didn't."
Heather added that she had been touched by everyone's support.
"I'd like to thank everyone for their encouragement over the weekend, and I've had some lovely messages since, which has been really nice. There are some great people involved in Sports Fly Fishing in New Zealand."
Competition organiser Damon Taylor said the second lake competition of the season had proved a tough one for many anglers.
"What is always a popular event at the start of each season proved to once again test the resilience of anglers," said Damon. "Conditions were hard at times with low fish numbers recorded over the competition, and the weekend saw large numbers of anglers blank during sessions.
"Those who persevered were rewarded with some particularly large brown trout being caught. There were a number over 60cms caught, and Mark Clasper landed the largest fish, at 64cms in length."
Damon said it was anyone's competition leading into Day 3, with consistency being the key to getting a high placing.
"A case in point is the exceptional result by Heather, through consistently catching fish in all sessions, including a great Session Two. This saw her going into Session Three in a three-way tie on placing points, with SFFNZ national treasure Neil Hirtzel, and relative newcomer (at least to New Zealand), Charlie Abrahams.
"Session Three proved to be crucial, and Heather delivered the goods to take the overall title. Billy Thrupp noted at the presentation how fantastic it was to see someone who only started competing a season ago make it to the top step of the podium, a sentiment echoed by everyone.
"Special thanks go to Fish and Game New Zealand Eastern Region, for once again allowing us to run the competition on Maraetai, and an honourable mention goes to Bronwyn Wilson, who showed up armed with homemade scones and jam to feed everyone at the end of the competition," added Damon.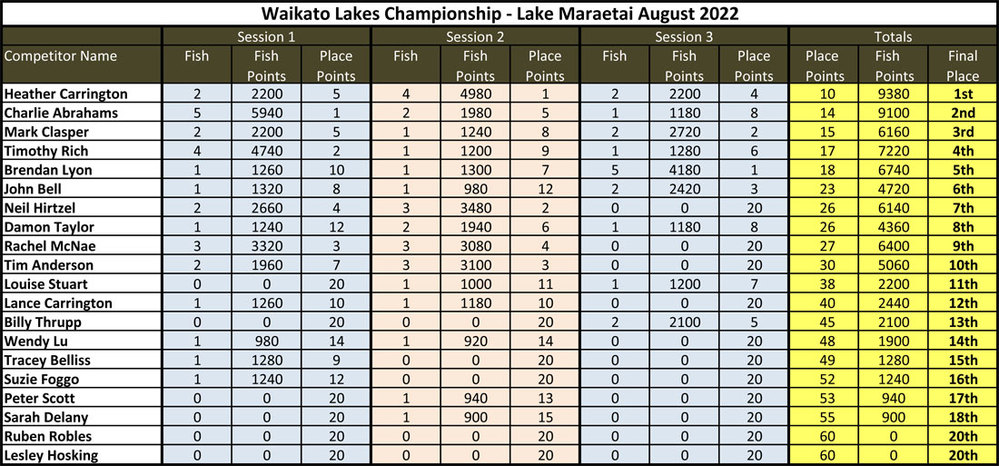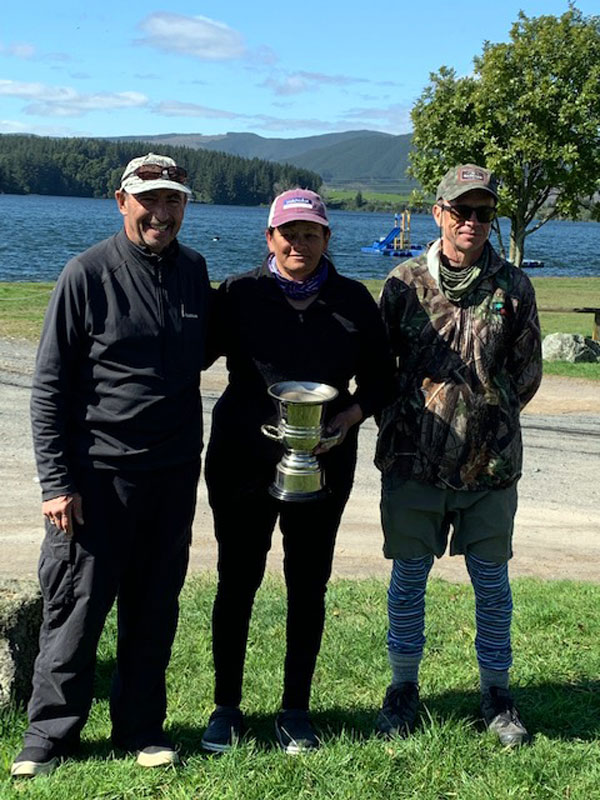 (from left): 2nd Charlie Abrahams; Winner Heather Carrington; 3rd Mark Clasper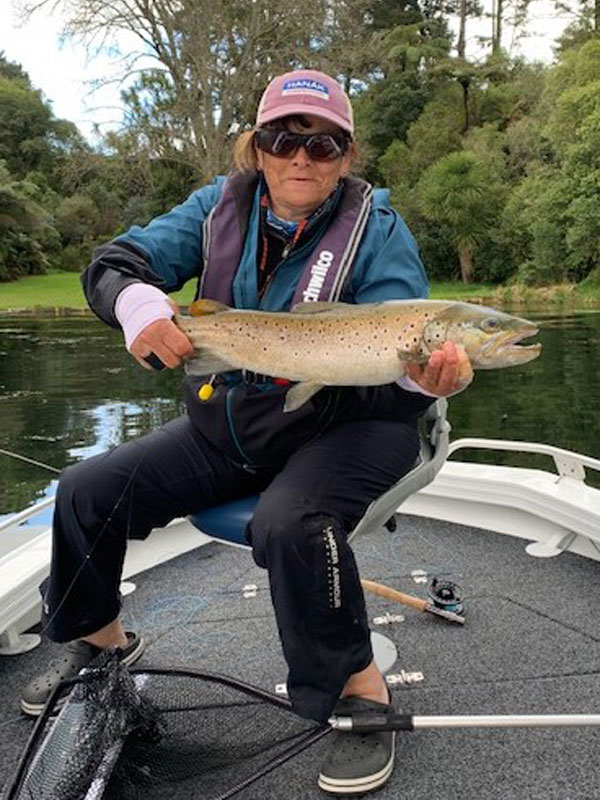 Heather Carrington the champion with a beautiful 62cms brown