Cory Scott wins first Rotorua Regional River Championship to be held on Whirinaki River.
Cory Scott has emerged victorious from a top level field contesting the first Rotorua Regionals Championship to be staged on the beautiful Whirinaki River.
The tournament, sponsored by Hanak NZ, was the inaugural Sports Fly Fishing New Zealand event to be held on the Eastern Bay of Plenty river and it is unlikely to be the last.
12 competitors battled each other, and a host of supremely-conditioned hard-fighting fish, over three sessions and two days amongst some stunning countryside, ensuring a memorable event for all.
It was only Cory's second competition of the 2020/21 season, having 'retired' at the end of last season, and his second victory. The multiple national champion topped the podium with local man Dan Comer runner-up and young gun Ollie Bassett in third place. They won Hanak gift vouchers of $300, $200 and $100 respectively. James Fuller also won some Hanak merchandise for the biggest fish of the weekend with a 58cms Rainbow. "This was a high quality field, probably better than we've had at the last two Nationals to be fair, so it's really pleasing to win it," said Cory. "I looked at the names on paper beforehand and thought gee there's no easy ones to follow there and it turned out that way, so a great comp. It's one of the premier rivers in the North Island and it's not heavily fished. The fish population and health of the fish is quite incredible. There were a lot of 50cms plus fish caught this weekend and hooking up to them is super exciting, a lot of fun."
The Gisborne man said the Whirinaki was one of his favourite venues and that was one of the reasons he competed. "I'm also here to help people out where I can," he added. "I firmly believe if you can help raise people's skill levels then they'll enjoy it more and our sport will continue to grow as a result. This sport has given a lot to me and I want to give back where I can."
Tournament organiser Billy Thrupp said it had been a successful weekend. "I think it went well and I'd say it'll stay on the calendar for next year," he said. "If someone in the third session can catch 22 fish that tells you what a good venue it is, and it's not just the numbers but the quality of the fish. I think we can develop some of the beats a bit more with some more access for next year as well so it's looking good. "For me, one of the things which was great about this weekend though was the social aspect with us all staying at the same house. The comps like that are really good and it's great for the camaraderie of everyone involved."
Sponsors Hanak NZ were thanked as were the local landowners for allowing access to the river through their properties. Also thanked were competition organisers Billy Thrupp, Nick Langdon and Chris Young, as well as Ollie Bassett for helping mark out the beats prior to the weekend. "It was a good competition, with a great field; there was certainly nobody soft to fish behind," said Peter Scott of Hanak NZ. "There were a lot of hard fighting fish caught but they certainly owned us a few times as well that's for sure. Overall it was also really nice to get another river competition in after some cancelled events this year."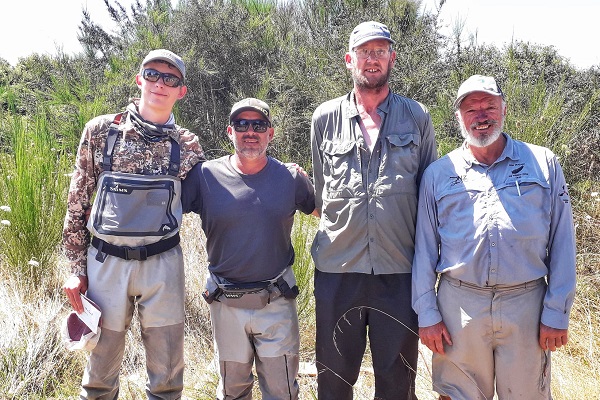 The Rotorua Regional River Championships podium.
L-R: Ollie Basset 3rd, Cory Scott 1st, Dan Comer 2nd, Peter Scott (Hanak NZ, sponsor)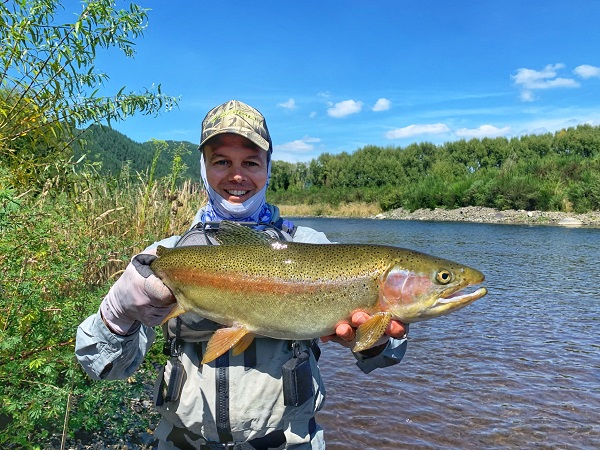 James Fuller with the biggest fish of the competition a 58 cm rainbow and an epic battle.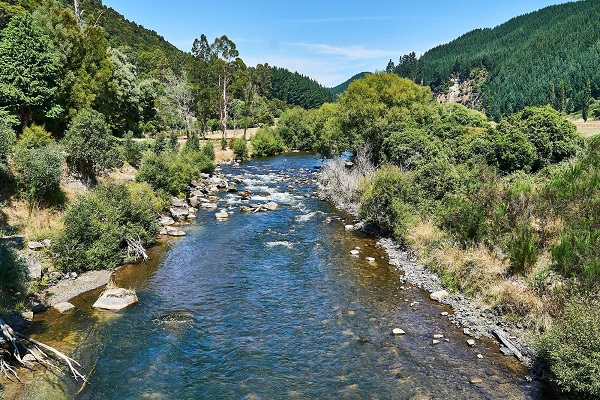 Whirinaki River - Pristine water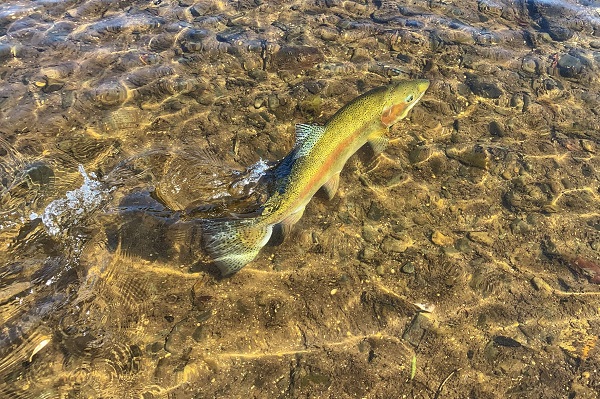 Every fish is caught measured and released with great care.