TEENAGER RETAINS HIS TITLE AT LATEST SFFNZ LAKE COMPETITION
Teenager Hugo Pearce has retained his Taupo Regional title on Lake Kuratau in the latest Sport Fly Fishing New Zealand lake competition.
Hugo said it was great to win the event, which was held across Saturday 22nd/Sunday 23rd January for the second year in a row. The youngster recorded consistent session scores of 12, 12 and 11 to take the win ahead of veteran campaigners Mark Clasper in 2nd and Tim Anderson in third. Heather Carrington fished superbly to finish as the highest placed female angler, in 12th.


"Last year was my first ever lake comp victory so it was really nice to back it up again this year," said Hugo. "I do really enjoy fishing this lake, it's certainly one of my favourites."
The 18-year-old, who is part of the New Zealand training squad for the Spain World Championships later this year, said it wasn't a typical Kuratau competition.
"The fishing was quite random to be honest, it was all about just slowly picking up fish one at a time, which is not like this lake. The fish seemed to be spread throughout the water column. There were lots of fish moving on the surface but I tended to have better success by ignoring them and fishing deeper.
"You could catch rising fish if you covered that rising fish with your fly pretty much instantly. Fish were eating the fly straight away, as soon as it landed, so covering them, landing your flies straight and having quick contact was vital in hooking up to those fish; as was not casting too far.
"I didn't plonk during the competition at all, just stripped. But I varied the retrieve, and all retrieves from an aggressive strip to a very slow finger knit worked at different times."


Lake Kuratau is located in New Zealand's central North Island region. It is the smallest of Taupō's fishable lakes and contains a high population of generally smaller trout. Whilst the fish might not normally reach the size and condition of those in Lake Taupō or nearby Lake Otomangakau their sheer numbers make this small hydro lake a pleasure to fish.
The recent hot weather had caused a slight rise in lake water temperatures and prompted organizers to implement the Czech scoring system, to help protect the health of the fish. This system means that only two fish are measured with all other fish scoring as minimum measured fish (i.e. 20cms). This meant minimal handling of the vast majority of fish captured, with many being unhooked in the net and released again without leaving the water.


Organiser Billy Thrupp said it had been another great competition.
"Kuratau is always a great lake to fish and everyone had a good time again. It was definitely fishing a bit differently this time round though and perhaps the warmer weather had something to do with that. In recent years we've seen session scores in the 20s being registered but there was none of that this weekend.
"It's great to see so many new people getting into competition fishing."
He also thanked local landowner Ali Read, the Department of Conservation, King Country Energy and fellow organizers such as Chris Young, Jason Pearce and Tim Rich for their valued assistance in helping make the competition happen.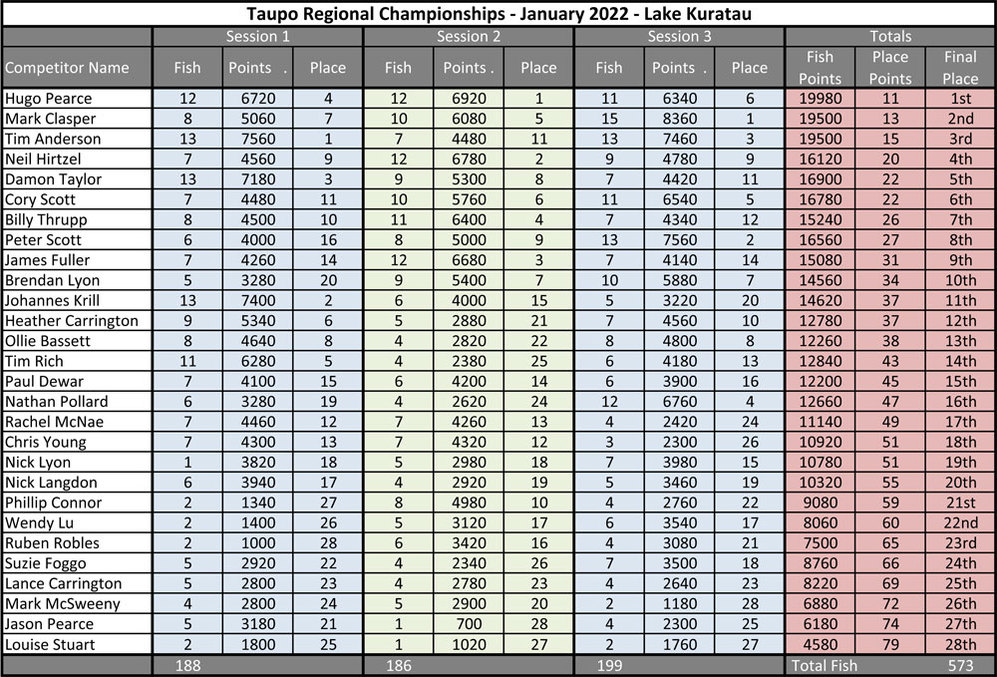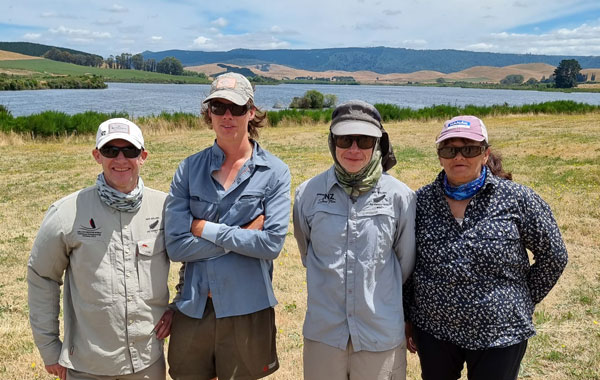 The podium (from left): 3rd placed Tim Anderson, 1st placed Hugo Pearce, 2nd placed Mark Clasper and top female angler Heather Carrington (photo James Fuller)