BILLY THRUPP WINS SFFNZ NATIONAL CHAMPIONSHIP 2023 AFTER CLOSEST EVER FINISH
Billy Thrupp is the SFFNZ National Champion 2023 after the tightest finish in SFFNZ history.
The victory means Billy is now a two-time overall national champion, following his victory in 2021. The overall national champion each year is decided by combining the number of place points scored by anglers across the eight sessions of the lake and river nationals events.
Billy dominated the 2023 Manic Tackle Lake Nationals on Lake Kuratau and held a healthy 22-point lead over his rival Ollie Bassett heading into the rivers on the Whanganui last weekend. Ollie's equally sterling performance there though, allied to an 8th-placed finish for Billy, meant that lead was wiped out; leaving the two tied on place points. The tie-breaker of fish points was required to separate the two and determine a winner.
In competition fishing you get points for each fish caught and points for each cm of fish caught (over a minimum size of 20cms). With this being the case, it meant that Billy's monster last session at the lake nationals on Kuratau, where he set a record in catching 34 fish, effectively sealed him the overall title.
"Bro it was so close but of course I'm super happy to get over the line," said Billy. "I'd like to congratulate Ollie, he pushed me all the way, and it went right down to the wire. He's a fantastic river fisherman and he's really upped his lake game as well in the last couple of years. It's only a matter of time for him, he's only 21 and he's knocking pretty hard on the door already, so it'll come."
So what does it feel like to be a two-time overall champ?
"I was happy to win it two years ago but I think I'm even happier this time round to be honest. It's nice to be able to enjoy it," said the ever-popular Billy, who will this year represent New Zealand at his first world championships, in Slovakia.
"I seriously thought I'd stuffed it up though. I got up to the car park at the end of my last river session on the weekend and everyone's milling around yarning. And Ollie comes across and says 'you got me bro, but only just'. I thought he was joking at first, but thank god he wasn't. His dad Paul, who was doing the scoring, said if Ollie's combined fish length for his 14 fish in the first session on the weekend had measured just 1cm more, then he would've gained another place point and won the overall title as well. Absolutely crazy, such tiny margins. So, as it turned out, that last session on Kuratau really sealed the deal for me."
Billy said he had a lot of people to thank.
"Thanks to my partner Sam for everything she has done for me, to Cory Scott who has given me so much advice down the years, and to Rene Vaz and Manic Tackle Project for supporting this great sport of ours in New Zealand, it's really appreciated. To my personal sponsors, Peter Scott and his wife Lynley, of Hanak New Zealand, who've been great to me for so long, František Hanák of Hanak Competition and Andrew Burden and Tore Nilson at Flytackle NZ, you've been fantastic as well, thank you. I'd also like to thank the Waihi Beach community for their support. And that includes Andy at the Flatwhite Café, who's been really great to me too. And I really hope I'm not forgetting anyone, I probably am."
2023 Manic Tackle SFFNZ National River Champion Ollie Bassett was magnanimous in defeat for the overall title.
"I'm super stoked for Billy, we get on really well and he's put a lot into the sport over the years and fully deserves his success, so congratulations to him," he said. "I'm really looking forward to going to Slovakia with him for the Worlds later this year, we've got a strong team, with a good team spirit and I think we've got a chance of doing well."
SFFNZ President Paul Dewar said both anglers deserved praise.
"Both Billy and Ollie did exceptionally well over both events, and it was such a close race coming down to the tiebreaker of fish points. Congratulations to Billy for taking out the title and to Ollie coming in a very close second; and also to Tim Anderson, who was very consistent over both championships in finishing third. All three are part of the team going to the world championships in Slovakia later this year, so that bodes well.
"I would also like to give a special mention to 19-year-old Nathan Pollard, who fished exceptionally to finish fourth overall. Finally I would just like to say well done to everyone who qualified and competed at our national events this year, both went off really well and it's great to see so many new people entering and enjoying the sport."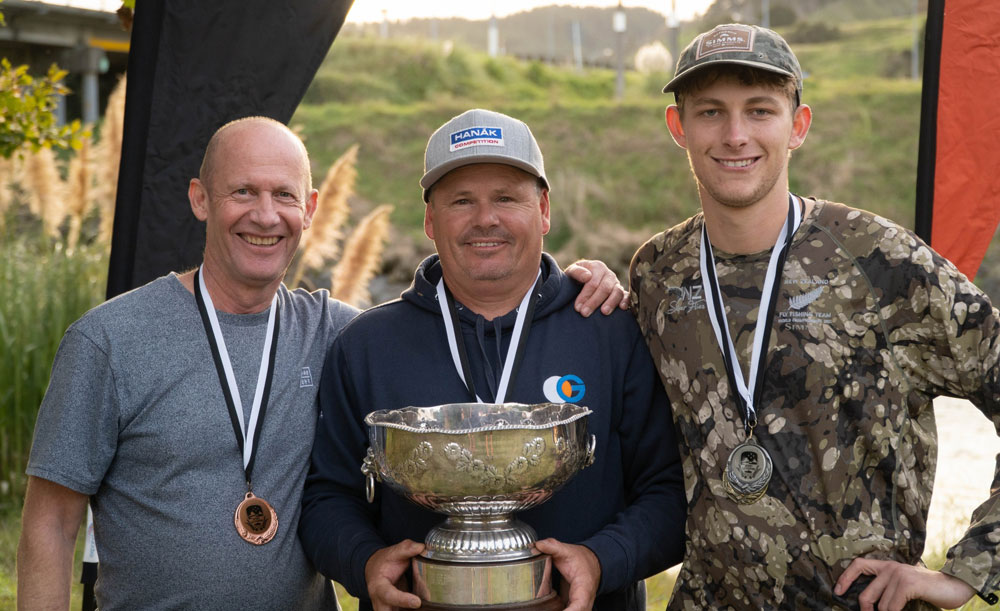 The SFFNZ National Championship 2023 podium (from left): 3rd-placed Tim Anderson; Champion Billy Thrupp; 2nd-placed Ollie Bassett. 
OLLIE BASSETT WINS 2023 MANIC TACKLE SFFNZ NATIONAL RIVER CHAMPIONSHIPS.
Ollie Bassett has won the 2023 Manic Tackle SFFNZ National River Championships with a comprehensive performance on the Whanganui River.
The 21-year-old headed up a stacked podium, with former national champions Sam Bourne, in second, and Aaron West, in third. There was no disputing the winner though as Ollie collected his second national river title, having won previously in 2021. With session results of 2nd, 2nd, 3rd, 1st out of 25 anglers, he finished 11 points clear of runner-up Sam Bourne.
There were 468 fish caught over the weekend, 395 rainbows and 73 browns. The biggest was a thumping 63cm brown caught by competition organiser Peter Scott.
"I'm really stoked to win, super happy," said Ollie. "And it's great to see Sam Bourne and Aaron West out there competing again and being so successful too. They've both taught me a lot over the years so it was cool to be able to share the podium with them."
The competition was contested over four 3-hour sessions, and Ollie said some themes had emerged over the weekend.
"One of the biggest things for me was being able to deal with the wind, fish good drifts and maintain contact. Being able to convert fish in the wind can be tricky and that's often because the contact is not quite there; this was especially true of trying to pick up smaller fish in the shallow water. The numbers of fish in the river were also quite well down on what we would normally get and I think that was probably due to the flooding disturbance we've had this summer."
The 21-year-old said a good lead-in to the weekend had left him primed and ready to go.
"I had really good preparation for the competition. I was on university holidays so got to come down a couple of days early and practice on the Whakapapa, got my gear all ready, got rested up, my parents looked after me all weekend with food and everything, so I was able to get mentally well prepped, and that certainly helped.
"I feel like I'm a lot calmer on the water now, more cool headed with decision making, which enables me to fish quite clinically. I used to get frazzled at times during sessions but as I get more experienced that's happening less. Fishing overseas has also helped with that."
Ollie said he had been made to work hard throughout all four sessions though.
"The first session, Beat 11, was a short beat with some nice water but it took a bit of time for me to really get into the fish. You had to work for your fish in each session actually and I went for a bit of a swim during this one, but ended up with 14 fish.
"My second session was on Beat 16, which had had a low score come off it in the morning so I didn't really know what to expect. I ended up grinding it out in the wind, which was funnelling through there a bit and making it tough and hard to get a decent drift. I ended up catching them on a combination of dry fly, wetlining and nymphing; so I definitely had to work for my seven fish in that session.
"Third session, I turned up and there was a good brownie sipping dries just outside of my beat marker, so that was pretty nice to watch whilst I set up. Was a little frustrating that he wasn't inside my beat marker though, haha. It was quite a short beat and was open and windy so it was pretty tough again. Also John Bell had been on there before me, who is a really good fisherman, and he had fished it hard. I managed 10 fish in the end.
"My final session had had eight fish off it in total in the three previous sessions over the weekend, so I was a little apprehensive going into it. But I actually ended up fishing one of the best sessions I've ever fished I think, which was a really pleasing way to finish off the comp.
"I knew there were some browns on the far bank so I started off by sight-fishing those one by one; then I worked the pool and had some good fish out of there. Then I went down to the pocket water and, whilst it wasn't holding as many fish as it would usually, I still managed to pick a few smaller ones off, ending up with 12."
Coming into the weekend a variable weather forecast had put the event in doubt but, as it turned out, the weather gods shone favourably and it was clear blue skies throughout. It proved to be a fantastic event fought out in a competitive but jovial atmosphere, with new friends made and good times had at a wonderful venue. The Whanganui River around Taumarunui, in New Zealand's central north island, was a venue for the 28th World Fly Fishing Championships in 2008, and is noted for its powerful rainbows and browns.
Manic Tackle Project provided over $3000 worth of prizes for this year's river nationals and Manic's Lucas Allen congratulated Ollie Bassett on his victory.
"Huge congratulations to Ollie on the win," said Lucas. "To be that far clear in the end of such a great field of anglers is testament to his talent, he's a serious fisherman.
"I know there was a bit of doubt whether the event was even going to go ahead in the week leading into it because of the weather forecast, so it's great that the weather turned out to be so good all weekend. The Whanganui is such a great venue for an event like this and has such a variety of water types that it tests out all an angler's skills, including wading, over the course of a competition. I understand there were some new faces this year as well, which is always good to hear and great to see the sport is in such good health.
"Manic Tackle likes to support the competition scene and this is one way that we can do that, by providing the prizes for the nationals events. It's clear SFFNZ puts a lot of hard work in behind the scenes when organising events like this and it's great to see all that work paying off with such a well run event."
SFFNZ President Paul Dewar congratulated all the competitors and thanked Manic Tackle for their sponsorship of the event and continued support of sport fly fishing in New Zealand.
"Congratulations to all the anglers and especially to Ollie of course, who did exceptionally well, his skill really shone through this weekend," said Paul. "It was a terrific weekend, fished in a great spirit, and it was really nice to see more new faces in attendance, the sport continues to grow and that's great news.
"I would like to thank a few people without whom the competition just couldn't have come together in the way it did. To our sponsors Manic Tackle, your support is hugely appreciated; Peter Scott for his tireless work organising and marking out the beats; fellow competition organiser Damon Taylor; official scorer Paul Bassett; the anglers who came down early and helped Peter with the beat marking, all did great jobs. To Fish and Game for allowing us to stage the competition, thank you.
"And a big shout out to our controllers, many of whom were from the Taupo Fishing Club, who all gave of their time and did a such wonderful job over the two days."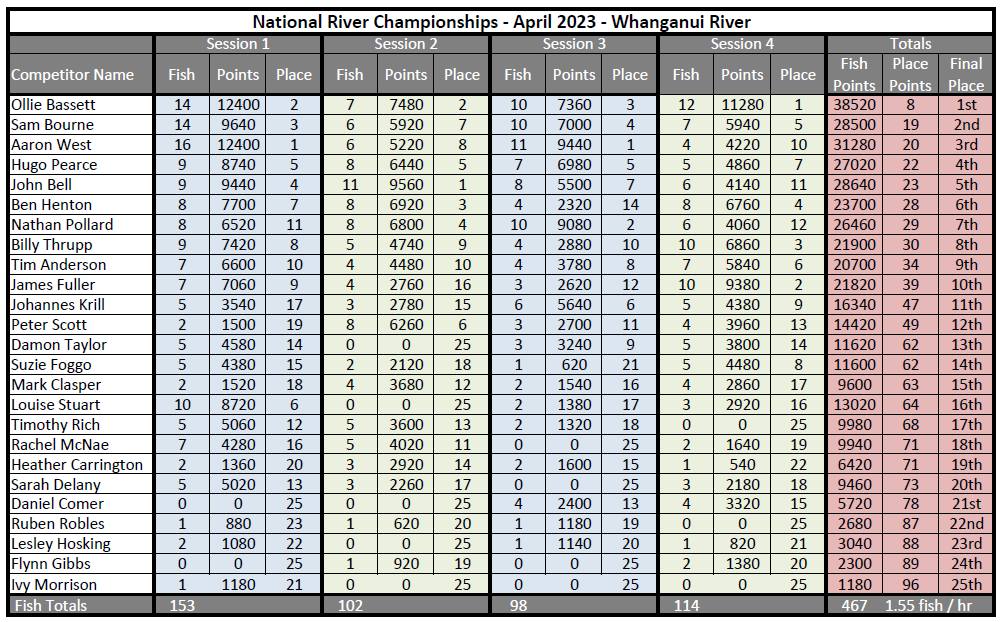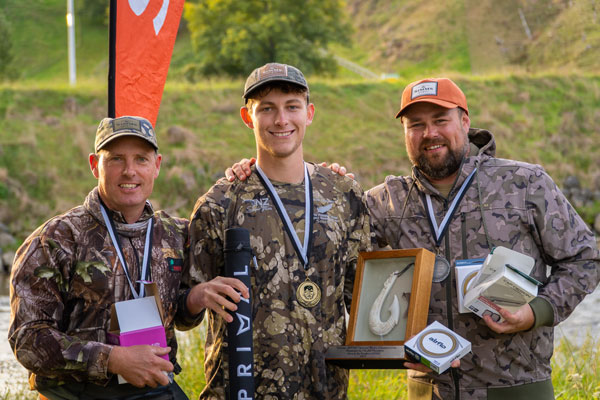 Podium (from left): 3rd Aaron West; Champion Ollie Bassett; 2nd Sam Bourne.

Ollie with nice brown from Whanganui River
2022-23 Lake Nationals;  24/25/26 March 2023  Lake Kuratau.
BILLY THRUPP WINS 2023 MANIC TACKLE LAKE NATIONALS WITH RECORD-BREAKING FINAL SESSION 
Billy Thrupp has claimed his second Lake Nationals title with a record-breaking final session.
Going into Sunday's last session on Lake Kuratau Billy was in second place, but an incredible 34 fish followed in the next three hours. It meant Billy hooked, played, netted, measured and released a fish every 5 minutes 18 seconds. An incredible achievement. The previous venue record had stood at 28 fish.


It was a worthy way of securing the 2023 Manic Tackle Lake Nationals title and, for good measure, Billy also won the biggest fish of the weekend prize with a 58cm horse of a rainbow. Runner-up overall was Tim Anderson and in third place was young Nathan Pollard. 
In total there were 620 fish (619 rainbows and 1 brown) caught by the 20 anglers over four three-hour sessions spread across three days.
Billy, who is one of the most popular characters on the Sport Fly Fishing New Zealand (SFFNZ) competition circuit, was understandably overjoyed.
"I'm absolutely stoked. It was like a fairy-tale how it all played out in the end. I said to my partner, Sam, before I left, 'I'm gonna win it this weekend. I'm going to that lake and I'm gonna win it', and I said the same to my mate Cory Scott. I just wanted to go with that positive mindset. I was confident, I know what works on that lake, I've won on Kuratau before and I was determined to do it again.
"That said I have to admit I was a bit worried when we arrived for the first session and the level was low and it was glassy. But then I won that first session and then the second as well, so that was a dream start. I was a bit shocked then to get an 8th place in the third session. I just couldn't adapt to what my boat partner, Dan Comer, was doing and he schooled me a bit there. That result actually dropped me down into second place overnight on Saturday, behind Tim Anderson, going into Sunday morning's fourth and final session. So it was all on.


"Me and Tim were actually traveling up the lake together before the final session then, when we got to the sticks, he went left and I went right. There were three boats up there before I was, at the top of the lake, so I just pulled up about 40 metres in front of them which meant when I began my drift I hit the pod of fish first. I had 20 fish in the first hour and then just built on that to finish up with 34. It was just a dream session. I didn't have one break off, not one tangle, and only did one fly change during the whole session. At one stage I had 7 fish in 9 casts. It was crazy.


"I stripped most of the weekend. I did plonk at times but I think I was plonking too deep. I feel like the fish were mostly in that top metre of water all weekend."
Billy was also fishing out of his new boat for the first time, not usually ideal preparation.
"I built my boat the week before and it had never been tested out, so I got up to Kuratau three hours before everyone else and took it out, sorted the drogue out and just got used to it a bit. I started the engine for the first time on that lake. The first fish I caught on my boat was a 58cms rainbow that eventually won me the prize for biggest fish of the comp."


The 2020-21 overall national champion, who was emotional as he accepted the Lake Nationals trophy for a second time, said he had a few people to thank.
"I want to thank all those I fished with, I had a great time, and to everyone who made the finals as well, it was such good fun. Thank you to my partner Sam for all your support, you've been amazing. Thanks to Rene Vaz and Manic Tackle Project for supporting sport fly fishing in New Zealand and to Peter Scott and his wife Lynley, who have been so good to me down the years. Cheers to Cory Scott, without who I wouldn't be doing what I'm doing, he's the backbone of my success really. And to the Fly Ferns who did such a great job of hosting the Nationals this weekend. And I really hope I haven't left anyone out."


Manic Tackle Project provided nearly $2000 worth of prizes for the event and Manic's Lucas Allen congratulated Billy on his comprehensive victory.
"It's amazing to see how, when you've got an assembled field of some of the best lake anglers in the country, someone can still come out in that final session and absolutely smash it like Billy did. Huge congratulations to him on a stunning win," said Lucas.
"It was also great to see the adaptation of the anglers, with the changing of the lake levels and conditions over the course of the three days, which speaks to their fishing skills that they were able to do that.
"Manic Tackle likes to support the competition scene and this is one way that we can do that, by providing the prizes for the top three and for the weekend's biggest fish. It's clear SFFNZ puts a lot of hard work in behind the scenes when organising events like this and it's great to see all that work paying off with such a well run event."


SFFNZ would like to thank the Fly Ferns for doing such a superb job of hosting the weekend, which included a sausage sizzle on Saturday lunchtime and some home baking treats for all assembled on Sunday following the end of the competition. Thanks also to the landowner who allows access across his paddock to the lake, to King Country Energy, who manage Kuratau, as well as DOC who manage the fishery; without you we could not hold these events.


Lake Kuratau is the smallest of Taupo's fishable lakes and contains a high population of smaller trout. This small hydro lake sits on the western side of Lake Taupo and is home to predominantly rainbows, but browns are also present and can reach very large sizes.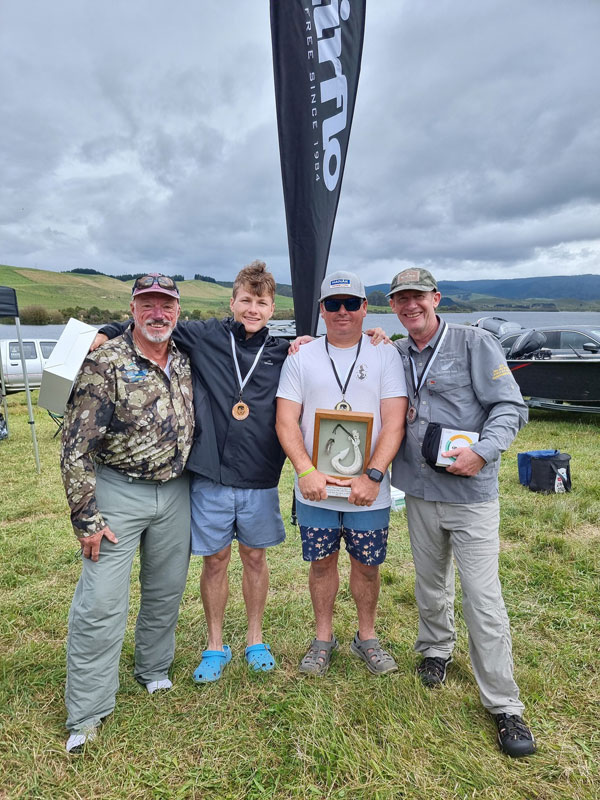 SFFNZ Patron Peter Scott; 3rd-Nathan Pollard; 1st Billy Thrupp; 2nd-Tim Anderson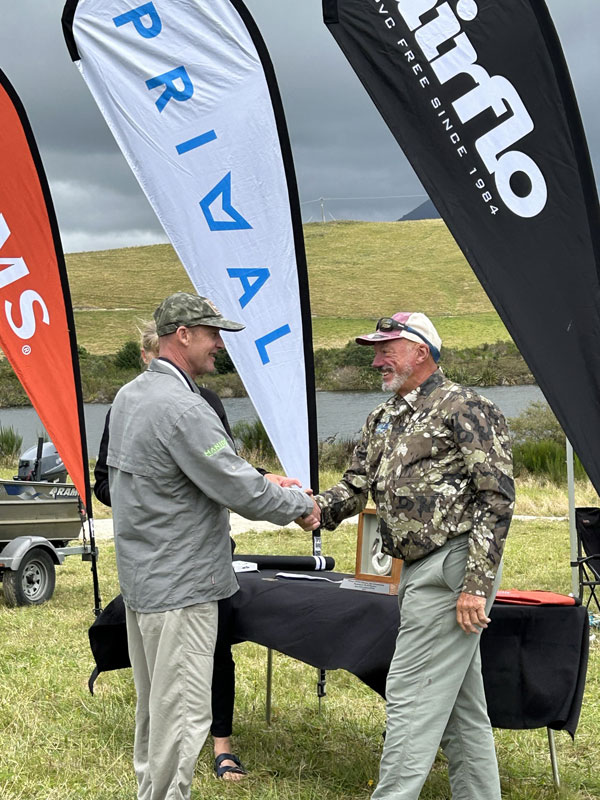 Tim Anderson - 2nd Place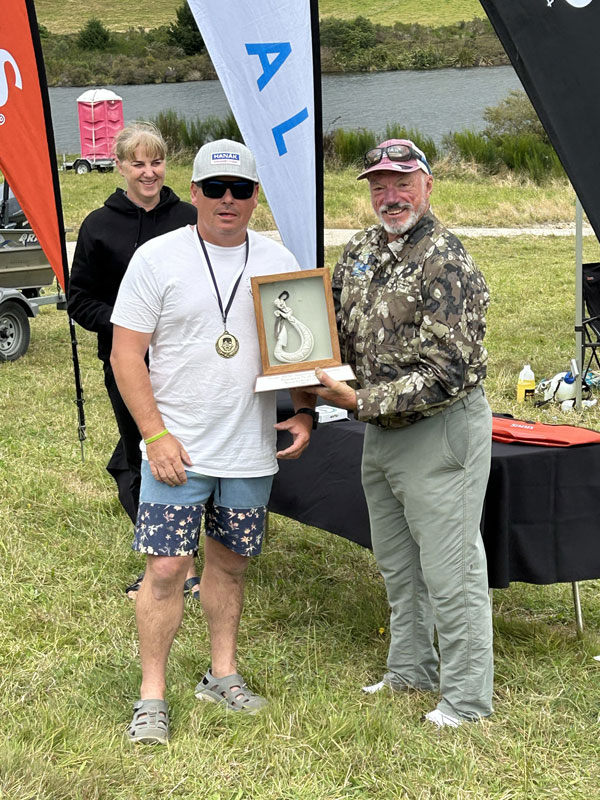 Billy Thrupp winner with Peter Scott - Patron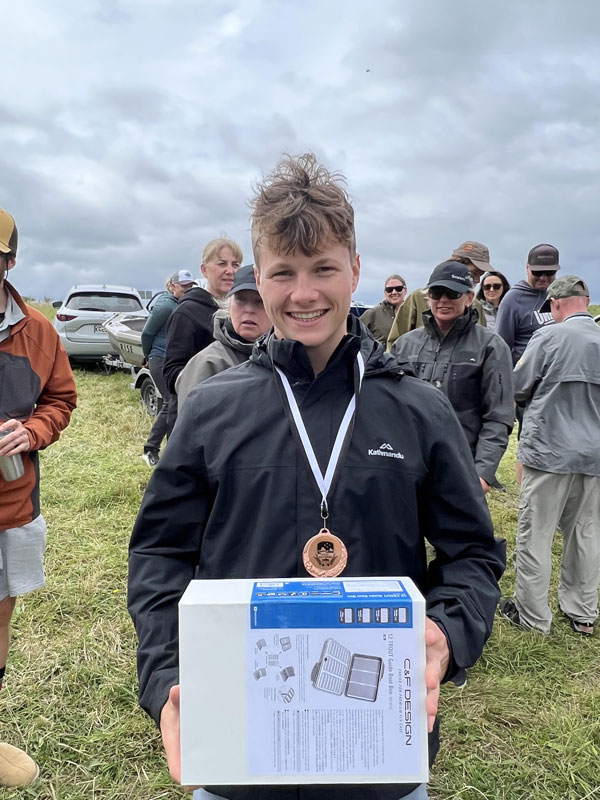 Nathan Pollard - 3rd