Overall New Zealand Championship Placing System
For Clarification the system we will use to determine the Overall NZ Champ for the nationals is as below.
Session placing points from each session of the River and Lake Nationals will be added together to give a total.
The person with the lowest points total will be the winner of the SFFNZ National Championships.
If there is a tie for positions between individuals, the first tiebreaker will be the largest number of fish points received totaled over both events, the second will be the largest number of valid fish caught totaled over both events.
To be eligible for an overall place in the NZ Championships you must qualify for and fish in both the River and Lake Nationals
The SFFNZ team Selection Criteria has been updated AS BELOW.
The SFFNZ board has appointed a panel to oversee the selection of the NZ team to participate in the 2022 world champs.
The selection panel is;
Johannes Krill - 2022 Team Captain
Paul Dewar - SFFNZ Board Member
Peter Scott - SFFNZ Member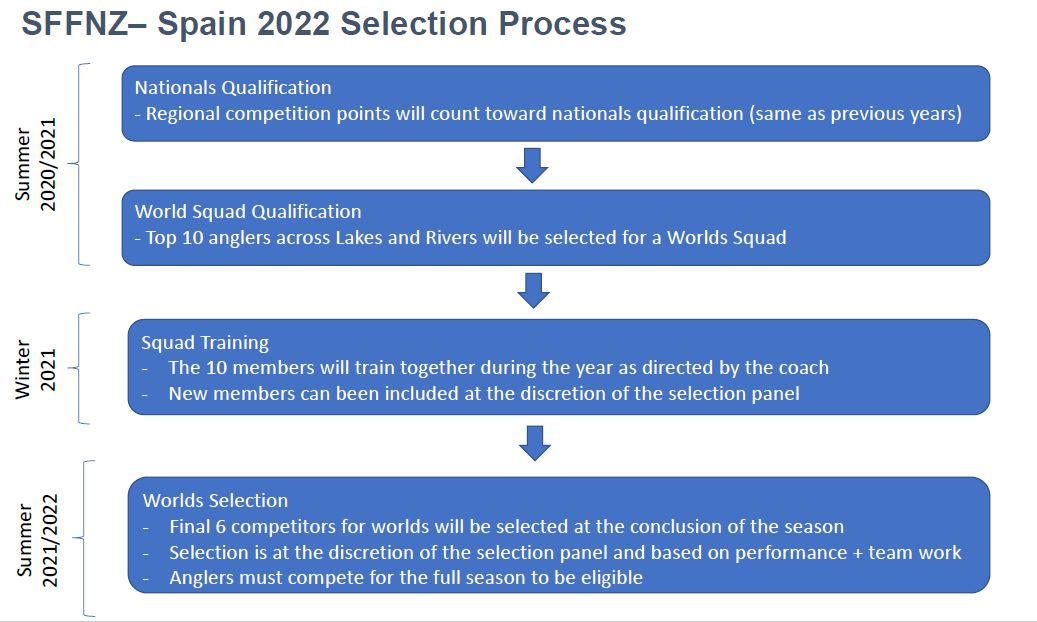 Selection Criteria to be taken into account (in order of ranking) when picking team.

• Type of event being selected for (i.e. River, lake, dry fly etc)
• Results of current and year prior regional and NZ champs
• Experience and results in previous years international competitions
• Team captains reports from previous competitions
• Ability to work as a team member
• General behaviour
• Their contribution to the organisation
REGIONAL POINTS SYSTEM
SFFNZ use a points system based on the number of anglers in a Regional Competition to award points towards qualification for the National River and Lake Championships and also for international team selection.
The minimum number of competitors required to run a competition to qualify for regional points is 6.
A min of 3 x 2hr sessions or 2 x 3hr must be run for a competition to qualify for regional points.
Click here to view the points system; Regional Points System.pdf