BAY of PLENTY LAKE CHAMPIONSHIP - LAKE REREWHAKAAITU. NOVEMBER 2023
Taking place on Lake Rerewhakaaitu, SFFNZ anglers have sometimes been apprehensive about this competition - often fished in winter on exposed and windy waters, the event has been the source of many blank returns in prior years. Moved to this later date, it was never easy, but many superb fish were landed, topped by two 61 cms rainbows caught by season debutant members Lesley Hocking and Johan Kok, along with numerous 50+ cms specimens by the rest of the field.
Organiser Damon Taylor said "the quality of fish caught was of the highest order, many participants remarking on how aggressive the takes were and how hard the fish were to bring to the boat. In terms of numbers. 156 fish were caught and released in total and 6.5 fish per angler, up from last seasons catch rate of 5.5 fish per angler.

Winner Phil Connor only fished his first lake competition last season, but this weekend showed how much he has progressed and how much a year's "sabbatical" of loch style angling in Scotland has benefited his overall game. Already an accomplished river angler, Phil led from the first session right through to the last and was remarkably consistent, never finishing lower than fourth. Runner-up was serial winner Ollie Bassett, fishing his first event since the World Championships. The evergreen Johnny Bell made up the podium and Suzie Foggo was the top performing female angler, finishing up at 7th overall.

Phil said "after coming close to a podium position a few times previously and falling short, it was great to get the monkey off my back with a win. Identifying the type of water with the higher fish densities was important for me and I found the margins, especially near rushes seemed to have good numbers. I have been working on fishing the hang more deliberately in recent months and I found I picked up handful of important fish in doing so. I spent all of the three sessions pulling two flies on a 18-19ft leader mainly using a DI3, but I switched to a DI5 for a short time in the second session. In terms of flies I kept it simple with a black woolly bugger on the point and a brown marabou fly on the top dropper.

I would like to thank organiser Damon Taylor for an extremely well-run competition with first day and final results out really quickly, all my boat partners and especially Tim Rich for letting me use his boat while he was away overseas, and for letting me skipper it this weekend."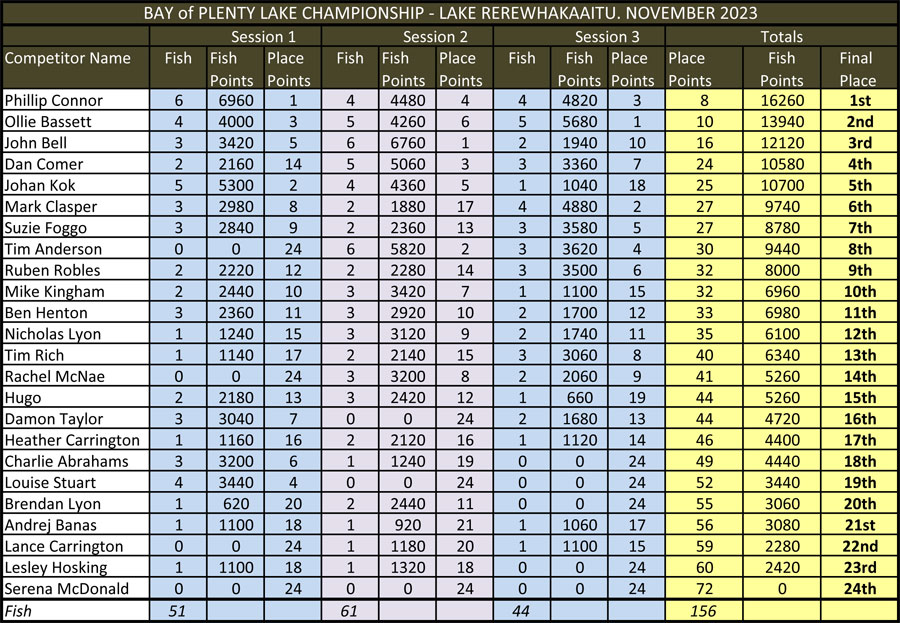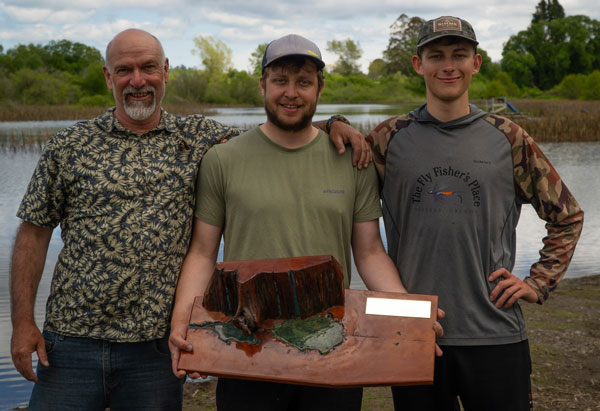 The podium - Johnny Bell (3rd) Philip Connor (1st), Ollie Bassett (2nd)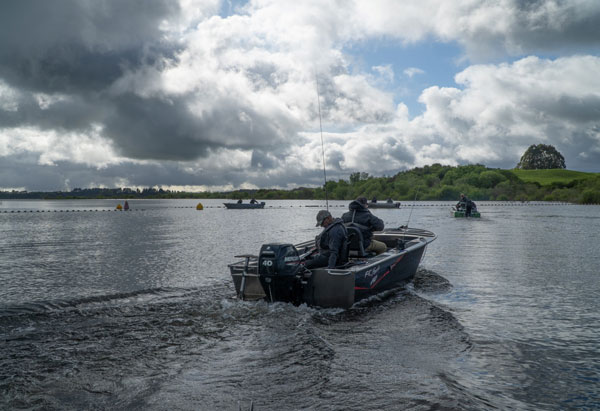 The competitors head out for the start of the first session.