17 YEAR-OLD WINS RETURNING AUCKLAND REGIONAL CHAMPIONSHIPS ON ORAKA STREAM
Teenager Nathan Pollard has won his first competition fly fishing event, as the Auckland Regionals Championships marked a successful return after a four-year absence.
The Auckland Regional Championship had dropped off the SFFNZ calendar after it was last held in 2018 but was reinstated this weekend (Saturday 26/Sunday 27 February) on the Waikato's Oraka Stream. And there was a new face at the top of podium in the form of 17-year-old Nathan Pollard, who finished ahead of Tim Rich in second, and podium ever-present Ollie Bassett in third. The top three female finishers were, in order, Rachel McNae, Louise Stuart and Wendy Lu. Tim Rich claimed the biggest fish of the weekend with a 49cms rainbow.
"I'm super-stoked, honestly no words can describe it," said Nathan, who was part of the South African junior set-up before his family moved to New Zealand last year.
"This is my first ever win and I'm super-chuffed and now I guess I just want to build on this going forward. My goal was to make a podium in a river comp this year and so to win this is obviously a big step up from that."
He said the Oraka had posed different challenges for the 12 competing anglers.
"It's a very bendy river, and very overgrown on the banks but when it did come out into a straighter stretch I used the opportunity to get some distance between me and the fish and utilise a stealthier approach.
"I was either nymphing or fishing dry-dropper throughout, fishing structure, seams, bubble lines and drop-offs, whatever I could see really, but also using a stealthy approach did help me throughout the weekend, so getting your back against the blackberry or crouching down to stay hidden. As well as fishing some of the faster water, targeting the slower bubble lines alongside the blackberry was pretty successful for me too."
The water targetted changed as the teenager went through his sessions; and it worked as consistency was key to the win, with scores of 12, 10 and 9 fish.
"The aim of the game in the second and third sessions is to try and find areas where people might not have gone through and I think I was able to do that. Trying to poke my way into places where others might not have gone, taking some time to change the weights of my flies. This river can have some deep holes; so fishing it through first with lighter flies and then going with something heavier to target the bottom as well worked."
That approach intensified into the third and final session on the Sunday.
"By the third session it's about finding that water that is as hard to access as possible as that will be as close to fishing fresh water as you'll get. So bow-and-arrow casting underneath the tree line, bush-bashing, taking risks with your casts. There was a run in this beat which was just two steep banks of blackberry bush on either side of the river, and I dropped my flies in and hooked a 42cms fish, then had to jump into the blackberry to actually land it, which was completely worth it in my opinion haha.
"It was quite a stressful session to be honest as I only had one fish after 45 minutes of my two hours and I knew I needed more than that obviously to get the win. But the long line, long leader, dry-dropper approach started to work soon after that and I picked up a few more fish fairly quickly."
Nathan thanked competition organisers Ollie Bassett and James Fuller.
"Shout out to the organisers Ollie and James. The comp was really well organised, the information was clear, the briefings were good, everyone knew what they were doing and the beats were clearly marked which was super helpful. It was a really good competition and I think the river is a good test of an angler, it definitely makes you think and brings a few different skills out of the box."
Co-organiser Ollie Bassett said there were a few unknowns going into the weekend.
"This was our first time organising a competition so it was just nice for us that people seemed to enjoy the weekend and it all went fairly smoothly really.
"The Oraka had been used for competitions in the past but not on these stretches so we didn't really know what to expect with some of the beats. But if you look at the scores there were fish caught off all of the beats pretty consistently and it felt like every beat had its chances for fish. There were no blanks over the weekend.
"People did really well as the access was tricky at times, but they brought a can-do attitude and it was a great atmosphere all weekend."
For people that know the waters of New Zealand's upper North Island, Ollie also had an analogy.
"If the Waihou and Ngongotaha had a baby, it would be the Oraka, it's a real mix of the two."
He said a number of people needed to be thanked.
"I would like to thank the farmer who allowed us such great access across his land. We put the bottom 4 beats on there and they all produced so that was great.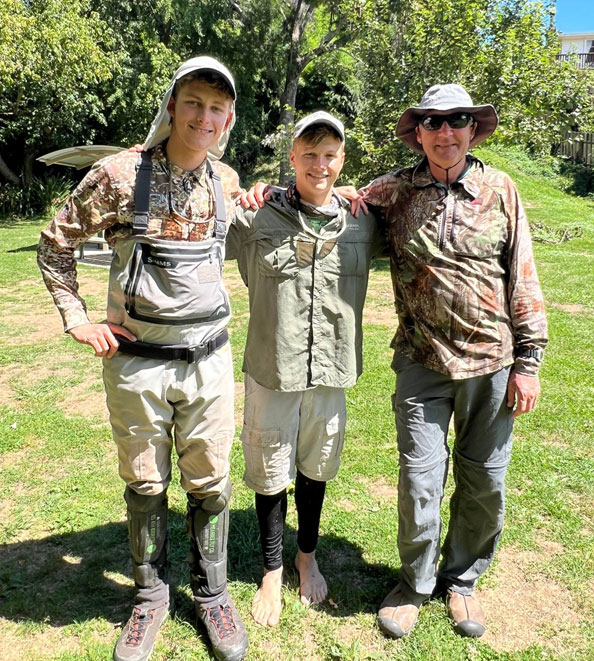 The Auckland Regionals podium (from left): 3rd placed Ollie Bassett; Champion Nathan Pollard; 2nd placed Tim Rich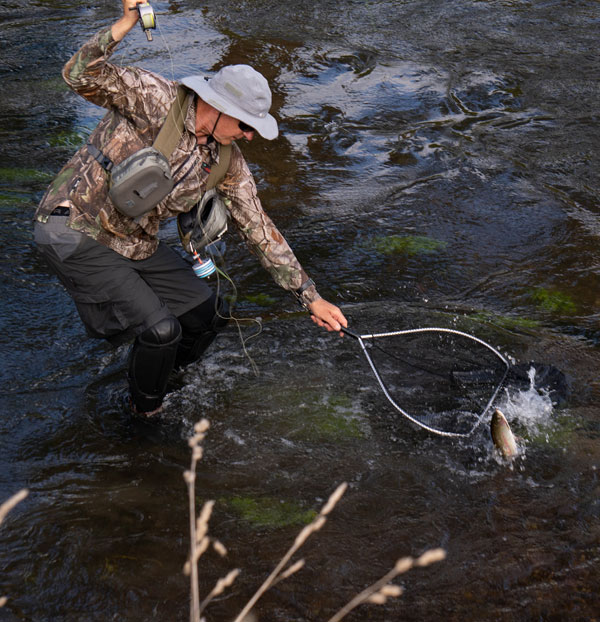 2nd placed Tim Rich nets a fish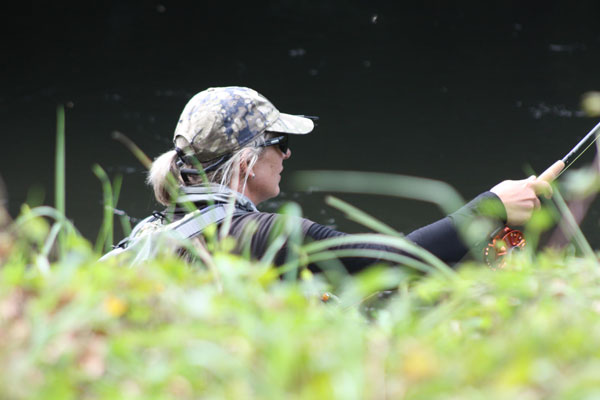 Top-placed female finisher Rachel McNae.