BEN HENTON CAN'T STOP SMILING AFTER FIRST RIVER COMPETITION VICTORY
Ben Henton has claimed his first river competition win with victory at the Tauranga Regional Championships on the Waimakariri stream.
"I still haven't been able to wipe the grin off my face," said Ben. "I felt like I was underprepared for this comp as I had just come off working two weeks straight of 12+ hour days and haven't fished a river since River Nationals."


The venue was also an unfamiliar one for Ben, a popular character who is still a relative newcomer to the competition scene. "Having never fished this river before I didn't know what to expect; so to get the win means a lot to me," he said.
Whakatane-based Ben, who has triumphed on the lakes before (at Maraetai) and finished on the podium at other events, both lake and river, finished ahead of Johnny Bell in second place and Ollie Bassett in third. The champ outlined some of his tactics across the weekend.
"I think some of the keys to my success and me being consistent were a stealthy approach and keeping good contact. The water is deceptively powerful and deeper than it looks so correct weight for each pool you come to and keeping in touch with the flies is crucial.
"I was also glad I was fishing 5x tippet that can handle some brute force, as on two separate occasions I hooked big fish over 50cms which if they ran off downstream I wouldn't have been able to chase them. I managed to stop them and get them to the net."


Ben, who also took out the biggest fish of the weekend with a thumping 54cm rainbow, congratulated his fellow podium placers.
"Awesome effort from Johnny Bell and Ollie Bassett for getting on the podium as well and keeping me on my toes, they're both great anglers. These comps always come down to the last session and this was one of those. A great comp and I would like to thank the organisers Tim Anderson and Rachel McNae for their hard work."
As well helping organise the competition, Rachel McNae continued her upward trajectory in the sport when finishing as top female angler, and just off the podium, in fourth place. She said she felt this weekend represented a reward for hard work.
"My training sessions since River Nationals have focused intensively on refining my comp strategies and diversifying my approaches to fishing pressured water. With confidence in these areas, this weekend became more about making sound plans, applying good decision making and fishing the productive water efficiently and effectively.
"I was careful not to make assumptions about where the fish would be, fishing the edges thoroughly and all sides of the structural features. I was happy with my stealth factor approaching holding water and spooky fish. I had dropped down to extremely light gear which I think was a critical factor - running a 3.5 lb indicator and 3lb tippet. My conversion rate was generally good, My netting was efficient, with quick returns back onto the water. I capitalised on hot spots, rested productive water and had the confidence to revisit it with different techniques over the session.
"I have to admit, I certainly felt the pressure, so maintaining concentration and focusing on each cast and every potential take was critical, especially in the last session when fatigue began to set in."


The Waimakariri is a crystal clear spring-fed stream that holds a good population of predominantly small to medium-sized rainbow trout. It rises in the hills north-east of the township of Putaruru and the competition was held on a stretch above and below SH5 which meanders across open farmland. The annual championship held here is a popular date on the SFFNZ calendar.
Competition organizer Tim Anderson said it had been a fantastic event contested in the right spirit in great conditions.
"It's always a popular competition and a good one to start the year with," said Tim. "It fished really well considering the time of year, with good numbers of fish in the river. We were lucky to have a good spell of weather leading up to the weekend and the weekend itself was glorious. We even had a couple of mean frosts which was cool, in the real sense of the word.
"All in all it went really well, and everybody caught fish. It was a great atmosphere amongst the anglers as well, competitive but very friendly, which is the way it should be. And it was good to see a relative newcomer to the sport like Ben doing so well, it bodes well for the future."
Thanks go to Tim Anderson and Rachel McNae for co-organizing the event and also to Suzie Foggo for helping mark out the beats prior to the competition.


SFFNZ would also like to express huge appreciation to the local farmers for permitting the competitors access across their properties to such beautiful water. It's a privilege to fish these amazing places and we have the landowners to thank for being able to continue to hold events such as this weekend's contest.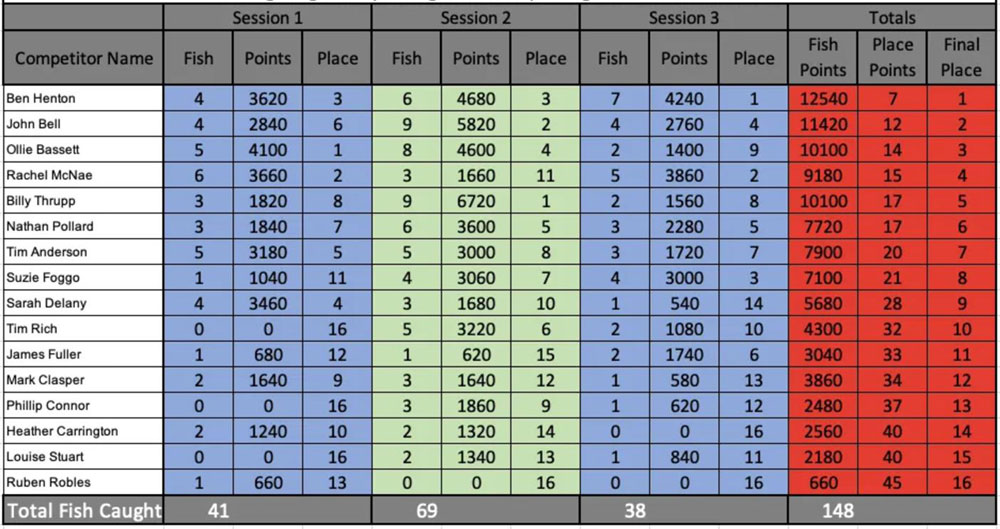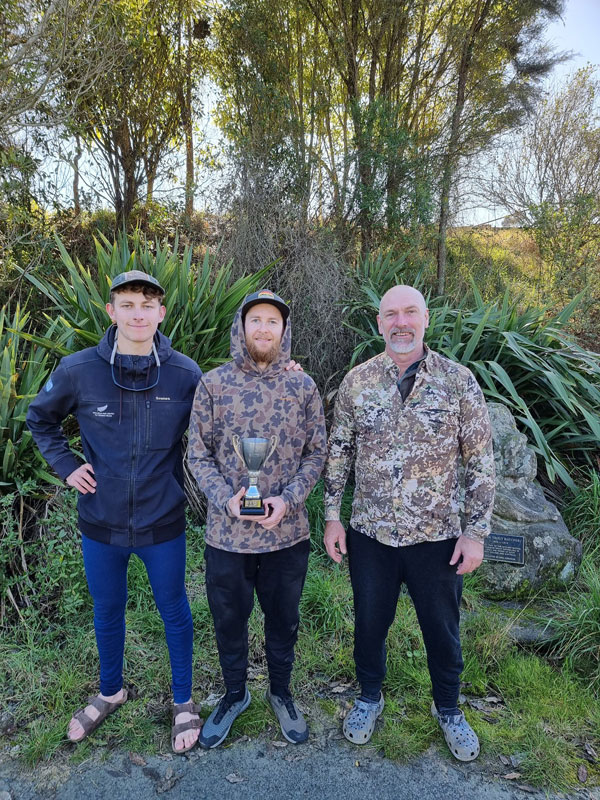 from left): 3rd placed Ollie Bassett, winner Ben Henton, 2nd placed Johnny Bell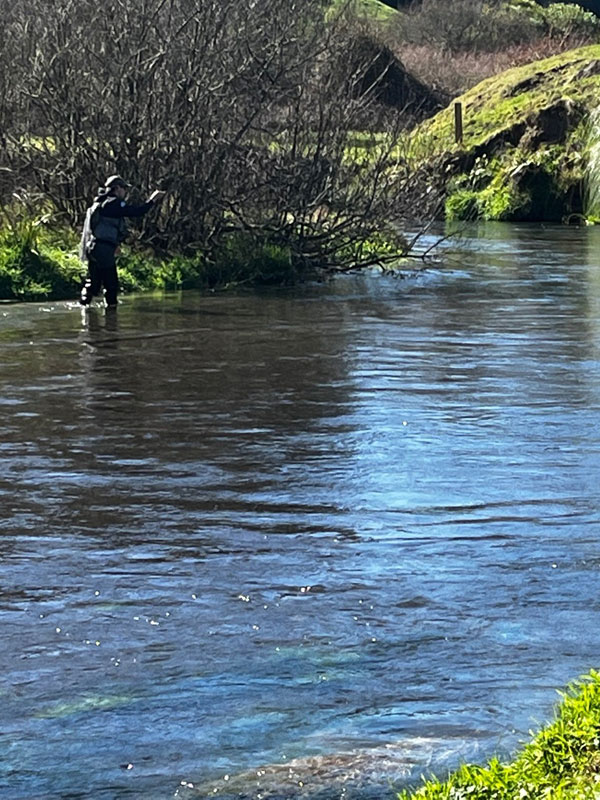 Perennial podium placer Ollie Bassett works his way upstream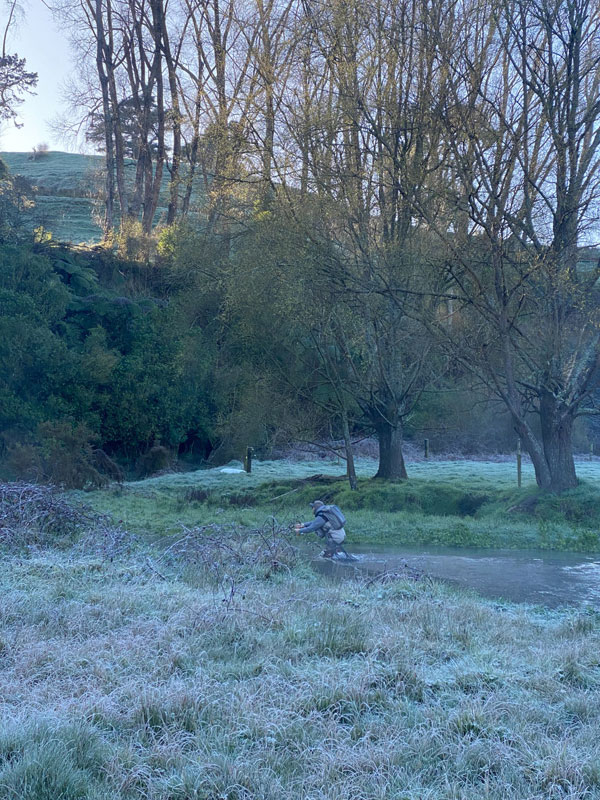 The champ Ben Henton goes into stealth mode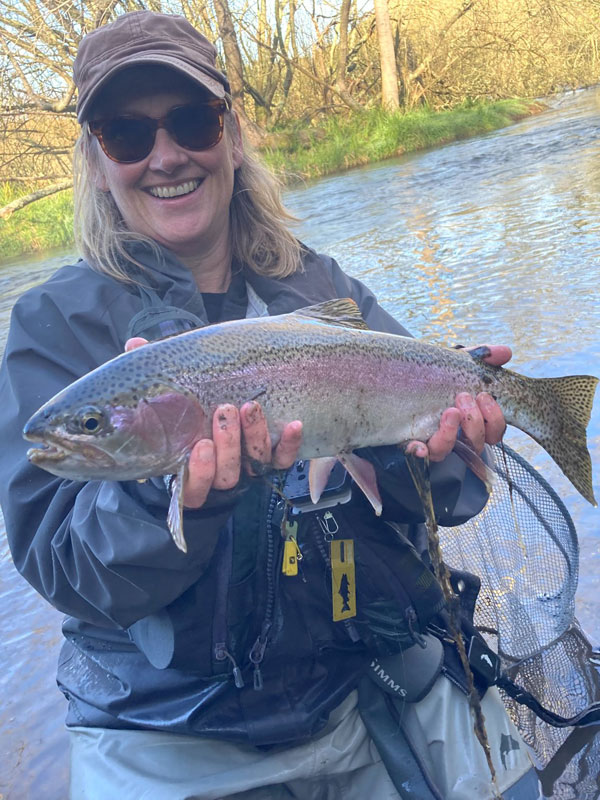 A cracking 53cm rainbow, Sarah Delany during Session 1