HAWKE'S BAY REGIONAL CHAMPIONSHIPS Jan 2022 – MOHAKA RIVER
The first ever Sport Fly Fishing New Zealand (SFFNZ) championships to be held on the Hawke's Bay's Mohaka River provided another first in the shape of its winner.
Kriss Stravs has registered several podium finishes in recent SFFNZ events but the Hawke's Bay Regional Championships, held across Saturday 29/Sunday 30 January, saw the bridesmaid finally become the bride as he finished top of the pile for the first time.


In what was a well supported and well organised event, 20 anglers did battle on the mighty Mohaka over three two-hour sessions. Perennial podium placer Ollie Bassett finished second, whilst Sam Bourne showed he had lost none of the old skills by marking his competitive return with third-place. Louise Stuart was the best placed female angler in a commendable 10th; and Phillip Connor landed a horse of a rainbow at 63cms to record the weekend's biggest fish. Brennan Martin was also welcomed into the SFFNZ fold as he competed in his first event.
Whilst Kriss may have emerged victorious, he still felt he could have fished better.
"It feels good to win and I didn't expect it to be honest but at the end of the day it's fishing and anything is possible," he said. "But I'm not really happy with my performance. I dropped 60% of my fish so I'm looking for improvement from myself.
"It was tough and the beats were hard, especially the second session on Saturday. The key to success was a small fly and a slow drift and to fish with the head not the gear."
Anglers fishing this section of the Mohaka do so amidst some of the most beautifully rugged scenery imaginable, frequently finding themselves dwarfed beneath sheer towering cliff faces, or steep forest-covered terraces. The topography throws up a range of angling tests; from deep plunging pools carved out by the river's powerful currents, to swift-flowing pocket water challenging your wading ability; and wide, long gliding runs which present their own challenges. Add in big, strong fish which are not easily subdued and you have a recipe for a great competition venue.


"It was a wonderful competition, really well organised and I fished with some pretty amazing people," said top female finisher Louise Stuart. "I fished with Tim Rich on Saturday, got the opportunity to watch him, and learned a lot.
"I've fished here before (the Mohaka) and had good days and bad and happily this was a couple of good days. Fishing here covers everything, deep, shallow, different techniques, and I had to pull a couple of cats out of the bag. All the fish were in great condition too, it's such a beautiful river.
"I would just like to thank everyone for all the effort which was put into organising it, because without everything going on behind the scenes we can't be here."


One of those who worked so hard behind the scenes was competition organiser Jason Pearce.
"Overall I'm pretty happy with how it went," said Jason. "There were some great fish caught, plenty in the 50-60cms range, browns and rainbows; and 388 fish caught in total with 37 of those being browns.
"It was the first time we've been here and with any first time you're going to get a few things you might change. It proved to be a bit of a leveller for some but, as is usually the case though, it came down to consistency at the end of the day and Kriss placed 4th, 6th, 4th across his three sessions for the win.
"Being the first time setting the beats was a little tricky and we may need to tweak some of those for next time. But I did want to say thank you to those who came to help myself and Hugo (Pearce) mark the beats. We had a good crew, with Ollie (Bassett), Nathan (Pollard) and Brennan (Martin) and that made it a much easier task. Brennan was a first-time competitor as well so it was great to have him here and catching fish."
The river's popularity as a recreational venue presented other challenges.


"It's a popular river for a lot of people and being this time of year we did have swimmers, dog walkers, spin fisherman, kayaks and jetboats in quite a few of the beats but that's just part and parcel of using a public space."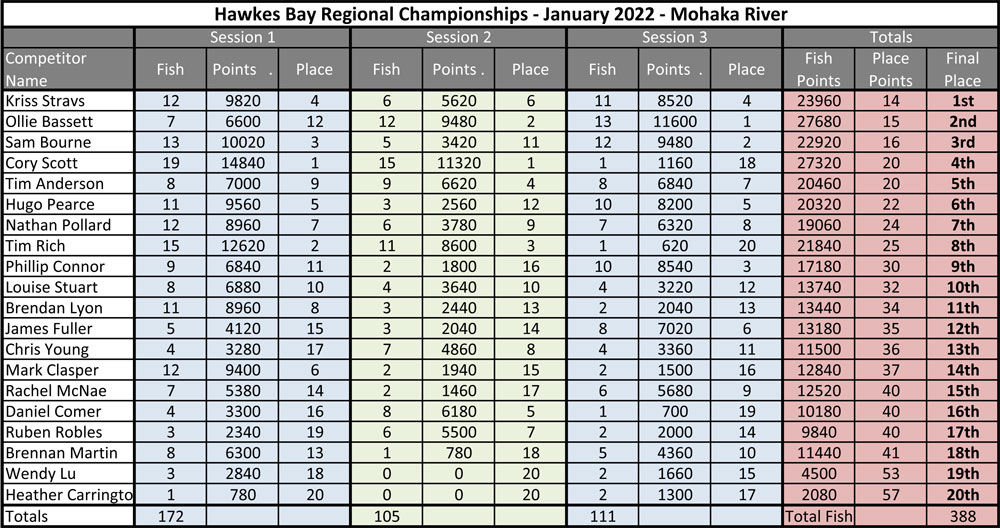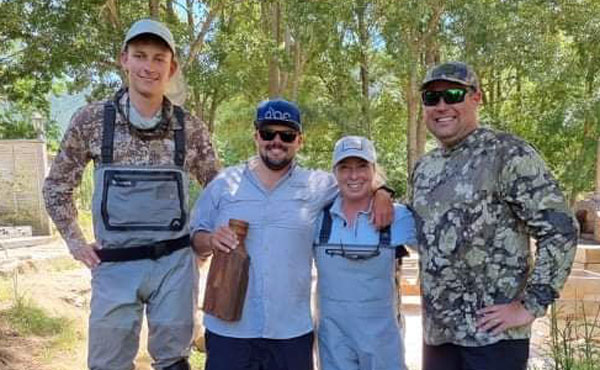 The Mohaka podium (from left) 2nd placed Ollie Bassett, Champion Kriss Stravs,
top female angler Louise Stuart, 3rd placed Sam Bourne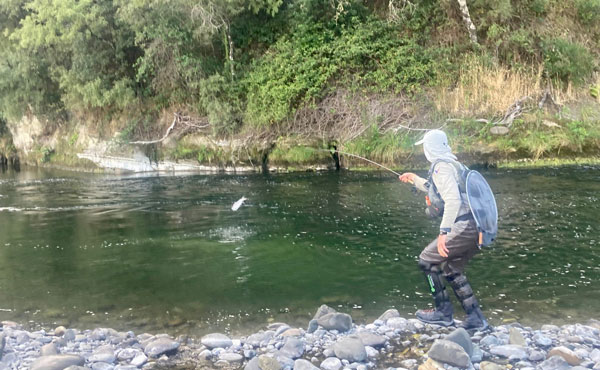 2nd placed Ollie Bassett tries to keep pace with a Mohaka rainbow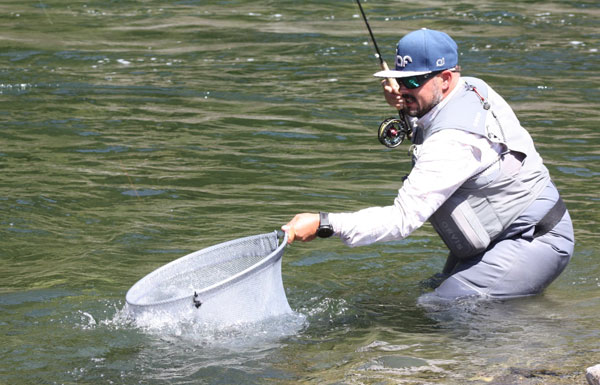 Kriss Stravs leans into a fish on his way to victory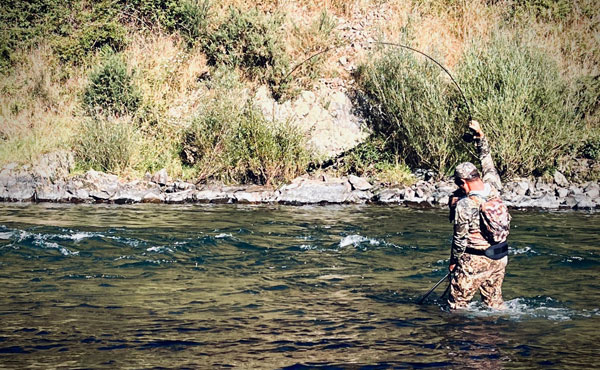 Didn't see that one coming. Sam 'Camo' Bourne's stealthy approach pays dividends