NZ Team
Steve Brown, Kiyoshi Nakagawa, Neil Hirtzel, Garth Plank, Nicolas Dobbyn, Paul Dewar, Ian Gibbs, Strato Cotsilinis, Margaret Williams, Dan Raegen, Gary Lyttle (Reserve)
The CD-Rods NZ Fly-Fishing Gold team (Steve Brown, Kiyoshi Nakagawa, Neil Hirtzel, Garth Plank and Nicolas Dobbyn & Paul Dewar captain) won the gold medal at the Oceania champs held in Tasmania on the weekend with 85 points. Australia was 2nd with 94 points and USA 3rd with 98.
There were two teams from NZ and Aust competing along with teams from the USA and Canada.
Nicolas from the NZ Silver team won the individual gold medal, a great achievement for this young 16 old fisherman competing in his first international competition. Kiyoshi finished 4th, Steve 7th, Ian Gibbs was the best from the NZ Black team coming a credible 16th.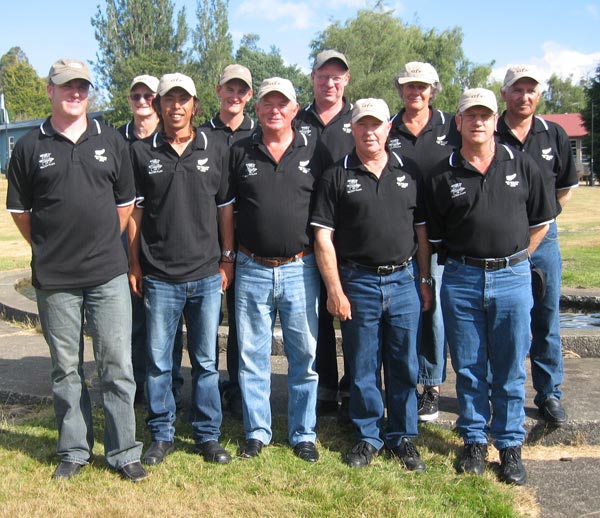 The event was held over five 3 hour sessions, on 2 rivers and 3 on lakes. The lake fishing was participially hard as the water temperature was very warm (up to 22 deg) after all the dry hot weather Tasmania has had. The key on the lakes was to catch a fish (2 was a winning score) and not blank.
The two rivers were very different; the Tyenna was a small river that in some places you needed to use size 18 flies with 2lb Airflo tippets while the Derwent was a large hydro controlled river 30mtrs wide that was full of holes waiting to catch the unwary.
There were some good catches on the rivers with Nicolas getting 13 on the Tyenna and Steve 6 on the Derwent. Pity the lakes didn't fire like they could, there were 6 blanks on one session on Dee Lagoon
Many thanks to our sponsors CD-Rods and Maui Jim, the rods were great, the new ridge lines cast so easily and the glasses made quite a difference, being able to spot fish even in the poor light conditions.
Paul Dewar;
NZ team Captain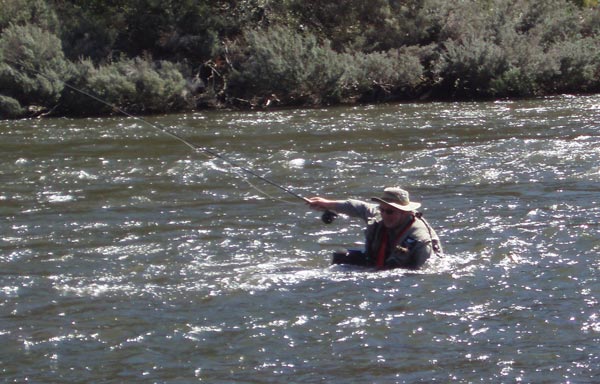 (Steve swimming on the Derwent)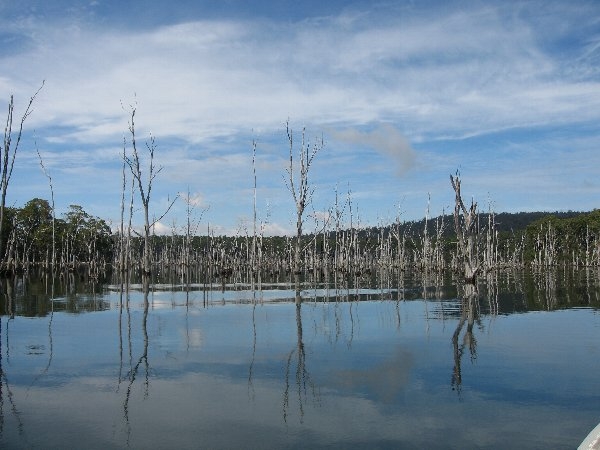 Dee Lagoon