YOUNG GUNS DOMINATE 2022 MANIC PAIRS CHAMPIONSHIPS
Young anglers dominated the 2022 Manic Pairs Championships on Lake Rotoaira with Hugo Pearce and Nathan Pollard taking out the team event and Ollie Bassett winning the individual competition.
With the winning trios combined age totalling just 58 years, it meant that many of the other competitors were either near to that or, in some cases, a respectful nudge or two over that, individually. The youngsters rose to the top of a 32-strong field which competed across two days, and three 3-hour sessions, amidst some real spring weather. There was a bit of everything thrown in, calm spells with some sun breaking through, mixed with longer periods of squally rain, strengthening to some thumping downpours accompanied by gusty winds. The weather couldn't detract from a cracking event though, fought out in its usual friendly but competitive atmosphere. The full results were:
1st Hugo Pearce and Nathan Pollard
2nd Nick Lyon and Wendy Lu
3rd Paul Dewar and Louise Stewart
1st Ollie Bassett
2nd Nick Lyon
3rd James Fuller
The best placed female angler was Louise Stuart with a fantastic 6th-placed finish, whilst the biggest fish of the weekend was a 57cms rainbow which fell to Nick Lyon. There were 533 fish caught across the weekend which meant that, on average, there was a fish caught nearly every minute of the competition.
Manic Tackle Project's Lucas Allen said they were proud to be associated with the event, especially given a major focus of the weekend was to encourage new anglers to get involved.
"It was clearly a wonderful event, even if the weather was a bit hairy at times, and it's great from Manic's perspective to be involved with helping advance fly fishing in whatever way we can. The pro-am feel of the tournament, where experienced competition anglers pair up with newcomers is really cool to see, and bringing new people into the sport like that is something we're happy to support."
The win was a first in the Pairs for 19 year-old Hugo Pearce.
"It was great to get the win with Nathan, we had a lot of fun, and it was actually quite a late decision to even enter so it all worked out really well," said Hugo. "Tactics-wise, I stripped flies the whole weekend, varying my retrieves and I found I got a lot of fish on the hang. They were eating quite subtly, whether on the hang or during the main retrieve, lots of little bumps before eventually committing, so it was important to leave it in the zone and then eventually the weight would just come on.
"Consistency was the key really as it always is; you can win a session, but if you don't put three consistent scores together you're going to struggle to get on the podium."
There were a lot of firsts for Hugo's teammate, 18 year-old Nathan Pollard, too; a first Pairs competition, a first Pairs win and also first time fishing Lake Rotoaira.
"The whole weekend was a lot of fun and I really enjoyed getting to meet a lot of new people, so thank you to the organisers and to Manic Tackle for putting it on," said Nathan. "It was also a lot of fun to fish with Hugo as he's got heaps of experience on these lakes and is a great lake angler regardless. I guess being two younger people who have both come through the fishing ranks as youths as well it's great to team up with someone who you're on a similar wavelength with.
"Rotoaira is a lake I've never fished before and I just went in there with an attitude of having as much fun as I could and to try to be as consistent as I could. The keys for me were focussing on always trying to maintain contact with my flies and keeping my flies in the water for as long as possible during the session. I started out with lighter lines and then when it was choppier, windier or we moved to deeper areas I would change to faster sinking lines to try to maintain that contact."
TOP RIVER ANGLER UPPING HIS LAKE GAME
As well as the team Pairs event, there is also the battle to be crowned top individual angler. That honour went to 21 year-old Ollie Bassett.
"It's great to win the individual title," said Ollie. "I got second in 2020 but that was more of a comeback finish after a poor first session. This time I was able to start well and put three good sessions together.
"The weather reminded me a lot of last year but the water was a lot more coloured up and finding clearer water or changing your tactics a little bit was important. I fished a type 3 line and stripped three flies most of the weekend. I switched to plonking for a little bit but only caught one fish and, whether it was the dirty water or not I don't know, but I just didn't feel plonking was as effective this weekend as it can be sometimes on Rotoaira.
"I tried to vary my retrieves, sometimes fishing higher in the water column, sometimes deeper, fishing the drop or the hang, trying to work on my technique, and really paying attention to what I was doing. I did manage to convert nearly all the fish I hooked which was really satisfying and a big help in a lower numbers comp."
Ollie was fishing his first competition since finishing 11th at the recent World Championships in Spain. A supreme river angler, he is now bringing his 'A' game to the lakes as well. The victory follows his Lake Rerewhakaaitu triumph earlier in the year and now, with two lake wins, sets him up for a strong President's Cup challenge (awarded to the angler with the combined best two lake and best two river competition results of the season).
A GREAT WEEKEND HAD BY ALL
Event organiser Damon Taylor said the largest field of the season had enjoyed a great weekend of competition amidst a convivial atmosphere.
"It was great to see the largest turnout of the season, at what is always a popular event on the competition calendar," said Damon. "We had some last minutes changes that saw two boat-owner anglers having to withdraw at short notice, and an honourable mention goes to Cory Scott and Nick Langdon - who then withdrew to allow the partners of those boat owners to compete rather than miss out on the competition.
"The conditions almost mirrored last year's competition, with strong winds at times, as well as very heavy rain. Despite this, all anglers were well prepared for the conditions and appeared to have a good time. The fishing was at times tough, with not a huge range in scores, although Ollie Bassett and Hugo Pearce both performed to type and set the bar high on the first session. Neither looked back, with Ollie taking the overall individual score, and Hugo going on to win the Pairs with our youngest angler, Nathan Pollard - who after his win at the Auckland Regionals and his second place at River Nationals last season has shown that he is a force to be reckoned with, and has a very bright future ahead of him.
"It was really great to see our women anglers continue their great season so far, with both Louise Stuart and Wendy Lu fishing strongly and ending up on the podium alongside their pro teammates Paul Dewar and Nick Lyon for 3rd and 2nd place respectively. It's no secret that the ladies put in a lot of practice on the weekends when we don't have comps running, and it is really paying off. Congratulations also to the second and third placed anglers in the individual competition behind Ollie, who were Nick Lyon and James Fuller respectively.
"A big thank you to our sponsors Manic Tackle Project, who have continued their support for this competition with some awesome prizes, and it was great to see the top prizes go to a couple of our youngest anglers, with the new C&F Fly Boxes being particularly cherished by Nathan and Hugo.
"Also a big shout out to Paul Bassett in the SFFNZ mobile command post (i.e. - the Bassett family motorhome!) who took care of all the scoring for us between sessions and after hours, and also to the Lake Rotoaira Trust, for allowing SFFNZ to hold the competition on the Lake Rotoaira fishery that they manage."
WHAT IS THE PAIRS ALL ABOUT?
The Pairs is the biggest lake competition of the season and is designed as a Pro-Am event, where an experienced competition angler is paired with a less experienced one or someone completely new to the sport. An amateur angler is defined as someone who has not been part of a SFFNZ team and/or competed at international level.
It is a great way for people who might have an interest in getting involved in competitive fly fishing to find out what it's all about, and many of today's SFFNZ anglers got their first taste of competing at a Pairs event.
Lake Rotoaira, just south of Lake Taupo, in the middle of New Zealand's North Island, is a stunning location. This 13km² gem - flanked by the peaks of Pihanga, Tihia and Käkaramea to the north and the brooding volcanic dome of Mount Tongariro to the south — was used as a venue in both the 2008 World Championships and 2020 Commonwealth Championships. It is home to a large population of hard-fighting rainbows.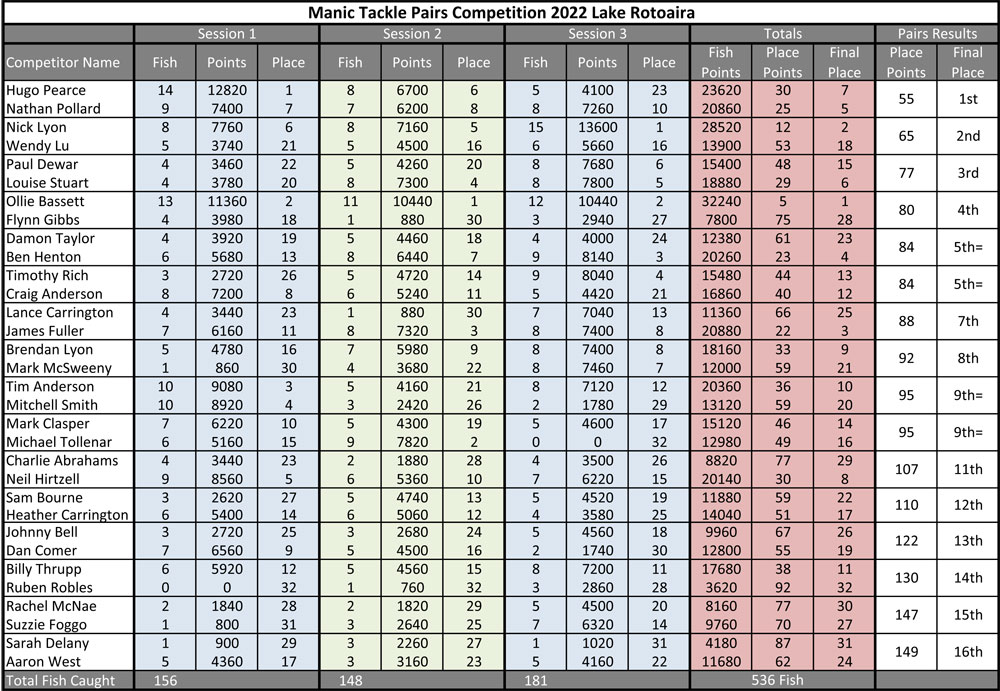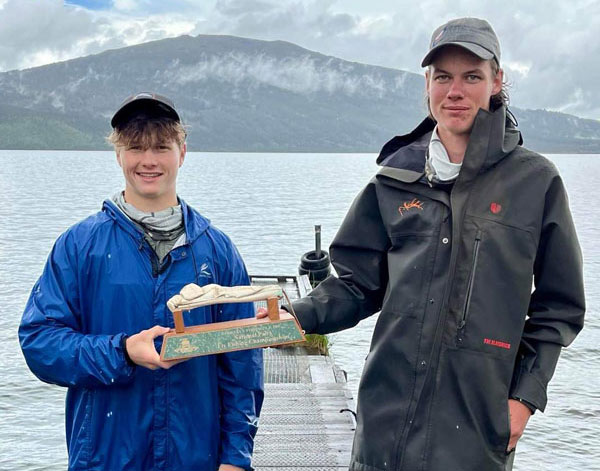 The young guns, and our 2022 Manic Pairs Champions: left, 18 year-old Nathan Pollard, right, 19 year-old Hugo Pearce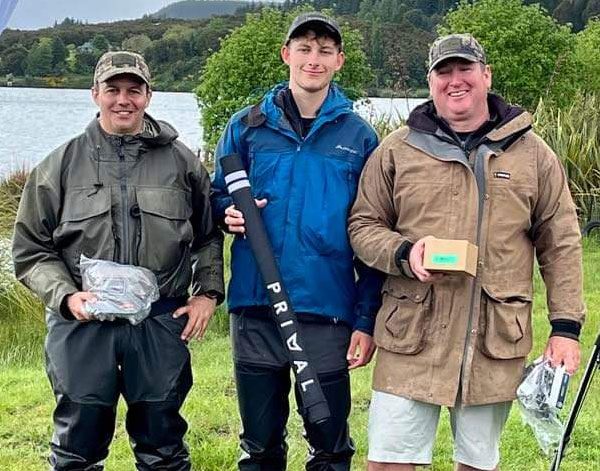 The individual competition podium, from left: 3rd placed James Fuller, 1st placed Ollie Bassett; 2nd placed Nick Lyon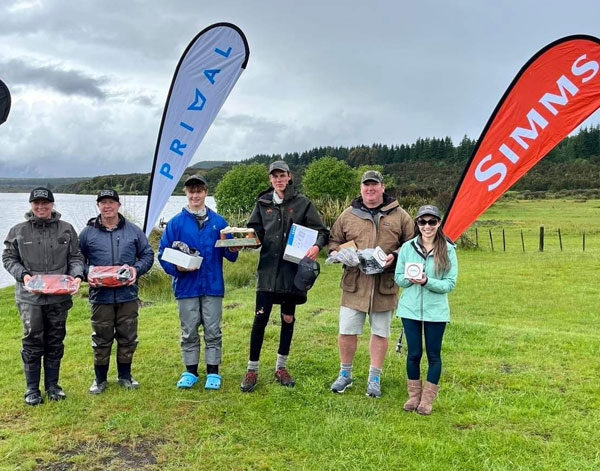 The Pairs podium, from left: 3rd placed Louise Stewart and Paul Dewar; Champions Nathan Pollard and Hugo Pearce; 2nd placed Nick Lyon and Wendy Lu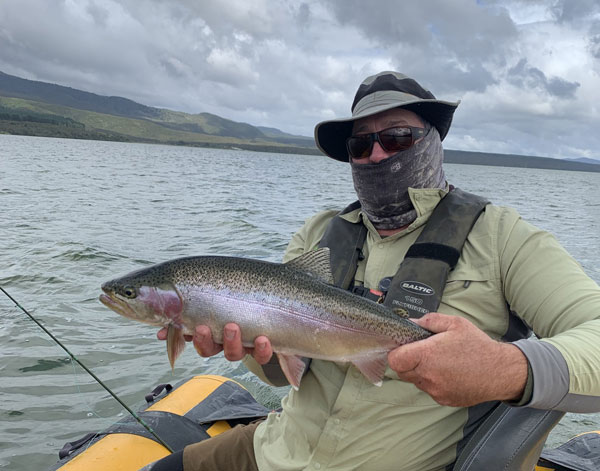 Nick Lyon with one of the fish which would help him runners-up spots both individually and as a team with Wendy Lu