TIM RICH TAKES OUT SEASON OPENER AT THE WAIKATO REGIONAL LAKE CHAMPS.
Perennial Lake Maraetai podium finisher Tim Rich has won the first competition of the new SFFNZ season with victory at the Waikato Regional Championships.
The season opener - held over Saturday 31 July/Sunday 1 August - was well attended with 22 anglers taking part, including four female entrants. Tim Rich finished first, with Neil Hirtzel in second position and Tim Anderson in third place.
"It hasn't gone quite so well the last two years for me so it's great to be back on the podium with the trophy," said newly-crowned 2021 champion Tim Rich. "I love this lake, it behaves really differently under different weather conditions, it's always a challenge. I started off on it quite well a few years ago now and it always helps if you've caught fish in places before, you can go back to those places if things get hard.
"This time round in practice leading up to the comp I had one good day but other than that it was really tough. So I was sweating a bit coming into this competition, as I really wasn't sure how it was going to go."
Tim now has four wins, a second and two third place finishes over the past nine years on Lake Maraetai (competing in eight out of those nine years). Maraetai, which is noted for its big browns, is one of several artificial lakes formed as part of a hydroelectricity scheme on the Waikato River in the central North Island. A relatively small lake, covering 4.4km², it shelves off steeply in many places, hitting depths of up to 75m (246ft).
"I struggled in the first session," said Tim. "I got one fish early on but didn't touch another one after that. In Saturday's afternoon session, I started off getting one which settled the nerves and then my boat partner Heather (Carrington) spotted a fish jumping out of the water a bit further over. So we went across towards it, and it was soon all on, I hooked four fish and landed three in fairly quick succession.
"Then on the Sunday morning I got off to a decent start with a big fish early in the session but then, again, we struggled. So we headed back to an old spot of mine on the far side of the lake and we began picking up fish. I hooked four and landed two, so ended with three for the session and I knew that that would be competitive."
Not blanking on Lake Maraetai is key and if you can manage that across three sessions you can be reasonably confident of being in the mix come the end of proceedings. Newcomer Ruben Robles did just that in his first ever lake competition, and crowned a fantastic weekend with a 60cms brown in Sunday's final session to leave him in a highly creditable fourth place. Suzie Foggo also fished really well for her 11th position, and secured the top female finisher spot in the process.
The weekend was typified by a warm friendly atmosphere with plenty of banter between the competitors. SFFNZ President Paul Dewar said it was great to see so many newcomers to the competition scene and also that they were doing so well.
"Thank you to the organisers and all the competitors for making it such a great weekend," said Paul. "It was a very good competition with lots of beautiful fish caught. I saw some beautiful browns taken, and I know there were bigger ones than those I saw caught. It was a good turnout and we couldn't have hoped for better weather, in fact we may have needed a bit more breeze."
The weather across the two days was glorious, occasionally a little too glorious, with the general lack of wind making drifting effectively either challenging or impossible at times. A foggy start to Sunday morning also meant an hour's delay whilst it lifted, and ensured enough visibility for the boats to proceed safely.
Thanks went to the competition organisers Nick Langdon, Chris Young and Billy Thrupp, for a well organised and run event.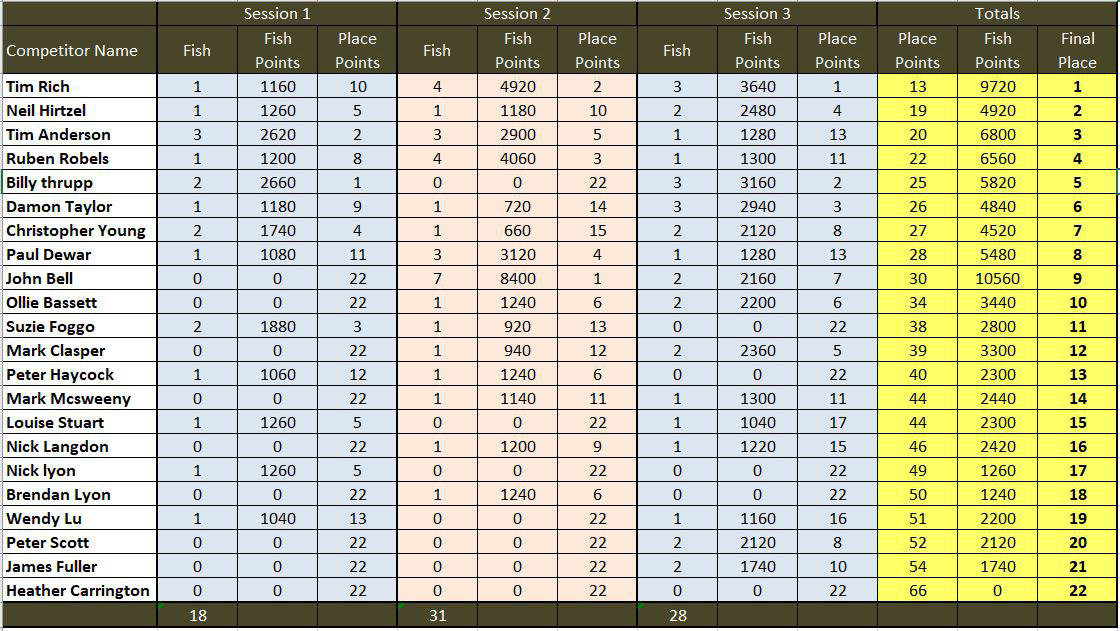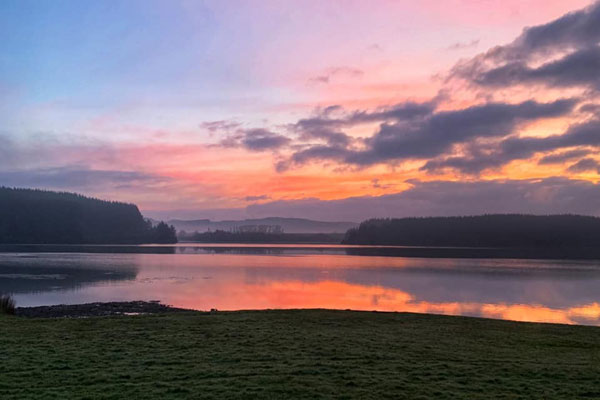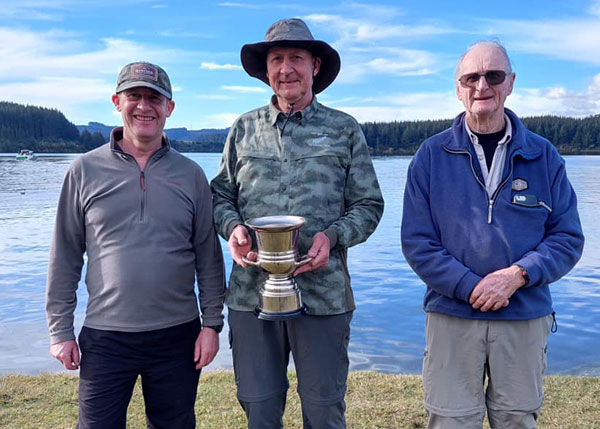 From left, Tim Anderson 3rd, Tim Rich 1st, Neil Hirtzel 2nd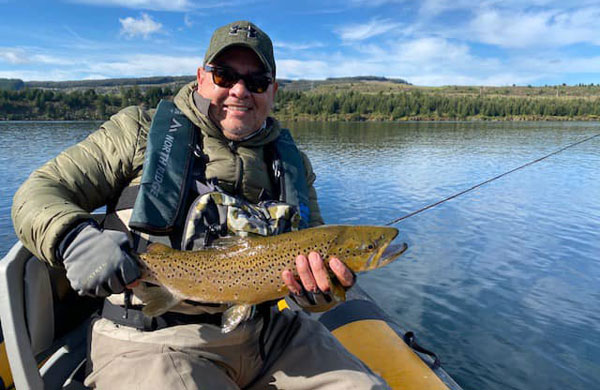 Ruben Robels with a nice Lake Maraetai brown trout.