Manic Tackle Pairs 
   Lake Rerewhakaaitu 6th &  7th Nov 2020
Annual flagship National Pairs boat fishing tournament held.
30 anglers have battled it out over two days of friendly competition in Sport Fly Fishing New Zealand's (SFFNZ) annual flagship event, the National Pairs tournament. 
The event, sponsored by Manic Tackle Project, is designed to introduce newcomers to the sport of competitive fly fishing and was this year held on Lake Rerewhakaaitu, near Rotorua. The boat fishing tournament gives anglers the chance to fish with past and present New Zealand Fly Fishing Team members in a relaxed atmosphere with results being secondary. Former SFFNZ President Johannes Krill said the weekend had been a big success and thanked Manic for its support. 
"I want to say a huge thank you to Manic for their generous sponsorship," said Johannes. "There were some fantastic prizes, including top quality rods and reels, and that really added an extra element to the tournament for those involved. It's wonderful to have them onboard.
"It was a great competition and the social aspect was there for all to see, with a lot of new friends and acquaintances made. A number of those who were trying competitive fishing for the first time said they would be back again, which is what it's all about."

Of those taking part, several had only fished a handful of competitions and there were six completely new faces. There were also four female competitors which Johannes said bode well for the future and he congratulated one in particular, Rachel McNae, who finished third in the individual competition.

One gesture which typified the spirit of the weekend was when a misunderstanding meant two new anglers from Wellington arrived on the morning of the competition without a boat to compete in. Rather than have them be unable to take part, two SFFNZ committee members immediately took the decision to give up their own competition places and boats.
"It was just one of those things which can happen but the way it was resolved showed what the weekend is all about," said Johannes. "It's about giving new people the opportunity to fish and to ensure they have a good time."

Manic Tackle Project Managing Director, and former New Zealand Fly Fishing Team member, Rene Vaz said he was proud to be associated with the event.
"The Pairs is a great tournament to get people into competition fly fishing," said Rene. "It's an easy way for them to have a go at it without it being a high stress environment. It's a notable event on the New Zealand fly fishing calendar so, if anyone missed it this year and they feel they might like to have a crack, I would really encourage them to get in touch with SFFNZ and give it a go next year."

Whilst the weekend was predominantly about participation, there was still a competition to be won and last year's individual champion Dan Comer went back-to-back by retaining his title in 2020. He also took out the Pairs event with his partner Edd Greenwood. "It's great to win the individual title again and it's the third time I've won it in total," said Dan. "It's all about location and consistency, just keep on catching fish. And with the Pairs it's always about the partner as well of course and I had a good one in Edd." Rotorua-based Edd said local knowledge had helped. "We fished in areas we know, being local, and made sure we were the first ones there, which makes a difference when it's a low numbers competition. We observed entomological changes, because we're fishing this in November, so damsels are emerging right now and the flies we used reflected that."
SFFNZ said it would also like to thank Kingfisher Boats, Mount Maunganui, for loaning a boat free of charge for the weekend, and to Rotorua's Distinction Hotel for accommodating the competitors so superbly.

SFFNZ lake fishing tournaments are fished loch-style over three 3-hour sessions - Saturday morning and afternoon and Sunday morning. The organisation runs around 6 lake tournaments a year and approximately 9 river competitions. As well as organising local competitions, SFFNZ selects and sends teams to represent New Zealand in international fly fishing tournaments.
If you would like to try your hand at competitive fly fishing or simply find out more about the sport, email: support@sffnz.org.nz

National Pairs Results

Pairs
1st Dan Comer and Edd Greenwood
2nd Ollie Bassett and James Fuller
3rd Mark Clasper and Mike Tollenaar
Individual 
1st Dan Comer
2nd Ollie Bassett
3rd Rachel McNae
Full Results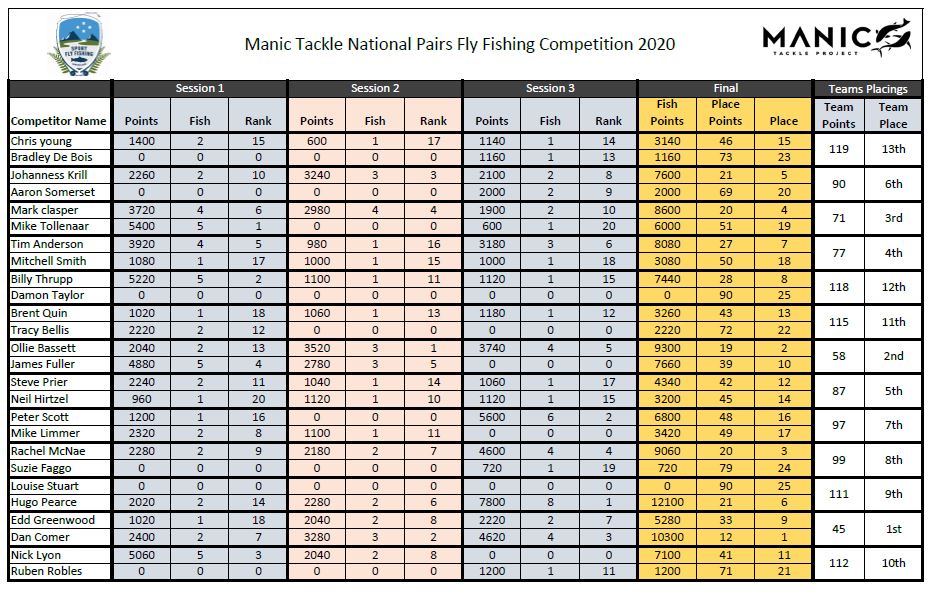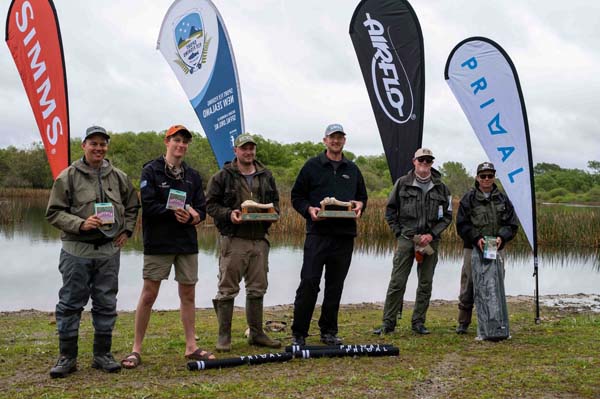 (Missing from photo Rachel McNae 3rd individual)