Rotorua Regional Champs 2020
A small but determined field turned out for the 2020 SFFNZ Rotorua Regional, with some 12 anglers competing compared to the usual 20 entrants. A busy SFFNZ international schedule and preparations for the pending Commonwealth Championship 2020 taking precedence for some anglers.
The weather was hot, sunny and stable going into session 1. A weather pattern that had persisted throughout this summer. The lake had prolific weed growth ahead of the champs, more than had been seen for many years and in stark contrast to the barren weed-less moonscape left by the floods a couple of years back. The abundant weed now made traditional shallow areas and the low flow bays and back waters largely unfishable (in the competition drift boat/ loch style context) and thus fishing by in large was concentrated on the old river channels and higher water/ flow areas.
With only six boats there was  plenty of water to go around, however the hot spots of the deeper channels were pressured and there was quite an art to hot spot management, e.g. get in get a couple of fish, move away when the fish got pressured, then search the open water for a fish or two until the hot spot was rested then jump back in for a bonus fish and repeat… well that was one tactic anyway.
One thing was clear at the end of the first session was that Mark Clasper had the fishing 'dialed in' with the word on the street being that he was fishing nymph under dry (plonk-ing) and doing a good job of concealing the specific flies used! Blood worms were working for some as well as brown and green nymphs.
The fish were clearly on damsels at times but in glassy conditions (and following Marks lead no doubt) most people chose to Plonk.
So top three anglers session 1 were Mark Clasper 13 Fish, Tim Anderson 7 Fish, Ed Greenwood 6 Fish.
Session 2 was similar conditions but a light breeze broke the surface tension and the fish seemed less concentrated on surface feeding. Most anglers were plonking with varied success. With the fish in good condition and fighting hard, many anglers had stories of fish powering into the weed and busting them off.
Top 3 anglers session 2 were Mark Clasper 12 Fish, John Bell 10 Fish, Tim Anderson 9 Fish
Session 3 Sunday morning brought conditions that were cooler overcast with a light breeze.
It was surprising how different the fishing was with barely a rise and takes few and far between. Whilst most anglers caught fish the key was certainly to maximize the few opportunities presented.
Again most people plonked and the top 3 anglers of session 3 were Mark Clasper 6 Fish, Tim Rich 5 Fish, and Chris Young 4 Fish.
So in the final tally the overall Finishing positions were: 
1st Mark Clasper with a dominating performance winning all 3 sessions Well done!
2nd John Bell making the top three of a session only once but consistency counted overall.
3rd Tim Rich fished consistently and was tied for second on session place points but ended 3rd on a fish points countback.
Well done to the place getters
Hard luck award to Tim Anderson in 4th who was scoring well until the last session when in a lake of big ones (38cm average over the competition) he managed to find two tiddlers only (not easy to do) and drop out of contention.
Biggest fish was John Bell with a 58cm Rainbow.
Overall a great competition on a great lake. With all fish successfully released there are plenty of reasons to get to Aniwhenua and give it a go.
Tight lines and particular thanks to Johnny Bell for running another great Rotorua Champs this year.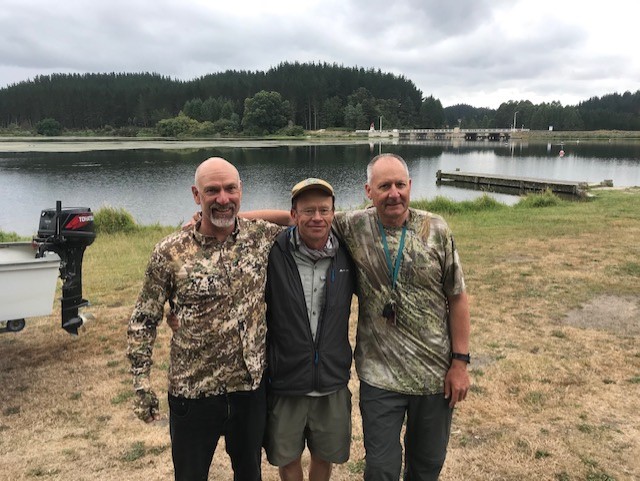 (L-R) Johnny Bell, Mrk Clasper, Tim Rich
FINAL RESULTS: