2020 Taupo REGIONAL CHAMPIONSHIPS
Records tumble at Taupo Regional


The records have tumbled on a fantastic weekend's fishing at Lake Kuratau's Taupo Regional ending with a maiden lake win for young Hugo Pearce.
Fish numbers mean Lake Kuratau is always a popular date in the competition calendar but never more so than this weekend, when a venue record 640 fish came to the net for 20 competing anglers. The competition was sponsored by Taupo Rod and Tackle.
The theme of what was to come was set in Saturday's first session when four anglers returned 20+ scores. Tim Anderson topped those and his total of 28 set a session record for the venue. Ultimately though it was 17 year-old Hugo Pearce who emerged victorious, with Johannes Krill claiming the runner-up spot and Tim Anderson placing third. Mark Clasper won biggest fish with a 55cms rainbow.
"It feels great to get my first lake win," said Hugo, who won his first river competition last season on the Manganuioteao River. "I started off down the bottom end of the lake in the first session and found a few fish right away in the shallows, stripping on the surface, lost a few as well but that got me started. There were lots of fish around. Second session was pretty much the same thing. We were mostly fishing the northerly edges of the lake as the wind was blowing into there quite nicely for the drifts. The final session it changed a bit and got harder, we went deeper, plonked for a while, didn't do as well but it was enough in the end thankfully."
The competition was fished in largely blustery conditions, with gusty westerlies blowing down the lake for the majority of the weekend. It didn't matter though as all anglers found success, with Hugo returning session scores of 22, 21 and 8 for the win.
SFFNZ President Paul Dewar thanked those who had made the weekend possible.
"The competition was excellent with a phenomenal number of fish caught, the most ever. Everyone got amongst the fish including the newcomers which was great to see, so I think everyone enjoyed themselves," he said. "I'd really like to thank Taupo Rod and Tackle for their very generous sponsorship of the competition. They put up some really great prizes including vouchers worth $350, $250 and $150 for 1st, 2nd and 3rd and $50 for biggest fish as well.
"Also to the Department of Conservation (DOC), King Country Energy (KCE) and Ali Read the landowner whose paddock we drive through and park on for access to the lake. Without their kind cooperation and permission these events simply wouldn't happen, so thank you again."
The blustery conditions had caused moments of concern though said Competition Organiser Peter Scott.
"We did actually have some safety concerns this morning (Sunday) at one stage as the wind was gusting a bit, but we checked out the lake beforehand and delayed the start by half an hour and that wind dropped off sufficiently to enable us to go ahead," said Peter. "It was a wonderful competition with a fantastic number of fish caught, especially given the conditions because it wasn't easy keeping in contact with your line at times."
Reflecting on his record session score, Tim Anderson felt a change in tactics could have seen him exceed his total of 28.
"It's always pleasing to get off to a good start and 20 fish in the net in the first hour-and-a-half was certainly that, so it was always going to be a good day then," said Tim. "The key after that was really just to keep going and I think if I'd changed my set-up slightly in the second half of the session I could have had more fish."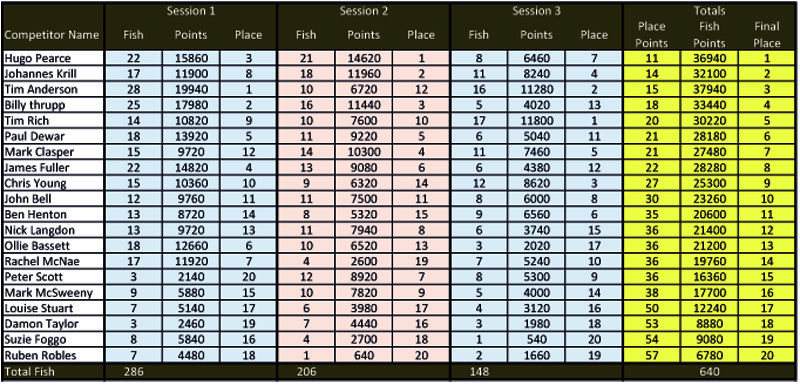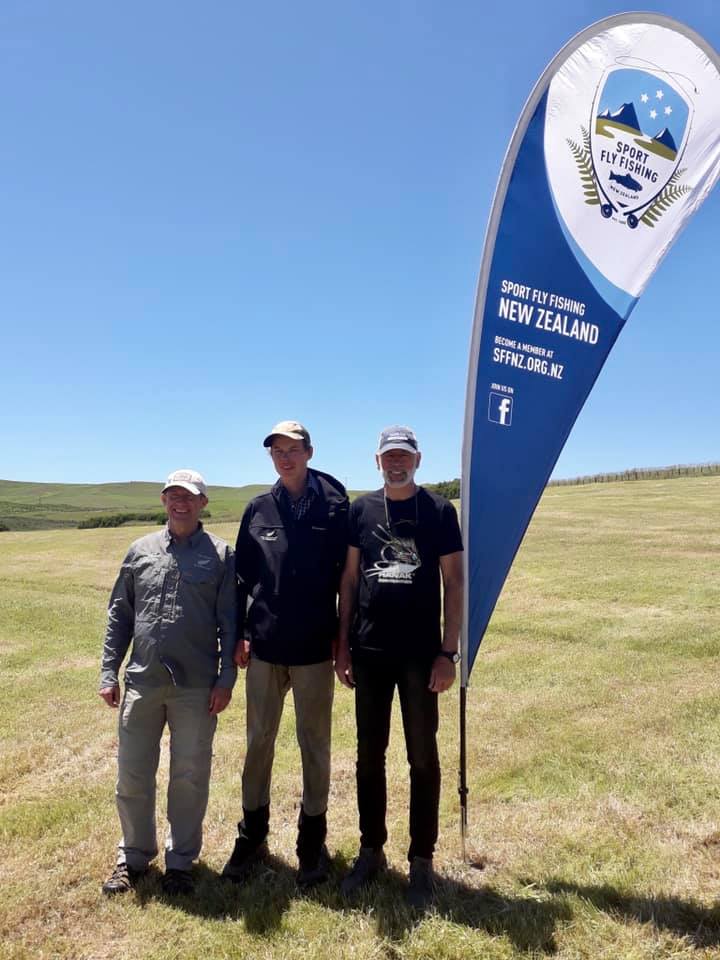 Tim Anderson 3rd     Hugo Pearce 1st     Johannes Krill 2nd