OLLIE BASSETT GOES FOUR IN A ROW AT BAY OF PLENTY REGIONAL LAKE CHAMPIONSHIPS
In the first Lake Competition since March's New Zealand Lake Nationals, the anticipation was high for the start of the new season at the Bay of Plenty Regional Lake Championships on Lake Aniwhenua. This saw a very strong field – including the majority of the Silver Flies and Fly Fern squad – show up to compete. It was also good to see two new anglers, with Serena McDonald making the (very) long journey up from Timaru, and Mike Kingham joining us for his first event in New Zealand, having previously been active in competition fishing within Australia, and finishing in the top ten in his first SFFNZ hit out.
The only dampener (literally) was that several weeks of rain had made practice sessions difficult, to say the least, with few fish being caught in the murky water that resulted from the flooded Rangitaiki River flowing into the lake and the only hope was that a relatively dry last few days would have seen levels drop and the water clear a little.
In the event, fishing was certainly not easy, but every angler caught fish and the results were extremely tight with the final session serving up a terrific performance from Ben Henton taking ten fish, doubling the nearest other score, only to finish just one place point short of serial winner Ollie Bassett, with overnight leader Mark Clasper completing the podium for third.
Ollie took his fourth competition win in a row, demonstrating consistency both over the three sessions this weekend and across rivers and lakes in 2023. Ollie said "it is terrific to win the first loch style event of the year, especially with such a strong field taking part including most of both men's and ladies' 2023 World Championship teams. Given how hard the fishing was, I concentrated on converting every take into a fish in the boat and, given the small margin of victory, that turned out to be vital. I had an exceptional set of boat owners as partners, all current or former New Zealand international anglers and together we worked out a variety of areas to cover during each session. I would like to thank them as well as Billy Thrupp and Damon Taylor, the organisers, for making this such a memorable event."
Rachel McNae, the NZ Fly Ferns captain, was the highest placed lady, while also joining the rest of the Fly Ferns in restricting themselves to fishing with only a single fly, in preparation for the World Championships in Canada later this year, where that will be a rule.
Across the weekend, 172 fish were caught of which 28 were browns, and the remainder rainbows.
Finally, SFFNZ would like to thank Fish and Game Eastern Region, who are always accommodating to our requests to hold competitions on the fisheries they manage.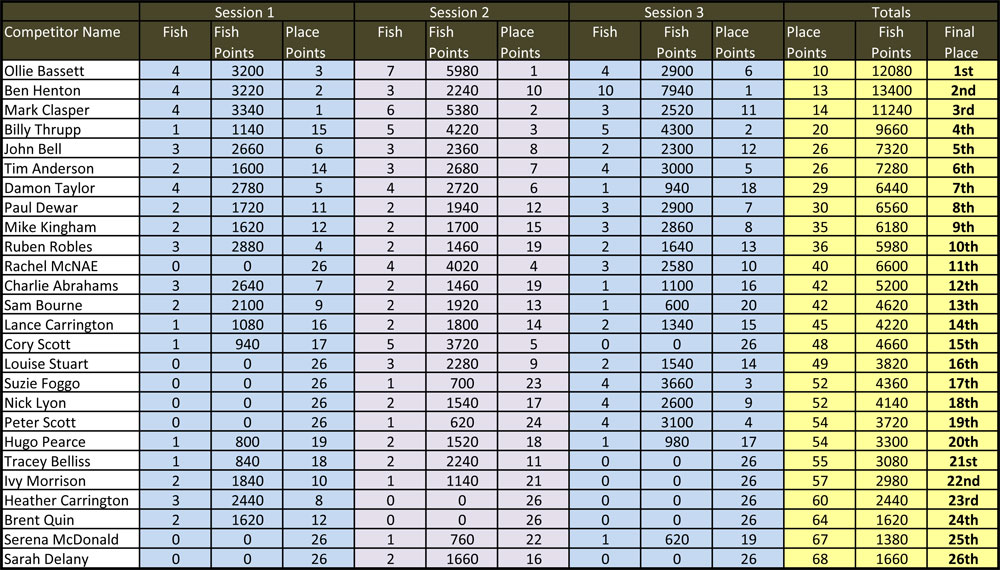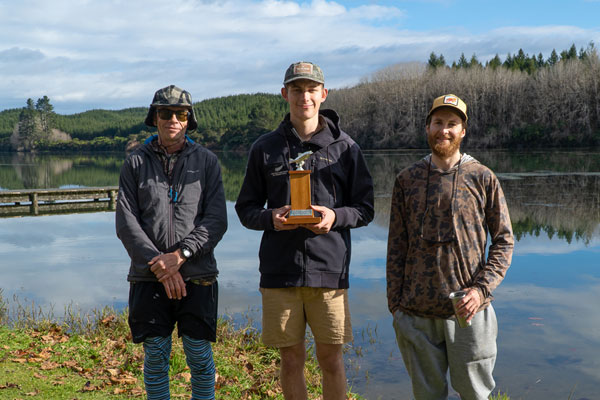 Mark Clasper 3rd, Ollie Bassett 1st, Ben Henton 2nd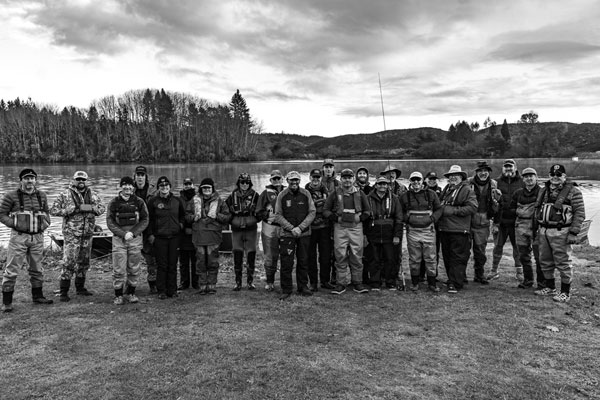 Anglers on a cold early morning ready for days fishing.