Mark Clasper wins Bay of Plenty Regional
Mark Clasper has won the Bay of Plenty Regional on Lake Rerewhakaaitu, fished over the weekend of 14th/15th August, narrowly edging out Chris Young to take the title.
Chris fished really well to take out two of the three sessions but unfortunately for him it wasn't ultimately enough. With the pair tied on nine place points apiece the tiebreaker of overall fish points was needed to determine a winner; with Mark emerging triumphant. James Fuller rounded out the podium in third, registering his first individual top-three finish in the process. Rachel McNae was the top female competitor and Wendy Lu caught the largest fish of the weekend, a 57cms rainbow.
The event was contested in fantastic late winter conditions and, with an amiable but competitive atmosphere prevailing, most anglers were able to get amongst the fish. In the end, Mark led the 14-strong field from start to finish, having got off to a cracking start with 7 fish in Saturday's morning session.
"The first session was really good, I fished with an inter (intermediate line) and just stripped, and they were just there really, mostly coming on a brown woolly bugger," said Mark. "Second session I started with an inter as well, got a few but then it went off a bit. The third session was the killer for me though, I only had one fish after two hours so I was sweating blood. My boat partner Ruben (Robles) was getting them on a sink tip and I don't have one of those lines. So I tried plonking, I tried an inter, and in the end I tried a Type 4 line just to get a bit deeper and I got a couple fairly quickly on that, and that just saved my bacon really."
The win also finally broke an unwanted and unlucky streak Mark revealed.
"What I'm really happy about is that I've broken a string of nine tiebreak losses. I'm pleased that's been put to bed, it was beginning to haunt me to be honest. The last nine times I've been in this position, tied on place points, I've lost every countback and lost positions because of it of course."
Lake Rerewhakaaitu (the 'lake of wandering spirits') lies at the base of the southern slopes of Mount Tarawera, 29 kilometres to the southeast of Rotorua. It's a relatively shallow lake, but despite its lack of depth, is usually beautifully clear, as it was throughout the competition weekend. On a lake where averaging three-fish-per-session is generally a handy score, some relatively low water levels and favourable weather conditions meant more were required to challenge for the top placings this time round.
Competition organiser Johnny Bell reflected on an enjoyable couple of days and said Rerewhakaaitu had shown its merits as a competition venue once again.
"The weekend was a success and I think continued that consolidation of Rerewhakaaitu as a good competition venue," said Johnny. "It's still relatively new for SFFNZ as a comp location but it's getting a history in its own right now. It's a decent sized lake with good facilities and big enough for people to spread out and find water."
The weather was conducive to some excellent fishing added Johnny.
"The weather was cold but clear, a bit blustery at times, but provided good conditions for fishing, which reflected in the results. Most people chose to strip lures and there were some well conditioned fish caught, with those making the most of their opportunities coming out on top. Being quite a large lake, location proved important, and practice paid dividends with that.
"Congratulations to Mark of course for a great win, but to all the other competitors as well. It was a really good competition, fished in a great spirit, with a mix of new and more experienced faces, which is great for the future of competition fishing."
Thanks go to Johnny Bell for organising the competition, to Chris Young for handling the scoring across the weekend, and to Edd Greenwood, for the loan of his boat engine when one of the competitor's engines broke down on Saturday.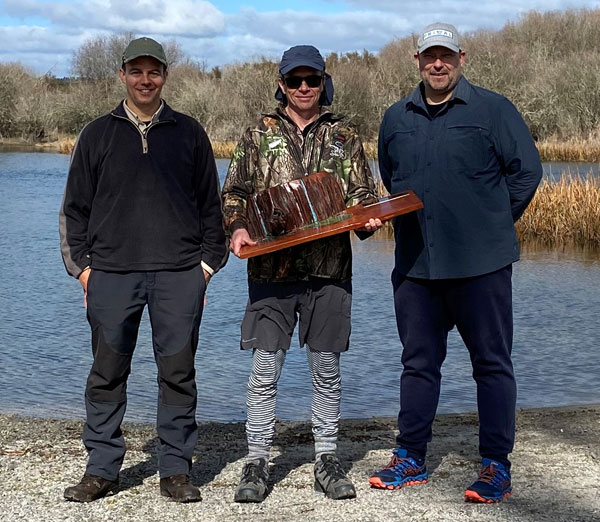 From left; James Fuller 3rd, Mark Clasper 1st, Chris Young 2nd