TOURANGA REGIONAL CHAMPIONSHIPS FEBRUARY 2019, WAIMAKARIRI STREAM 
RESULTS:
After what was forecast to be a write off due to the impending cyclone Oma the Tauranga Regional Champs dawned to clearing skies and a clear running Waimakariri Stream in the South Waikato. The uncertainty in the weather forecast was much welcomed and the anglers went to work over the 3 x two hour sessions with some great fishing on offer. As with the Waihou over recent years the high population of smaller fish had declined being replaced by some large specimens. Billy Thrupp blazed out of the blocks winning session 1 with 24 fish. Young guns Ollie Basset and Hugo Pearce were super impressive showing up several of the more senior anglers finishing 4th and 5th respectively. After three sessions and defending his 2018 title was Cory Scott 1st followed by Billy Thrupp 2nd and Dan Comer in 3rd. Many thanks to the committed controllers who dedicated their time to help run the event (we just can't run this without you, so thank you!) and a massive shout out to Gareth Godfrey for organising the event and marking the beats. 
This event was the last river regional for the year with the top 20 ranked anglers going forth to compete in the Nationals. We will announce the qualifiers very soon.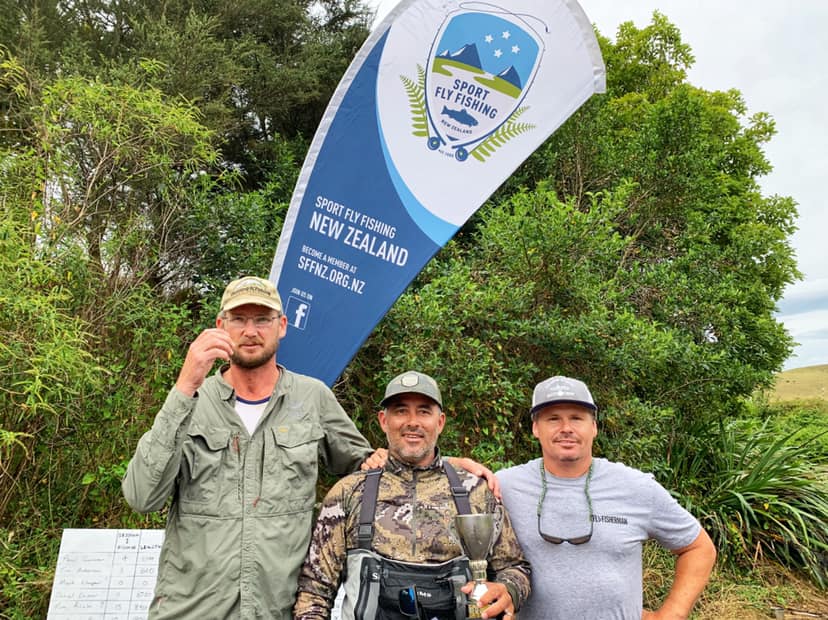 (L-R) Dan Comer, Cory Scott, Billy Thrupp