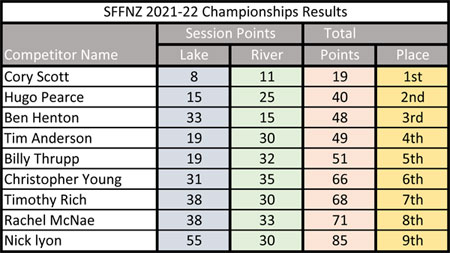 Cory Scott wins the overall SFFNZ Championship for 2021 /22
By wining the National Rivers and Lake Championships Cory took out the overall NZ Champs title with an impressive score of only 19 points over both events. 
Hugo Pearce was 2nd on 40 points and Ben Henton 3rd on 48 points. 
Cory

wins overall points tally for season to take out the presidents tRophy for the 6th time. what a record!

 

 
Anglers best two points for lake and river regionals are added together with double points for the River & Lake national championships to find the placings the overall points placings for the season.
Cory Scott showed great consistency to be placed 1st and winner of the presidents trophy on 245 points from Hugo Pearce on 179 and Billy Thrupp in 3rd on 163.
The season points are an important matrix for SFFNZ as well as deciding the prestigious Presidents Trophy winner they are also used to help select the development squads that will make up international teams for the coming seasons. 
Click for full points table> 
TRUE CHAMPION' TAKES OUT MANIC TACKLE SFFNZ RIVER NATIONALS ON MOHAKA RIVER
Cory Scott has been called "the true champion of our sport" after winning the Manic Tackle SFFNZ River Nationals on the mighty Mohaka River.
Cory's victory in the event, fished across Saturday 21st-Sunday 22nd May, added to his Manic Tackle Lake Nationals win three weeks ago meant he also claimed the title of overall national champion.
The two-month postponement of the original River Nationals meant a somewhat depleted field of 13 anglers did battle across four 3-hour sessions. The top three finishers were: 1st Cory Scott, 2nd Ben Henton and 3rd Nathan Pollard. Biggest fish of the weekend went to Nick Lyon with a 63cms stonker.
The results meant that the top three for the overall national title (combined lakes and rivers results) were: 1st Cory Scott, 2nd Hugo Pearce, 3rd Ben Henton.
"It's massively satisfying and I'm hugely proud of it," said Cory. "I haven't really stopped looking at the trophies I have to be honest. It's been such an up-and-down couple of years with everything going on, and this definitely means a lot to me. I didn't really start this season with any thought of competing seriously. But the COVID restrictions and no work coming in took me to some dark places and when that happens you turn to things you love. I love flyfishing and I love competing and I always will.
"After the Lake Nationals I still didn't know if I was going to be able to compete in this one though. If it'd been a week earlier I might not have been able to but I had a practice day on the water, felt ok, cleared it with the wife, and confirmed my entry. With the health scare I had this year I was just pretty pumped and excited to be cruising along to be honest.
"I had no fitness so had to adjust my strategy and fish differently to how I normally do, just fish really slowly and methodically most of the time and fall back on my experience of reading the river. The extra flows changed the holding water but realistically the fish are not going to be leaving the sections of water they'll still be there. It's about finding them, working out the best method, breaking the code really.
"What did become apparent was that the fish wanted zero drag over the weekend, and that was tough with the wind. But as soon as you got a nice drag-free drift, that was when you got fish."
Cory said varying your techniques and concentrating on each part of the process were pivotal to success.
"The key across all sessions and across the weekend was being adaptable to the water," he said. "A lot of people have a go-to confidence technique and because they like using that technique they may well end up using it in water which is not best suited to it.
"I mixed it up, so as well as euro nymphing, I had success on single dry-dropper and even went old school, running a Tongariro rig, double nymph below a big indicator dry. Even had a few dry-fly eats as well.
"Whatever you're doing I've found the key is to keep it simple. Concentrate on each individual cast, your presentation, and then ensuring you get a good drift. Just stay in the moment because that's all you can do."
The champion congratulated the other podium finishers and thanked Manic Tackle for its continued support of sport fly fishing in New Zealand.
"I'd like to pay respects to the two newbies Ben and Nathan. Ben is just a naturally-gifted fisherman and he's proven that on the lakes and now again on the rivers, he's flourishing.
"Nathan fished bloody well too, he's only been in the country 8 months so massive respect to him for what he's been able to do in that time. The future looks good for SFFNZ with guys like that coming into the sport. And I'd like to add a huge thank you to Manic as well for sponsoring the event again, it's hugely appreciated."

Manic Tackle's Lucas Allen said the company was proud to be associated with SFFNZ and that the weekend had proved a high-calibre event. Manic generously donated $1500 worth of Simms prizes for the podium placers, including a Dry Creek Zip BackPack, Dry Creek Simple Packs, Padded Cubes, Taco Bags, caps and sun gaiters.
"It was a fierce competition, with not only other competitors but Mother Nature throwing her hat in the ring to spice things up," said Lucas. "A heavy dump of rain pushed the mighty Mohaka river levels up, seeing anglers adapting their approach early on in the piece. Then again almost hourly as the levels dropped throughout the two days of competition, altering lies and holding water which kept everyone on their toes.
"This is what set the scene and those who adopted techniques to suit their given beat came away with points on the board where others may have struggled. The huge calibre of competition anglers on display (albeit missing a few guns) is great to see, especially when they work hard in prep and even harder on the day.
"The team at Manic Tackle Project congratulate Cory Scott on his River Nationals win, cementing himself as an icon of the competition scene after wrapping up the Lake Nationals and taking out Overall Champion angler for his efforts. Ben Henton and Nathan Pollard rounded out the leaderboard with 2nd and 3rd respectively, and some encouraging young talent also showing they are ones to watch in the future.
"Thanks to all SFFNZ organizers, volunteers and everyone else involved in putting on a world class event."

Jason Pearce was one of those organisers and he added his congratulations to Cory on his victory.
"I said at the presentation ceremony that Cory's the true champion of our sport and I very much standby that," he said. "He didn't get a dream run either. He didn't draw all the top beats and he was following some of the top anglers on those beats as well. So when you looked at it on Friday night it was a tough draw. But Cory always makes the most of what he's given and that's what sets him apart.
"You could throw him the worst beats in a comp and he'd still be in contention, so when he gets reasonable beats, he tends to win it. It's a mark of how good he is. And he's a ballsy angler as well, he'll be up to his neck to get to fish, he accesses water that others probably wouldn't. So credit where credit's due, you have to take your hat off and say he's a worthy champion."

Jason also praised the efforts of the new anglers on the scene.
"I think Nathan's best session result was 5th so for him to place third just shows once again that it's all about consistency and not having any disastrous sessions which pays dividends. It was a really commendable effort for such a young fella and shows so much promise for the future.
"Ben a year ago hadn't fished a river comp. Those he has done this year he's been competitive, and now to come second at the Nationals is just terrific. A mention for Phillip Connor, who came 4th, as well as he's in a similar position in that this is his first year of competing so congratulations to him too."
Overall, with all things considered, Jason said it had been a successful weekend.
"It was a success. I think it went really well for a river which had never been tried for a Nationals before. The river came up a fair bit on Friday evening after we had marked the beats which made things a bit tricky unfortunately, and made some water inaccessible. Other than that though it all went well. Mohaka River Farm was a great venue, everyone really enjoyed having everyone together, and there was plenty of banter about, which is all part of it."
Jason thanked Manic Tackle for sponsoring the event, the 13 Controllers who gave two full days of their time to make the whole comp possible, Zander Geddes for allowing access to private land, Nick Langdon for supplying beat markers and score calculator, Tim Anderson for the comp matrix and Hugo Pearce for helping organise and mark the beats.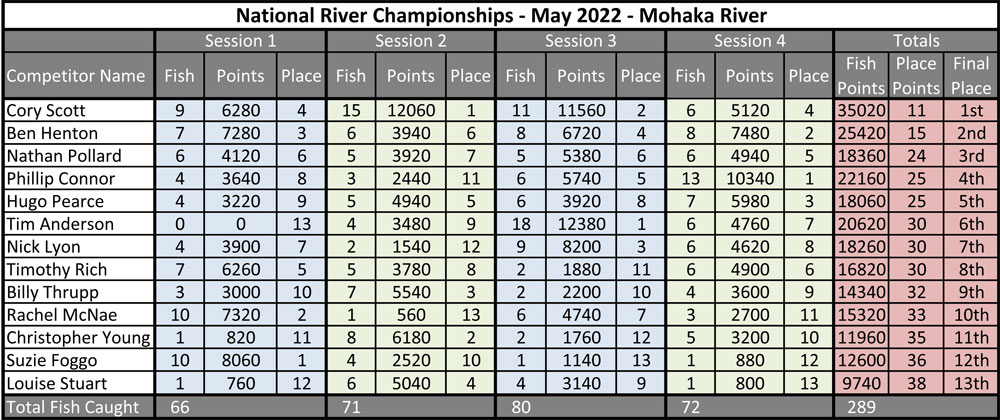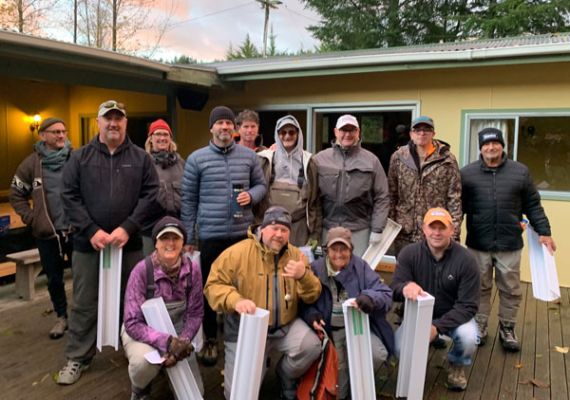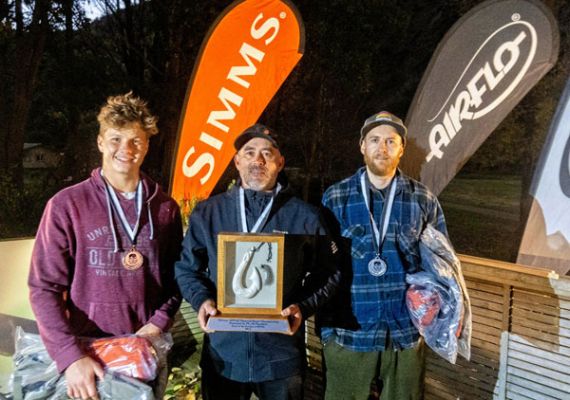 (from left): 3rd Nathan Pollard; Champion Cory Scott; 2nd Ben Henton                                                    Our awesome band of controllers ready for the off on Saturday morning  
CORY SCOTT WINS MANIC TACKLE SFFNZ LAKE NATIONALS 2022
"This is up there with the sweetest of them all," was how multiple national champion Cory Scott greeted his triumph in the Manic Tackle SFFNZ Lake Nationals 2022 at Lake Rotoaira.
The winner of 9 national titles was in emotional mood as he said recent surgery had helped put life into perspective for him and make this victory even more special.
"It's been a tough year with a lot going on but I do love the sport and that's never going to change," said Cory. "The prospect of the operation is something which has been hanging around for a while and then I finally had it a couple of weeks ago. But there were a few complications afterwards which meant that up until two days before the comp I couldn't really walk properly, so the decision to compete was taken pretty late. I'd been laid up in bed for 13 days, so I had to be sure if I did it I could complete the event.
"Once the decision was made it was really a case of whether experience could win out over form and preparation because I certainly had neither of the last two. I've hardly done any lake fishing at all this year."
There was nothing wrong with Cory's casting arm though as he placed 1st, 1st, 4th and 2nd in the four three-hour sessions to take out the win. He finished ahead of hard-chasing 18 year-old Hugo Pearce in second and 2021 Lake Champion Billy Thrupp in third. The biggest fish of the tournament went to Ollie Bassett, with a 58cm rainbow, and the highest placed female angler was Rachel McNae in 11th. Cory said it was far from plain sailing though.
"There were a couple of nervous moments for sure," he said. "Neil Hirtzel was in the hunt for a long time and he's 80 years old, so massive ups to him. I've had Neil as a captain for several world championships and he's an awesome guy. The way he's still competing at his age, and is always a top performer on the lakes, he's just a legend.
"Then you have the young guys in Hugo and Ollie and the battle that they put up. They're the future. Hugo had one bad session yesterday but came back strong winning both sessions today, and that was just an epic effort and really kept me on my toes. Then you have Billy, who's my best mate and was the defending champ, and he let me know all about that at every available opportunity don't you worry, showing me the trophy whenever he could and saying he didn't bother getting it engraved last year coz he was gonna win it again this year, and that sort of thing. So there was definite pressure there but that's what it's all about."
Cory said an ability to recognise signs and patterns with fish behaviour and switch tactics at short notice was key on Rotoaira perhaps more than other lakes. In his first session he was down 7-2 on boat partner Billy Thrupp and then, having noticed a couple of hits on the hang for Billy, switched to plonking and went on a run of 6 fish in 9 casts.
The conditions across the two days of competition were largely sunny and calm, which was fantastic to show off the venue in all its glory but often tough for the anglers. Lake Rotoaira, just south of Lake Taupo, in the middle of New Zealand's North Island, is a stunning location. This 13km² gem - flanked by the peaks of Pihanga, Tihia and Käkaramea to the north and the brooding volcanic dome of Mount Tongariro to the south — was used as a venue in both the 2008 World Championships and 2020 Commonwealth Championships.
Lucas Allen, Account and Community Manager at sponsor Manic Tackle Project, said the tough conditions challenged competitors to come up with solutions.
"With some challenging conditions on hand anglers had to dig deep into their toolbox or think outside the square to put some runs on the board. In times like this it is where the cream rises to the top and keeping ahead of a hungry pack of competitors takes some serious effort and consistency. Congratulations to all the participating anglers, organisers, supporters and a special mention to the place getters.
"Manic Tackle Project are proud to support Sport Fly fishing NZ and witness a range of highly accomplished anglers come together to compete in such stiff competition, this shows the strength of New Zealand fly fishing and feel it puts us in a firm position not only on a national stage but also worldwide. The emergence of a strong contingent of younger anglers pushing through and making a good account of themselves also illustrates the growth in the sport and the commitment SFFNZ has undertaken over the years to foster this."
Competition organiser, and last year's champion, Billy Thrupp took a moment out to congratulate his mate Cory Scott on the win.
"I told him I've just handed the trophy back to the rightful owner, and that's true," he said. "I mean what can you say about the guy, he can barely walk and he's still come out here and kicked everyone's butt. He's the champ."
Billy went onto thank Manic Tackle Project for its ongoing support of this event and sport fly fishing in general. There was around $2,000 worth of top quality Simms gear given in prizes for the three anglers on the podium. Cory Scott walked off with a GTS Roller bag, Padded Cube, Cap and Sun Gaiter; second-placed Hugo Pearce got a GTS Rod and Reel Vault, Padded Cube, Cap and Sun Gaiter; and Billy Thrupp won a Dry Creek Simple Pack, Padded Cube, Cap and Sun Gaiter for coming third.
Billy also thanked the many others who had made the weekend possible.
"I'd like to thank Rotoaira Trust for allowing us to stage the event here at such a fantastic venue, my fellow organiser Chris Young and to Tim Rich for all they do behind the scenes. To Louise Stuart, Suzie Foggo and Sarah Delaney for doing the scoring and organising the base camp here, cooking up a feed at lunch time today (Sunday) as well, you guys have been absolutely awesome and helped create such a great atmosphere, you've set the bar really high."
There were thanks also to Lance Carrington, who operated the safety boat for the event, and to Phillip Connor for acting as dummy angler when a late withdrawal left an uneven number of competitors. There was also a heartfelt round of applause from everyone assembled for SFFNZ legend Neil Hirtzel, who at 80 years old is still going strong.
Lake Nationals is the finals of the Sport Fly Fishing New Zealand (SFFNZ) lake season and determines the champion lake fisherman for the year. Anglers qualify by virtue of their performances in the regular season lake competitions, with their best two results being taken into account.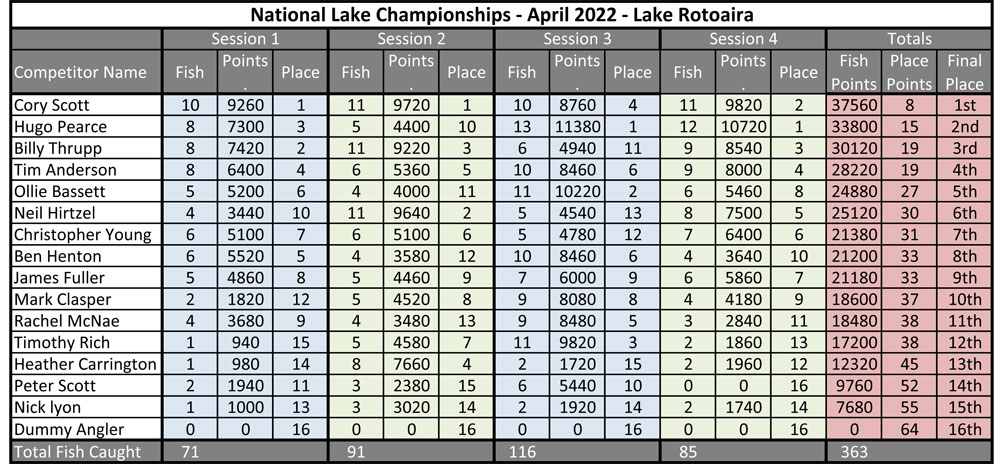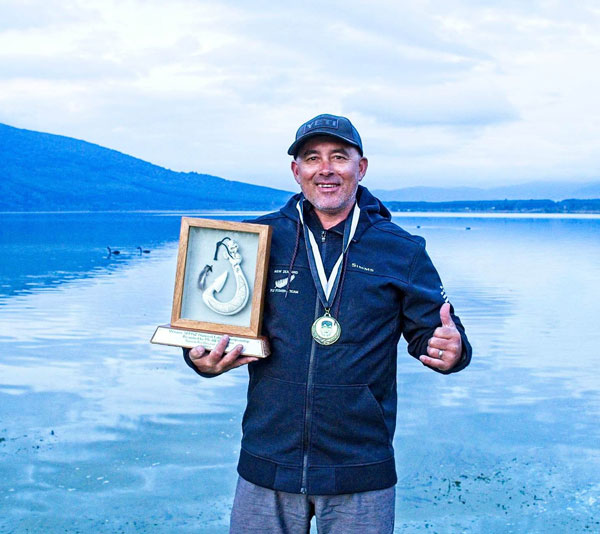 Cory Scott - 1st place 2022 Lake Nationals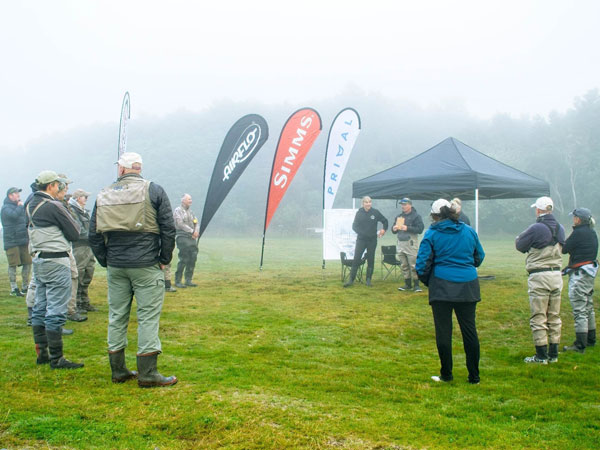 Cold foggy start to the day at the Lake Nationals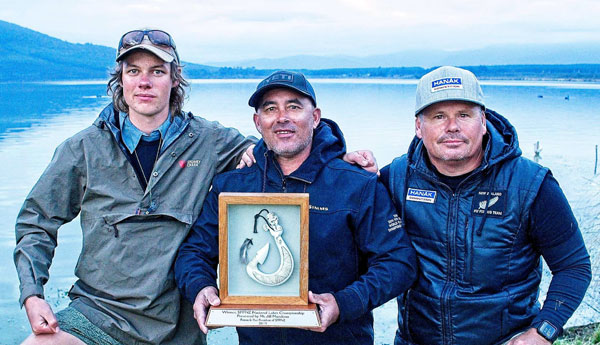 The 2022 podium: from left 2nd Hugo Pearce; 1st Cory Scott; 3rd Billy Thrupp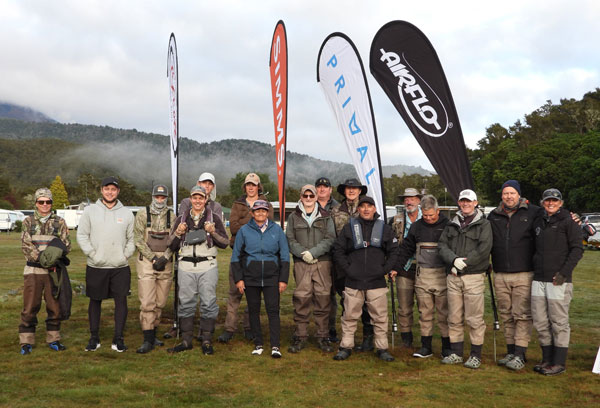 The class of 2022. Competitors line up for the 2022 Lake Nationals