SFFNZ Lake Nationals and Overall National Championships 2021
Billy Thrupp has won the Sport Fly Fishing NZ (SFFNZ) Lake Nationals and also been crowned overall national champion for 2021.

The Lake Nationals, sponsored by Manic Tackle Project, was held at Lake Kuratau over the weekend of 17th/18th April. A total of 745 fish were caught by the 17 competing anglers, who had qualified by virtue of their performances in the regional events during the regular season.

The podium was filled by: 1st Billy Thrupp, 2nd Dan Comer, 3rd Ollie Bassett. The result means a first Lake Nationals triumph for Billy Thrupp and, combined with his performance in the recent River Nationals, a first overall title as well. So how does it feel to be the nation's champion angler for 2021?

"It's awesome. I'm happy, really happy," said Billy. "It's something I've worked hard to get and it's a mixture of relief and happiness I guess. I was a bit stressed going into the week if I'm honest. I knew where I was sitting and what I had to do with regard to my closest competitors for the overall title. During the comp I was constantly doing the maths after each session, working out what I needed to do.
"I'm looking forward to just go fishing now with nothing on it," he added laughing.

The competition was fished across four three-hour sessions over two days. Breezy westerlies all day Saturday, and even gustier conditions at times on Sunday, meant the fishing was occasionally challenging and there were plenty of tangled rigs all round.

Other results included Rachel McNae being the top placed female angler (13th) and the biggest fish of the weekend was James Fuller's 57cm rainbow.

With Hugo Pearce being narrowly edged out of the podium positions by Ollie Bassett it meant that anglers aged 17 and 19 finished 4th and 3rd respectively.
"That's great and they're the future," said Billy. "If those two young guys weren't in it I'm not sure I'd even still be competing to be honest. Fishing with Hugo on Saturday morning was one of the highlights of my weekend. We just had fun and went toe-to-toe catching fish and ended up with really good numbers because of that. We were in competition but Hugo's a very relaxed friendly guy and it was really enjoyable fishing together. I had some great boat partners all weekend to be fair; I really enjoyed fishing with Rachel (McNae) in particular as well.
"And what can you say about Ollie? He's just fished like a superstar all year and pushed me so hard for this. There's undoubtedly going to be plenty of championships for him in the future."

The top three positions in the overall 2021 National Championship were: 1st Billy Thrupp, 2nd Ollie Bassett, 3rd Dan Comer. Billy said he had a lot of people to thank for supporting him along the way.
"It's a long list but I'd be kidding myself if I didn't start with Cory Scott," he said. "A big part of why my fishing is where it is, is because of the amount of advice and help he's given me over the years.
"My partner Sam has just been gold, she has supported me so much whether that's doing stuff with the kids when I'm up tying flies or whatever. Thanks also to Peter and Lynley Scott with Hanak NZ, Frantisek Hanak; Andrew and Tore at FlyTackle NZ; the committee and all the other competitors; Manic for sponsoring the event, the list goes on."

Manic Tackle Project Managing Director Rene Vaz said his company's involvement was about enriching and growing the sport.
"It's great to see competition fly fishing in New Zealand alive and well with some consistent anglers shining through like this year's winner Billy Thrupp," said Rene. "I'm also really pleased to see in close pursuit Ollie Bassett and Hugo Pearce, who have continued on from their experiences at World Youth levels to now be competing consistently on a national level finishing third and fourth respectively.
"From Manic's point of view we love investing in initiatives that both enrich and grow our sport. Competition angling is a great way for any angler to immerse themselves further in the sport whilst rubbing shoulders with some of New Zealand's best anglers."

Competition organizer and SFFNZ Vice President Nick Langdon said the competition was a fitting finale to a great season.
"Massive congratulations to everyone involved, Billy for taking out the Lake and overall titles, fantastic. Ollie has fished out of his skin all year and really is the future, and Dan has fished superbly all year as well. It's a deserving top three, and they're the top three in the overall running as well which tells its own story. Everyone's really tired but it was a great event.
"I'd really like to thank Manic Tackle for their continued support of SFFNZ in general and for their sponsorship of this competition in particular," added Nick.
"Thanks also to the Department of Conservation (DOC), King Country Energy (KCE) and Ali Read the landowner whose paddock we drive through and park on for access to the lake. Without their kind cooperation and permission these events simply wouldn't happen, so a very big and sincere thank you again.
"And last but not least thank you to my fellow competition organizers Chris Young and Billy Thrupp; and also to Tim Rich and Jason Pearce for their help this weekend too."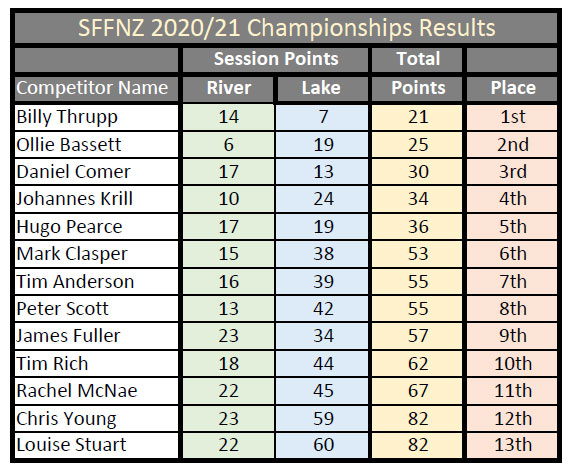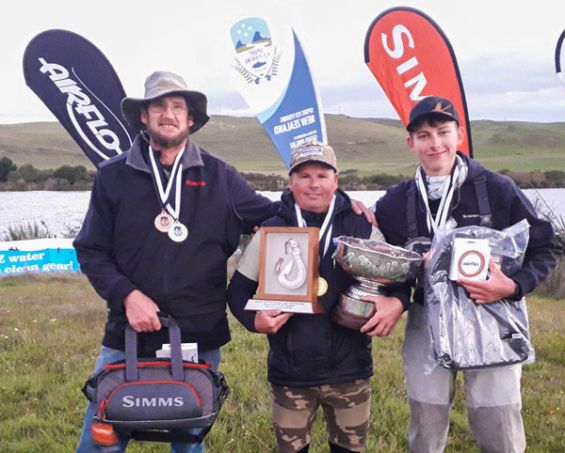 Over Champs from left; 3rd Dan Comer, 1st Billy Thrupp, 2nd Ollie Bassett         
2021 Lake Championship Results, Lake Kuratau April 17/18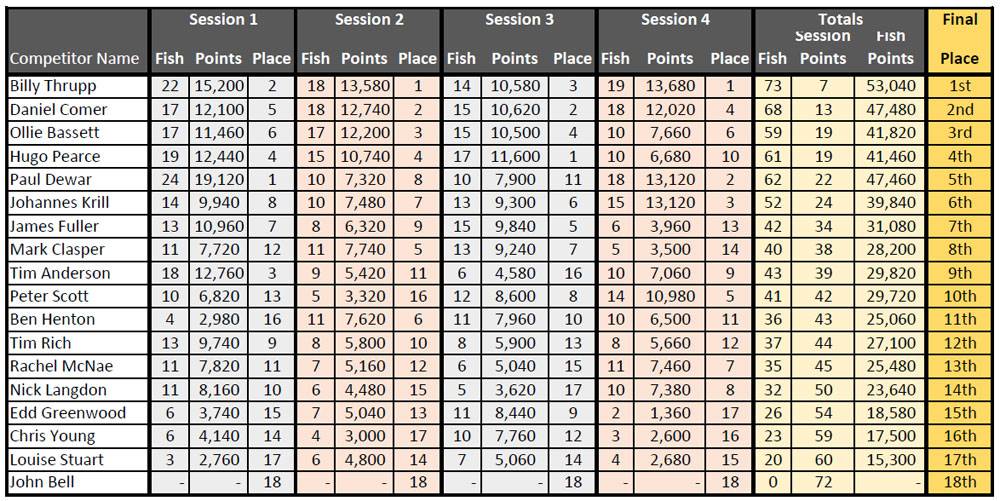 2021 SFFNZ NATIONAL RIVERS CHAMPIONSHIPS.
Ollie Bassett has taken out this weekend's Sport Fly Fishing NZ (SFFNZ) River Nationals sponsored by Manic Tackle to become the youngest winner of the event in New Zealand competition fishing history.
The 19 year-old completed a dominant display to top the podium ahead of more seasoned performers in second-placed Johnny Bell and Johannes Krill in third.
The competition was based out of Taumarunui, in the central North Island's King Country, and fished on the Whakapapa and Whanganui rivers. It was held over two days, across four three-hour sessions - 9am-12pm and 2-5pm on both days. 16 competitors, who had qualified by virtue of their points tallies during the regular season, took part. And, after 12 hours of fishing on two beautiful but powerful rivers, there were some aching bodies come prizegiving time on Sunday evening.
Following the medal ceremony Ollie - who also won a Primal 10ft6ins 3wt from sponsors Manic Tackle - said what he had achieved hadn't sunk in yet.
"I can't really believe it actually if I'm honest," he said. "I remember at my first Nationals back in 2018 I didn't do that well and I was looking at the guys up at the top - people like Cory Scott, Johnny Gummer, Johnny Bell - and thinking one day I want that to be me. They were the type of people I wanted to fish like.
"I've been training pretty hard and it all came together for me really. I got quite lucky with the draw, I did get some good beats and I would like to acknowledge that, but I feel that I fished them well."
Ollie caught the majority of his fish euro nymphing but also took some fishing dry-dropper and swinging wee wets and streamers. He described the progression of his competition.
"First session I got 22 fish out of Beat 9, the top beat on the Whanganui, which was enough to win that session, and was a good start. Then Saturday afternoon was Beat 13 which is a beat I've had a few times so I know it pretty well. I was targeting little fish there but also managed to get a couple of bigger ones including my biggest Whanganui rainbow at 62cms. I had 23 fish for second in the session behind Peter Scott. I was happy with that though because I'd had the same beat during the Commonwealths and I learned from a couple of mistakes I'd made then, managed the beat a bit differently, and caught more fish.
"Sunday, first up was Beat 7 on the Whakapapa, where amongst my fish I managed to get a big brown of 70cms out of a deep hole which was good fun, and I was able to win that session. So going into the fourth and final session I was pretty nervous because I knew I was in a good position. I managed a second place there, which was enough to win the competition in the end. I did lose quite a lot of fish in that session though which I wasn't very happy about, including a really big rainbow right at the end. That kept me feeling nervous as I didn't know if 13 fish would be enough, thankfully it was."
Ollie thanked his parents for all their support, mentors who have helped him along the way, and controllers, organisers and sponsors for making it all possible.

Competition organiser and SFFNZ Vice President Nick Langdon said he wanted to thank a number of people including competition sponsors Manic Tackle.
"Massive thanks to Manic Tackle for sponsoring the competition and to my fellow organisers Chris Young and Billy Thrupp. Also a big shout out to Peter Scott. Every time we fish these rivers Peter puts his hand up to do the hard yards. He walked a lot of kilometres marking out the beats and then turned around and competed two days as well. Incredible effort.
"The controllers as well, for giving up their time, they were absolutely first class this weekend, fantastic, we simply can't do what we do without them. I also understand a couple of them are thinking of having a crack at competition fishing which is great and what it's all about."
Nick congratulated Ollie on his win.
Nick added that creditable mentions amongst the field should also go to the three female anglers who fished Rachel McNae, Louise Stuart and Suzie Foggo.
SFFNZ will now look forward to the National Lake Championships to be held on Lake Kuratau on the 17th April which will crown not only the lake Champion but combined with the rivers results, the overall 2021 SFFNZ National Champion.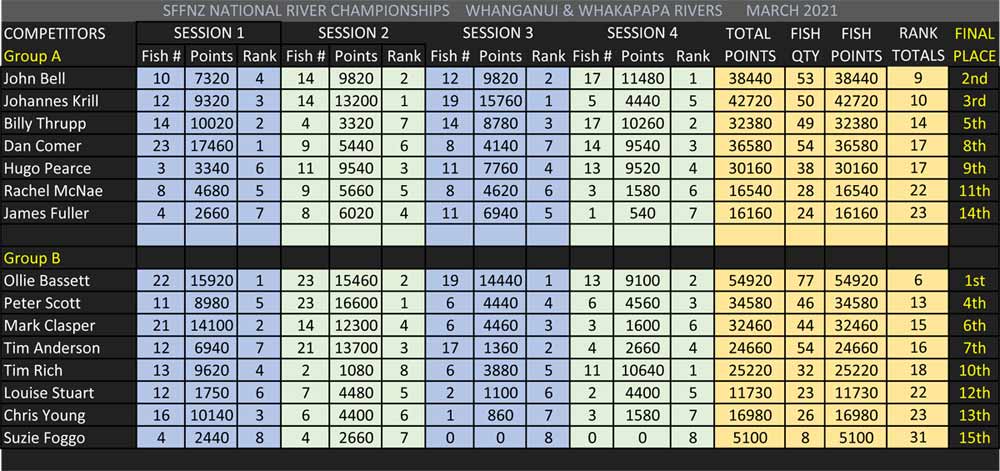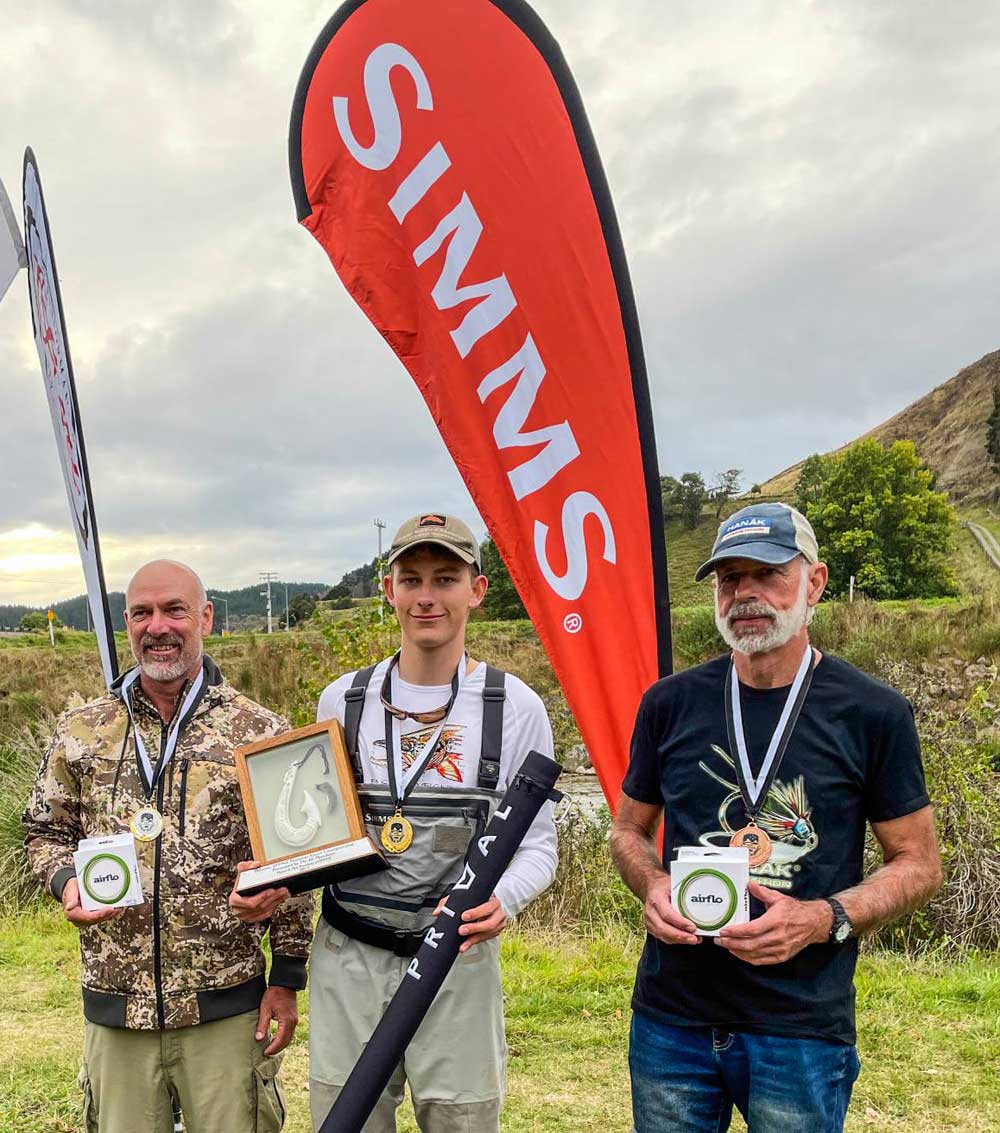 From left;  Johnny Bell 2nd,   Ollie Bassett 1st,   Johannes Krill 3rd