OLLI BASSETT RETAINS HAMILTON REGIONAL CHAMPIONSHIPS TITLE
Ollie Bassett has retained his Hamilton Regional Championships crown on the Waihou Stream in stormy conditions but was pushed all the way by Suzie Foggo and Sam Bourne.
In a weekend that was humid, wet and windy, as the effects of Cyclone Dovi were felt, 16 anglers did battle with one another and the elements on the Waikato's Waihou over three two-hour sessions.
In the final reckoning though it was 20-year-old Ollie Bassett who emerged victorious, edging ahead of Suzie Foggo in 2nd place (by virtue of fish points, having tied on place points) with Sam Bourne in 3rd. It was Suzie's first podium finish and Sam Bourne's second successive 3rd-place finish, marking a fantastic return to the sport.
It seems a long time ago now, but this event last year marked Ollie Bassett's first competition win. In the space of the last 12 months he has gone on to take five more titles, including being crowned 2021 National River Champion, and is pretty much a fixture on the podium these days.
"It's great to win it again and I'm obviously very happy about that but it was so close and to be honest I thought I'd lost it after my final session," said Ollie.
"In my first session I only had a couple of fish after 45 minutes but I managed to get 13 in the last hour and finished up on 19 for the session, so it was a pretty good session in the end.
"In the second session whilst I was controlling, with all the rain we were getting, I had noticed the water was colouring up, which had me worried a bit. And the beat I was fishing was fishing harder than normal but I ended up with 6 fish which was good enough for 4th place.
"But I didn't fish very well on Sunday morning, I got a bit nervous and I never fish very well when I get like that, so definitely something to work on there. I was pretty disappointed immediately after my session as I felt that I'd been in a good position before it but hadn't really converted it, so it was a really pleasant surprise when it turned out I'd won."
Ollie said he was really happy for second-placed Suzie Foggo and congratulated her on a great weekend.
"I was fishing with Suzie on Sunday and I was really impressed with how she fished. She was the opposite of how I felt, she was calm as you like fishing under the pressure of potentially her first podium. She fished really well and to be honest I was comforted by the thought that if I hadn't won it, she would've done. It was great to see her do so well, she really earned it." 
There was a strong female presence as 6 of the 16 anglers were women. Suzie was one of those and was delighted both to register her own personal first podium but also by the continuing improvement shown by the New Zealand women's squad members.
"I'm really happy to come second obviously but I think for me the really pleasing thing is that as a group of women we're now showing that we can compete. Rachel (McNae) was 6th here and other women have been finishing in top 10 positions in recent competitions; so it feels like all the training and hard work that the women have been doing as a group is paying off.
"I was fishing with Sarah Delaney on the Saturday and got off to a good start (placing 2nd in the session). It was like being in a jungle though, it was so hot and humid when we started at 8am, it was incredible. I couldn't see through my sunglasses because they were just fogging up the whole time. But the fishing was great and there were plenty of small fish as well which were undersize.
"I fished with Ollie (Bassett) on Sunday which is always good fun, and we were lucky enough to have his mum there as well. And by being his controller I learn so much about how he covers his water and changes his style to suit different situations. He is an excellent fisherman and has always been very supportive of my fishing.
"The wind was horrendous though, at times we were looking up at the trees bending so much in the wind and wondering what was going to happen. It was hard to cast but I found that the euro nymphing worked best. I finished with 5 fish for the session which, given the conditions, I was pleased with."
Personal improvement was one of the most satisfying aspects of the weekend for Suzie.
"I'm really pleased that I've got to the stage where my decision making is getting better all the time, so moving between dry-dropper and euro nymphing at the right times and catching fish straight away when I did. I think that was probably one of the most satisfying parts of the weekend for me.
"But I'm also really proud that as a group of women anglers we are starting to appear in the higher placings of competitions. We're starting to hold our own and that's great for the future.
"I would also just like to say a big thank you to Tim Rich and Chris Young for putting on such a great competition. It was tough in the weather but it was still fun and it was a great group of people."
Competition organiser Tim Rich said it had been a nervous few days watching the weather and seeing if the competition was going to be able to go ahead. He also congratulated Suzie Foggo on her second place, saying she had "put in the hours of practice and is now reaping the rewards".
Tim thanked the local landowners for their continued kindness in giving access to the stream across their land and to Fish and Game for allowing the competition to be held.
He also thanked his fellow organiser Chris Young who he said does a magnificent job with all the competitions and puts in a lot of hard work behind the scenes; and Rachel McNae and Suzie Foggo for helping mark beats.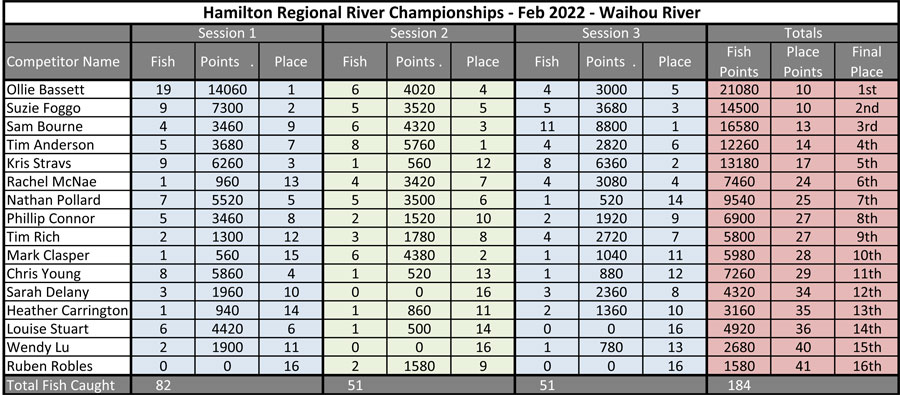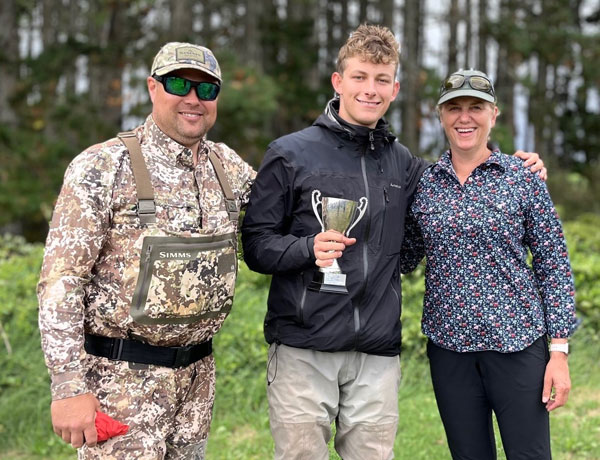 The Waihou podium (from left): 3rd Sam Bourne; 1st Ollie Bassett; 2nd Suzie Foggo